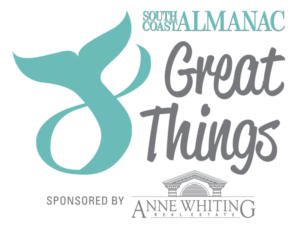 April, so good to see you again!! It's time to start looking out for daffodils and forsythia, osprey and songbirds! And it's time to start celebrating! The South Coast is waking up with a lot of parties and parades (both people and herring). Check out 8 Great Things to put on your calendar for this month, thanks to our sponsor  Anne Whiting Real Estate.
1. Mahler's Farewell
The composer Mahler is having a moment following his music's spotlight in the Oscar-nominated Tár. That movie featured his fifth symphony. The New Bedford Symphony takes on Mahler's Ninth. We hear that it's conductor Yaniv Dinur's favorite piece so we can see what it's like when a charismatic conductor tackles his favorite symphony. If that's not a reason to show up, we don't know what else is. Come sit in the back with us! Tickets start at just $10. 7:30, April 8. Purchase Street, New Bedford. More here.
2. We Love A Parade
We look forward every year to the Earth Eve Parade on April's AHA! night.  It's  Massachusetts' only Eco-float Procession with anything a person group can wear, roll or carry, along with over a dozen local organizations including the SouthCoast Brass Band and the UMASS Dartmouth Pep Band. Free. April 13, 5:30 pm. Starts at the Library at 613 Pleasant Street, New Bedford. More on this and other AHA! night events here (including our own Meet the Illustrator event at The Drawing Room from 5:30 to 7:00.)
3. Signs of Spring
There's something magical about those little herring. The spring herring run is a marvel of springtime, endurance and a strong homing instinct. Celebrate the season with Middleboro's 10th annual Herring Run Festival which promises food vendors, a beer garden, demonstrations, live music, and, most importantly, lots of herring! 11 to 4 pm, April 15-16. Oliver Mill Park, 8 Nemasket Street, Middleboro. More here. 
4. Sunset Photos
The Onset Bay Center is helping us figure out the best way to approach sunset photography -- fancy cameras or phone cameras, they're all welcome. While you're there find out all the other wonderful things happening at the Onset Bay Center over the coming months, everything from cold-water plunges to sailing lessons to paddle boarding. The Buzzards Bay Coalition is keeping things fun in Onset. 6:30 to 7:30, April 15. 186 Onset Avenue. Free but preregistration is required.
5. Titanic Fun!
Come celebrate the 30th anniversary of James Cameron's Titanic with the Whaling Museum, New Bedford Food Tours and New Bedford Film Society. Your passenger ticket includes the movie, period inspired snacks, a "Heart of the Ocean" scavenger hunt, trivia, live music and the chance to dress up like its 1912. Splurge for a first class ticket to dine at Little Moss that evening as they re-imagine the last meal enjoyed on the Titanic. April 16, at the Whaling Museum and Little Moss Restaurant, throughout the day. More information and reservations here.
6. Party for the Planet
Buttonwood Park Zoo is throwing open the doors for a party to celebrate Earth Day with live music, a raffle, fun games, face painting and enrichment demonstrations with its animals. Over 20 local organizations will be there to celebrate sustainable living. And they'll be accepting unwanted electronics for proper recycling. 10:30 to 2:30, April 22. 425 Hawthorn Street, New Bedford. See more here.
7. More partying!
Every year, the United Way hosts Power of the Purse which is one of the most fun parties of the year. The Kilburn Mill is filled with dance music, great drinks and music, photo opps and a fun female energy that can't be beat. Oh, and there are great purses available to bid on that help support the wonderful work of the United Way. It always sells out so make sure to get your tickets soon. From $100. 6:30 to 9:30, April 27. 127 W. Rodney French Blvd. New Bedford. More here. 
8. A Mattapoisett Hootenanny
The Mattapoisett Museum offers to get us "dancing, crying, hootin', and hollerin'" with Four Bridges, a New England-based bluegrass band that features everything from fast-paced, hard-hitting bluegrass to sultry and down-home country music. $15. 7 pm, April 29. 5 Church Street, Mattapoisett. Tickets here.
***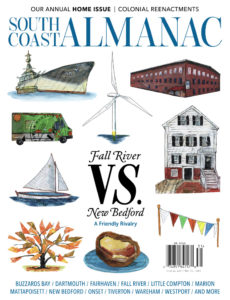 Our Spring issue is out and is filled with even more calendar listings, as well as great stories on the friendly  rivalry between Fall River and New Bedford rivalry, some dream homes, colonial reenactments and lots more.
Become a subscriber for less than $20 and get the magazine delivered straight to your door