Surprenant & Beneski, P.C. is a law firm that is all about family and they know food is an integral part of family life. They also like to keep up with all the food news. This month, they sent us to get caffeinated and we met Joni Rhoads who has mastered the art of whipped coffee, and was happy to show us her secrets. 
Joni Rhoads has utterly ruined folks for coffee chains. She's got a couple of regulars who come in for her coffee in their Dunkin' uniforms. "They can probably get their coffee free at work," she says. But they're fans of her coffee -- a brand called Bristot which is imported from Italy and available in only a few places on the South Coast.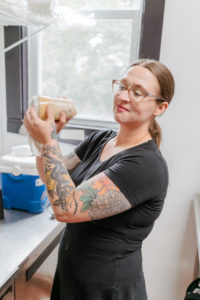 We didn't come for the Bristot though. We came for the whipped coffee. Because, well, we didn't even know what "whipped coffee" meant? Joni led us to a commercial Kitchen Aid mixer to which she added instant coffee, sugar and water. That's it. Just three simple ingredients. Then, she whipped it for about 2 minutes. The Kitchen Aid transformed it into something that is way more than the sum of its parts. It's fluffy, velvety and cloud-like. She mixed it with ice and milk (or a non-dairy alternative) and gave it a shake like it was a stiff martini.
It feels like a delicate mousse-like dessert. But make no mistake. It's coffee. And it gives you a shot of caffeine that is significantly stronger than an espresso.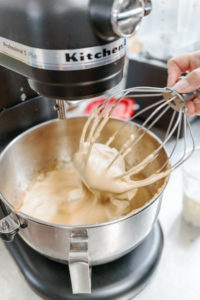 Joni focused on whipped coffee because it was unique. Although it seems simple with those three ingredients, there's a magic that occurs when they are whipped; you see it in the way the color changes. She test-kitchened many variations of it before she hit pay dirt. When she did, she turned to her daughter and said, "this drink is going to put you through college."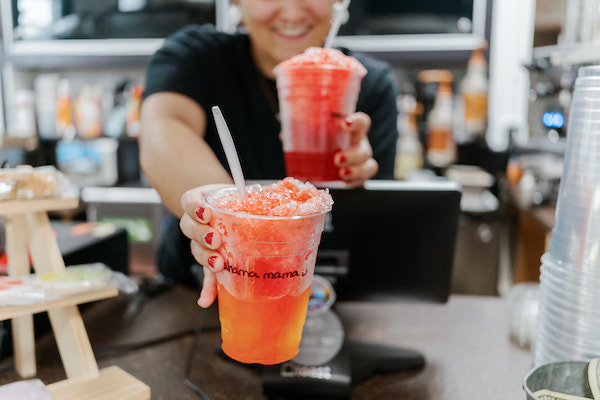 But that's not all for inventive drinks worth taking a drive for because Joni also sells Hawaiin Shave Ice which is hard to find around these parts. She shaves the ice right in front of you and adds the syrup. On a hot day? Nothing better.
Joni likes to say, "we're a drink place, with a little bit of food."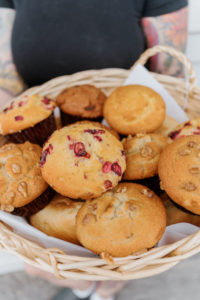 You get a sense that she's going to grow the food portion because she loves baking. She's been a baker since she was five years old. When her friends and classmates went out to party following their high school graduation, she went home and went to sleep so that she could wake up for her first shift as a baker which started that night at 1 am. When she baked at Pie in the Sky bakery in Woods Hole, she revelled in making 600 pies in two days, from scratch.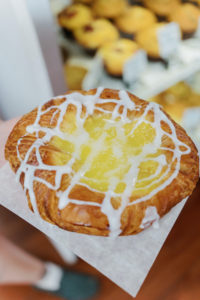 The kitchen at her current location is not big enough for full-scale baking like that but it's big enough for her to make muffins, scones, cookies and a specialty danish each week. And she's got plans for more.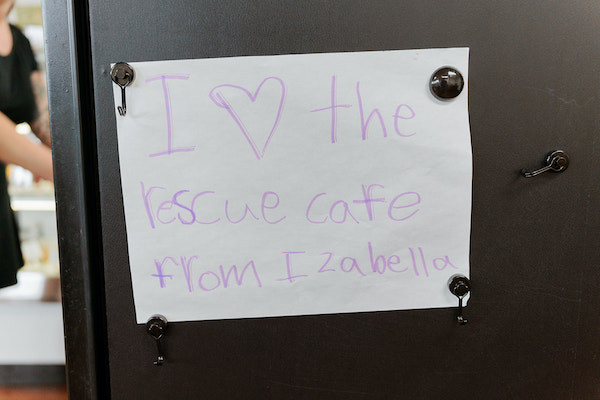 In the meantime, she's got her regulars coming in for their coffees, their croissants and baked goods. There are several different seating areas so that groups can easily gather. They love the drinks, and the food. They also love the fact that a portion of all proceeds go to CARE, Southcoast, an animal shelter based in Acushnet.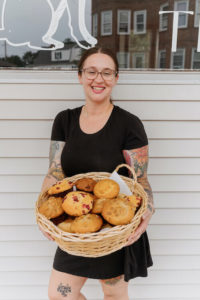 As a kid, she dreamed of having her own corner place on Main Street with the door at the corner. Turns out that's exactly what she got with The Rescue Cafe. It's like she manifested it into being. She'll  make your visions come true, as well. No judgment. "We're not an elitist coffee shop," she says. "We'll have people come in with 15 special things they want for their coffee. Or very specific instructions: '4 pumps of caramel, 7 creams, 7 sugars.'" It doesn't matter what you order, the Rescue Cafe will make it happen.
Rescue Cafe, 414 Main Street, Fairhaven.
Photos by Liam Connor Photography.
We hope you enjoyed this post, which is part of a series of blog posts celebrating local food spots, sponsored by Surprenant & Beneski, P.C., the premier estate planning and elder law practice serving clients in Southeastern Massachusetts. Surprenant & Beneski can help you prepare the foundational documents needed to facilitate healthcare, financial and legal decisions should a medical crisis occur. Early planning can save money, heartache and angst during a temporary bout of incapacity or a long-term care event. Getting your estate plan in order gives you peace of mind. Find out more about Surprenant & Beneski here.
If you want to make sure you don't miss learning the next favorite food spot, sign up here.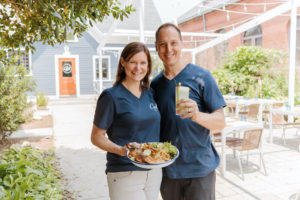 Last post in the series: Everything is unexpected and fun at Cast in Marion. Their signature Seaside Martini uses vodka distilled with Duxbury oysters which lends a briny character, and is garnished with a pickled seabean. Their popular fish tacos which sit atop tortillas that were handmade that day. The multiple ceviche and crudo choices burst with flavor, with delicate sweet potato chips on the side. It's all kind of thrilling. And delicious. Read about it here.