Surprenant & Beneski, P.C. is a law firm that is all about family and they know food is an integral part of family life. They also like to support local food spots. This month, they sent us just down the street from their New Bedford office to check out a special new restaurant.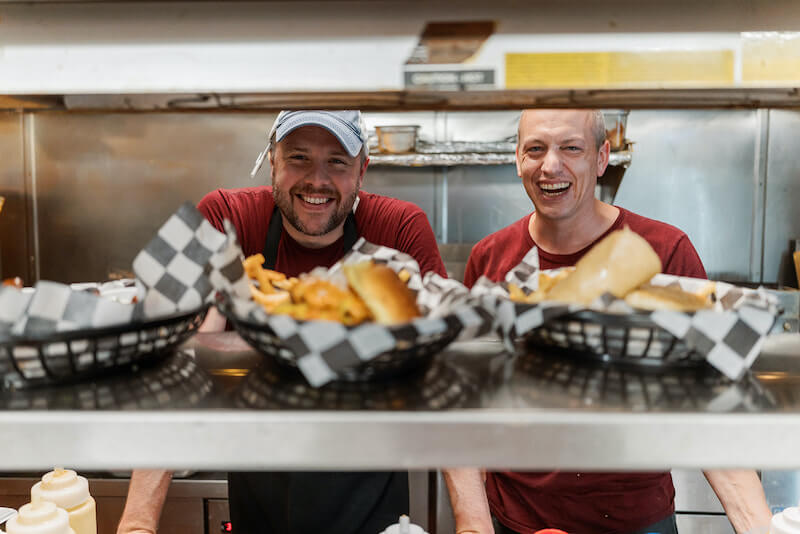 If you had to categorize restaurants by film genres, Sixes & Sevens would most certainly be a buddy movie. You get the sense that Hunt Latham and Jordan Chabot are having the time of their life with their new restaurant.  You can see it in the way they banter back and forth quoting lines from old movies and tv shows, in the ever-changing array of batch cocktails they are creating, and in the menu items with the creative names (when someone orders Through the Quad and four patties arrive towering in front of them, the whole table chuckles).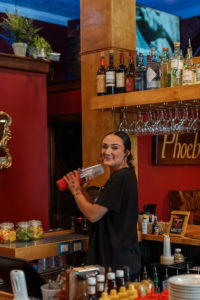 When the old Cobblestone's restaurant closed, it was a dream for Jordan and Hunt to reopen the iconic spot. Cobblestones had the distinction of being the only breakfast place in the area with a liquor license. If you were in the restaurant industry, it was THE place to go to recover from late night shifts and they each had enjoyed great memories there. So they approached the spot with a healthy respect to pay homage to Cobblestones. They kept the tin ceilings, the pineapple logo and friendly neighborhood vibe. They put up old movie posters to add a nostalgic feel. Then, they opened up for lunch, dinner and neighborhood gatherings.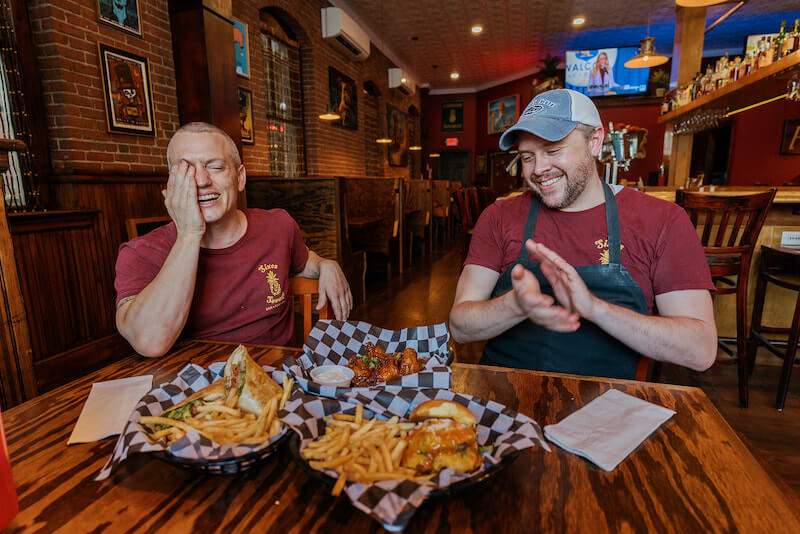 Though they just opened this past spring, it feels like they've been there forever. In fact, just immediately prior to their opening day, some out-of-towners wandered in to the friends and family night. At the end of the night, the visitors learned that it was the restaurant's first service and were appalled -- "We crashed your opening!!" -- but they were also impressed -- "We woulda thought you'd been here forever!"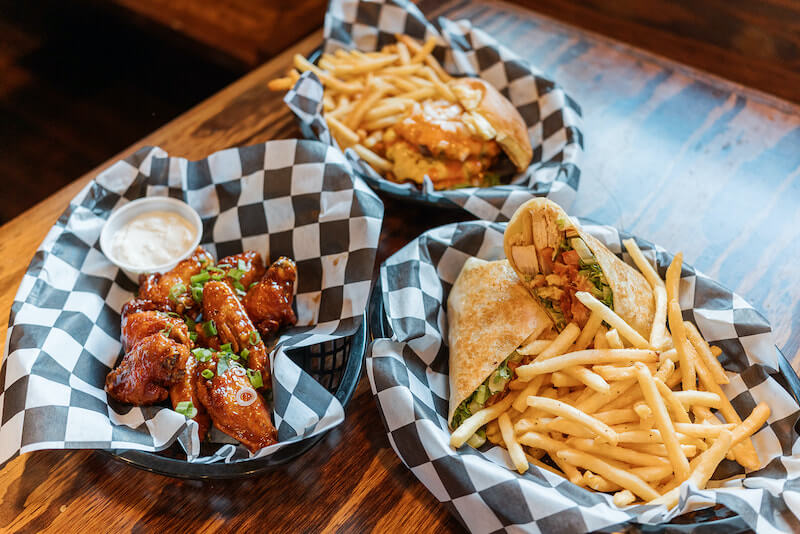 So they've got the vibe down pat. How's the food? It's delicious pub food, done really really well. Plus it's fun. They've got baskets of corndog bites, fried dill pickle chips and loaded hot dogs. On a recent visit, we watched them prepping Thanksgiving Egg Rolls -- roasted turkey and cranberry stuffing in a wonton wrapper and fried. See? Just fun.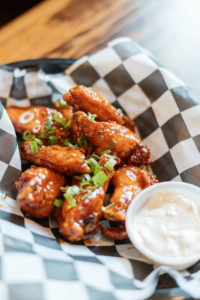 But don't let the fun vibe fool you, they're serious about putting good food and drinks in front of you. Their Joe Dirté wings use a unique pepperberry spice and coffee rub. It's the same rub they use for the pulled pork with the pepperberry flavor really shining through. A spice commonly used in Australia, pepperberry is less familiar around here. Hunt says, "I don't know how to describe it to folks but it works so we're happy." Their Oklahoma Onion Burger features two patties with a handful of Vidalia onion sliced paper thin and smashed right into the burger on the grill. People love the wings so we tried the Pineapple Express wings, a mild sauce featuring sesame terriyaki and pineapple syrup that tastes yummy.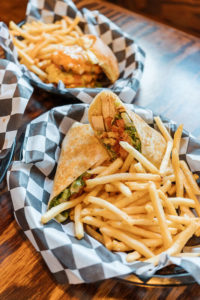 But there's healthy stuff too. like the Chicken Caesar Wrap and the God Mode Salad (the latter's name references a video game. We think they should create a drinking game which involves figuring out all the cultural references in the names on the menu). They're also adding some more vegetarian and vegan options.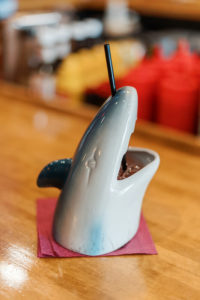 And Jordan is really into the drinks menu. He calls himself a mad scientist, whipping up 5 gallon batch cocktails that feature flavor combinations like Pink Water (tequila mixed with pink grapefruit and lime soda). He force carbonates the keg so it's served straight from the tap, like an old fashioned soda fountain with a kick.  His concoctions are available until the keg is empty and he creates a new batch so it's a good idea to check in often to make sure you don't miss anything. If you're lucky, your cocktail will come in one of their retro shark or tiki cups.
Open every single day from late morning to midnight, Sixes & Sevens can be your new spot. We promise you'll have fun.
Sixes & Sevens, 7 South 6th Street, New Bedford.
Photos by Liam Connor Photography.
We hope you enjoyed this post, which is part of a series of blog posts celebrating local food spots, sponsored by Surprenant & Beneski, P.C., the premier estate planning and elder law practice serving clients in Southeastern Massachusetts. Surprenant & Beneski can help you prepare the foundational documents needed to facilitate healthcare, financial and legal decisions should a medical crisis occur. Early planning can save money, heartache and angst during a temporary bout of incapacity or a long-term care event. Getting your estate plan in order gives you peace of mind. Find out more about Surprenant & Beneski here.
If you want to make sure you don't miss learning the next favorite food spot, sign up here.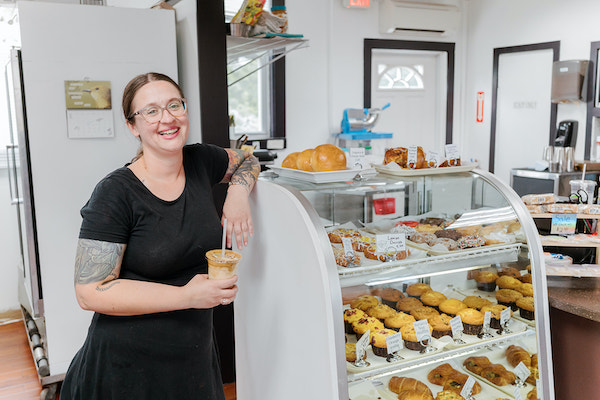 Last post in the series: Joni Rhodes has utterly ruined folks for coffee chains. She's got a couple of regulars who come in for her coffee in their Dunkin' uniforms. "They can probably get their coffee free at work," she says. And then, her whipped coffee? Fuhgeddaboudit!! Read about it here.