From time to time, we take our advertisers out to breakfast to review a local breakfast place for our readers. Because, really, who doesn't love breakfast? Most recently, we had breakfast with Cindy Parola of LaForce Realty…..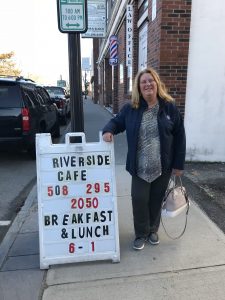 Cindy Parola is a local's local and she really knows her stuff, whether that is real estate or home fries. I knew she'd be a good person to ask about breakfast spots. When I asked her to pick a place to review, she chose the Riverside Cafe on Wareham's Main Street.
I got there a few minutes early and took a look at the menu. I had settled on the Green Pig (spinach, sausage and mozzarella cheese omelet) before Cindy arrived and the waitress came over to give us the specials. There were a half dozen specials but one stood out and made me forget the Green Pig: morning glory pancakes. Like a morning glory muffin, but in a pancake form. With coconut too. I know people have strong opinions about coconut. Me, I love it. Put it in any dish and I want that dish. ("Coconut infused fried kidney livers?" Sure! Sign me up!)
So I put away the menu and ordered the morning glory pancakes. Cindy chose the Main Street Special. She told me she picked Riverside because the hash is amazing. Then she realized she hadn't even ordered the hash. "Yeah," she said, "the problem is that it's all good." She also likes that everything in Riverside is mismatched, like our coffee cups were. She took a second glance at one of them, "I think this is my Black Dog mug."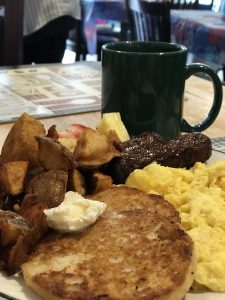 When her order arrived, she told me Riverside makes the best home fries she's ever had and she let me try them. She's right. They are stupendous. Crispy like no others I've ever had. They are seriously worth a trip, even if you hail from the other end of the South Coast. Even if you're coming from Boston.
While we happily ate our breakfast, we talked about Cindy's work and life here.
Her family story reads like the American dream. Her grandfather came to the United States from Greece. He started working as a shoeshiner, then got a pushcart in downtown New Bedford selling produce before purchasing a wholesale route and opening a storefront on Wareham's Main Street (where Mumma Marys is now). Then he started buying bogs at Mary's Pond in Rochester and started farming cranberries. Real estate was important to him and Cindy absorbed his lessons ("always buy corner properties" and "you can always make more money but you can't make more land.")
Cindy inherited his worth ethic. "I don't do anything half-assed," she says frankly. "I was taught that an A- wasn't good enough. The bar was set high. I was also told I had to participate." At Old Rochester Regional High School, she participated in theater, track, volleyball, band and chorus. She took the late bus home every day which set her up for the grueling schedule she's maintained throughout her life. In many ways, she has carried on her grandfather's legacy of land and cranberries — she's been president of Decas Cranberries for 20 years and she's also a real estate broker affiliate at LaForce Realty. But she's done so many other things: she owned a liquor store in Wareham when she was just 17 [before she was legally of drinking age!]; she finished college in 3 years; she served on the Wareham School Committee and Board of Selectman; she's hosted two dozen Cape Cod League baseball players.
She's got a sharp wit and is full of surprises. She seems tenacious and tough but I thought I detected something else under all toughness. I've noticed that she's the first to support the members in our 6 Degrees Networking group. I told her I thought I had cracked her secret. That underneath it all, she is kind. She laughed. "I'm not kind," she said, definitively. "No," she repeated for emphasis. "I'm not."
I was a little surprised because who doesn't want to be seen as kind? I tried a different approach. "Well, you're loyal then."
"Nope," she countered. "I'm not loyal."
"But you're such a great supporter of all the small businesses in our group," I argue back. "I go to sign up for a yoga class and you've written the testimonial on the website."
She was having none of it. "I'm fiercely protective of my reputation," she said. "I want to try people out before recommending them. I'm not going to recommend people who I don't use myself." Fair enough. She knows a lot of people and a lot of people know her. "If you own a liquor store when you're 17, trust me you know everyone," she says. It makes sense that she is fierce about her reputation. (Still, I think there's at least a little kindness mixed in there too.)
So here are the takeaways from breakfast with Cindy Parola.
The Riverside Cafe is amazing. We both give it an A.
The home fries are the best we've ever ate.
Morning Glory Pancakes with warm syrup should be a regular part of anyone's life.
Cindy is supposedly neither kind, nor loyal.
She is a connector.
I should go back to Riverside for the hash.
Check out the homefries yourself at Riverside Cafe, 189 Main Street, Wareham, 508-295-2050. Open daily for breakfast and lunch, 6 am to 1 pm.
To find out more about Cindy's real estate practice (commercial, residential, you name it — she knows it all), go here.
And, finally, to keep up with breakfast place reviews and lots more going on in the area, sign up here.