Is there anything better than June? We think not. Feel free to do nothing at all and just soak in this wonderful month. Or take a look at these 8 things to make June even better!
1. Gone Fishin'
At 6:00 am, a horn will sound on Tihonet Pond, signaling for competitors to begin furiously fishing. Although the early schedule may seem made for serious fishermen, the Tihonet Pond Fishing Derby is open to all levels of fishermen, from the serious pros to those just wanting to join the fun. The Wankinquoah Rod & Gun Club puts on the event with free pancake breakfast (making the early wake-up worth it), bait and lunch available for purchase, and some prizes for adults and juniors. Competitors can fish from shore or bring their boat or kayak (or rent a kayak for the day on site!).
June 3. The registration fee is $12 for adults and $3 for children 14 and under. Registration begins at 4 am, official start at 6 am and official end at 2 pm. For more information and to pre-register, see here.  150 Tihonet Road, Wareham.
2. Open Studios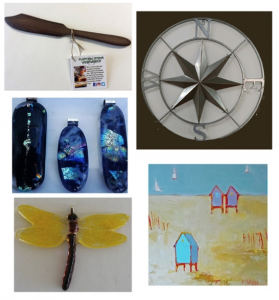 With three floors of art (paintings, mixed media, ceramics, sculpture, woodworking, and more), the talented artists of Hatch Studios will open their workshops to the public as part of their "Second Saturday" series. Don't miss out on the chance to explore the studios and meet the artists. The event is free of charge and features a raffle for several pieces of art (pictured) donated by the artists! The raffle is open to all; just visit the participating artist's studio to fill out a ticket and get a chance to take home a wonderful piece of art. June 9, 12-5 pm.  88 Hatch Street, New Bedford. See more here. 
3. Trés Jazzy
Ready to get dancing? On June 9th, the annual New Bedford JazzFest is moving onto the pier! The evening features art, food, and drink with two stages of non-stop live jazz. JazzFest founder Eric Paradis promises "This is jazz that will make you move!" Head down to New Bedford's historic waterfront under the tent on Pier 3 for this vibrant event to be held rain-or-shine and featuring a diverse line-up of jazz musicians, as well as local food trucks, a full bar, and the "artist's colony,"a section highlighting the work of local artists. Tickets are $25 at the door and can be reserved here. June 9. 2-7 pm.  Pier 3, Downtown New Bedford. Children 15 and under are free when accompanied by an adult.F
4. Farmer Coffee in the Dell
There's nothing better than spending spring outside. Adding coffee and donuts to the mix just sweetens the deal. Friends of Buttonwood Park is sponsoring Coffee in the Dell, featuring free coffee and donuts (while supplies last) and guided tours of Buttonwood Park's arboretum. Buttonwood is the largest and most visited public park in New Bedford, planned by Frederick Law Olmstead in 1895. If you haven't yet visited, June is the perfect time to go. If you have visited already, now is the perfect time to go back! Enjoy a beautiful spring day outside, meeting other like minded South Coasters, reading the paper, and enjoying some coffee. June 10th, 10 am -12 pm (rain date: June 24). Coffee will take place across the road from the warming house, west of the Greenhouse. Oneida Street, New Bedford.
5. Season Opener
Pull out your mini-vans and SUVs and start piling in because the Westport Vineyards Sunset Music Series is $10 per CAR! The event features great music, and local beer and wine can be purchased by the glass. For the season opener, Rebecca Correia (featured in this summer's print issue!) will be performing a mix of her own originals and covers. Bring your picnic and non-alcoholic drinks or purchase food from a selection of local chefs! Price per car goes up the week of the event, so organize your friends and buy your pass now right here! June 15, 6 pm.  417 Hixbridge Road, Westport.
6. Put Yourself Out to Pasture
A beautiful walk at dusk? Yes, please. Join Weatherlow Farms Land and Livestock Manager Brent on an evening walk through the gorgeous fields of the farm (we were just there for our launch party last month, so we can promise that the landscape is gorgeous! Check out pictures from our party here). The walk promises much more than pretty views, as participants will learn about Weatherlow's approach to raising livestock and building healthy soils that contribute to sustainable agricultural practices! The event is free, but it is requested that you reserve a ticket as to manage numbers. June 28, 5:30 -7 pm. 845 Sodom Road, Westport. Register here.
7. Homecoming!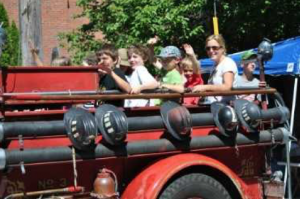 Nearly two hundred vendor booths, live entertainment, an outdoor art exhibition, and free fire engine rides for kids all play a part in Fairhaven's largest annual event, Homecoming Days! Fairhaven's picturesque town center, filled with European-style architecture, adds to the charm of the day. The Unitarian Memorial Church (showcasing English Perpendicular Gothic style architecture) will be open for tours all day. There is no entrance fee to the fair, and a free shuttle will operate between the Northeast Maritime Institute and Fairhaven High School. June 30, 10 am to 4 pm. Center Street, from William to Green Streets. See here for more information.
8. Get Out There & Swim!
Swimming 1.2 miles through the New Bedford Harbor? No problem! With the assistance of the U.S. Coast Guard and local safety patrol, swimmers will pass through the channel by the Butler Flats Lighthouse and New Bedford Hurricane Barrier before reaching the finish at the Fort Phoenix State Reservation. The beach party finish includes a live steel drum band, cooked to order pancakes, coffee, free massages, and local beer! With a $25 registration fee and $150 fundraising minimum (with a special rate for youth teams), the fundraiser supports the Buzzards Bay Coalition, whose events are often featured in our monthly blog post and whose work is essential in conservation of the Bay.
If the Coalition signs up 60 more swimmers, they'll earn a $50,000 challenge grant to benefit clean water. If the Buzzards Bay Swim has been on your bucket list, make this the year to do it! June 30, 6:30 to 10:30 a.m. Register here. 
For occasional free email updates from us on things that make the South Coast the best place to be any month of the year, go right here.