I remember going blueberry picking in Wareham and Carver with my grandmother and cousins when I was a kid. We'd come home with buckets filled with blueberries. My grandmother would wash and then freeze most of them. Then she'd make at least one pie for us to eat that night. I sat at the kitchen table and watched her. She mixed some butter, flour and water together and, without any fuss, the crust was made. It was magical.  Also magical was eating her blueberry pie all winter long, and remembering that we had picked the fruit on a sunny summer day.
After many years of practice, I can finally make a pie crust. It's not simple and effortless like it was for my grandmother. It requires careful reading of a recipe, butter and lard, a food processor and vodka, time resting in the fridge and time wrestling with a rolling pin. (You can find the recipe I use here.)
Sometimes we decide to buy Thanksgiving pies but we still expect them to taste like my grandmother's. If you have similarly high standards for your pies, we've rounded up a few places to get your pie on the South Coast.
Here's the lineup (pro-tip: order soon, some fabulous local bakers have already hit their Thanksgiving capacity!)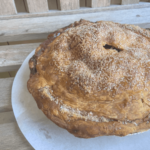 Artisan Bake Shop, Rochester. Artisan Bake Shop has been baking Thanksgiving pies by scratch for eleven years. Just like my grandmother, Meredith Rousseau makes a simple crust (all butter and flour with a little salt, sugar and ice water), then she rolls out and flutes all the pies by hand. Her signature pie -- which she makes only twice a year at Thanksgiving and Christmas -- is a Cuban-inspired Cazuela Pie which features pumpkin, sweet potato and coconut milk. She also makes the traditional pies (apple, blueberry, apple-cranberry, custard, classic southern pecan, double chocolate pecan) and gluten free pies. After making thousands of Thanksgiving pies over the years, she still loves making them and treats herself to a breakfast of custard pie on Thanksgiving morning. Order your pies now for pickup next week (it's first pay, first reserve before they sell out)! Order here.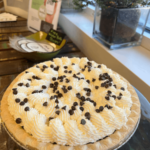 Forno Bakery, Wareham. Melissa Sepulveda is an incredible baker so we're thrilled to add her to the list this year. You can choose from so many varieties -- Pecan Bourbon, Pumpkin Pie, Apple Crumb, Banana Cream, Chocolate Cream ---- but you have to order by November 18. Best way to do that is right here. 
Wilhelmena's Catering, Little Compton. Wilma's got a large pile of pumpkins staring her in the face this week because she uses fresh local pumpkins from South Coast farms in her Thanksgiving pies. She also uses local apples and whatever else she can source locally. Wilma makes the dough, peels the apple, bakes the pumpkins all by hand. She's been brightening Thanksgiving for people with her from-scratch pies for eighteen years. Customers drive from as far away as Providence and Dartmouth to eat up them up. Her varieties: apple, pumpkin, blueberry, bourbon orange pecan and traditional mince pies. Order by November 15 by calling 401-635-2003 or emailing [email protected].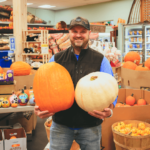 Lees Market, Westport. One of our favorite local markets also makes pies in house with a crust made from scratch! They've got a whole lot of varieties (apple, blueberry, pumpkin, pecan, chocolate cream). Order by November 19 by calling 508-636-3348 and asking for the Starfish Bakery.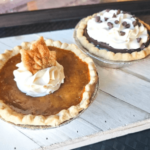 Flour Girls Baking Company, Fairhaven. Owner Jill Houck says, "there really is nothing better than a scratch made pie. We are meticulous about our crust and make sure it's perfectly flaky every time." She makes an all-butter crust and uses local fruit whenever possible. You can choose from apple, maple pumpkin, southern bourbon pecan and pumpkin cheesecake. Order by November 20 by calling 774-202-5884 or emailing  [email protected].
Enjoy!
* * *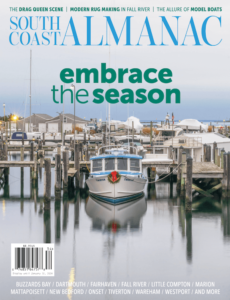 Speaking of holidays! Our Holiday issue is on newsstands now. Think about becoming a subscriber to get it delivered straight to your door and support our mission of telling the stories of the people and places (and pies!) of the South Coast.