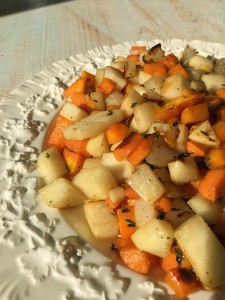 Who knew I'd develop a crush on turnips this weekend?
We went to The Back Eddy in Westport last night where I ordered giant bacon-wrapped scallops. I have a thing for bacon and scallops so the ordering was an easy call. My entrée arrived atop a bed of turnip and carrot hash. The bright orange and white cubes looked so cheerfully enticing that I tried them first. And I kept eating them.
Turnip hash? I couldn't think of anything less likely to tear me away from bacon and scallops.
I had always thought of turnips as a humble, maybe even a pathetic, vegetable. In fact, as I ate my Back Eddy turnip hash, I got to thinking about the large turnip sitting in my refrigerator that very moment. I'd received the turnip as part of my farm share several weeks ago and it hadn't moved since. It was well on its way to being found next spring in the back of the refrigerator, shriveled and soft.
When the hostess Michelle came over to see how our meal was, I asked her if she knew how the hash was prepared. "When you're finished, I'll take you over to Soda, our sauté chef," she said. "He'll be happy to tell you."
After dessert, our server Danielle led me to Michelle who was standing by the kitchen. She told the chefs how much I enjoyed the hash. I told the story of my turnip sitting in my refrigerator at home and how I hoped they could tell me how to make it into delicious hash.
Soda was lovely and friendly but, in the way of most chefs who instinctively know how to make things taste delicious, he gave me some pretty vague instructions. Basically, he told me he used some butter and savory herbs. I tried to ask some illuminating questions: how long to cook it for? How to get the browning? I learned that he likes to use oregano, a nonstick pan and it takes about 5 minutes.
"What kind of turnip do you have?" asked Nigel, another chef who was standing by Soda.
I didn't know. "It's purple," I said, hoping that would help.
"It's not going to work," he said definitively. "You need a macomber turnip."
"Macomber turnips have a sweetness to them," said another man, standing nearby, who I later learned was one of the owners, Sal Liotta.
And they started raving about macomber turnips, indigenous to Westport, sweeter and better than any other turnips. Sal told me that the Back Eddy has hosted special dinners, showcasing macombers in all three courses. Nigel told me about the plaque honoring the macomber turnip on Westport's Main Street. "It's not even like other turnips," said Nigel. "It's totally its own thing."
All of a sudden, turnips seemed pretty exciting. "I'm sure your turnip is a good one," said Nigel who clearly didn't want to offend me on behalf of my turnip. "But it's going to be bitter. What makes the hash so good is the sweet macomber."
"You want to take one home?" he offered. He told me he had plenty, having recently bought five cases of macomber turnips packed in old banana boxes from a local farmer at the Back Eddy's door. "I've got 250 pounds of them out back."
I hesitated for just a moment. It seemed a little odd to leave a restaurant with a whole turnip. Plus I already had that huge lonely purple turnip that was being ignored at home. Was it really fair to bring another turnip into that kind of a home? But I was overcome with giddiness that I was being asked if I wanted to take home a singular root vegetable.
"Yes!" I said.
Nigel came back with a turnip the size of a basketball. I must have looked scared. Or maybe I uttered an involuntary demurral. "No, this one isn't for you," he said, "I just brought it out to show you. I brought a more retail one for you." He pulled out another the size of a softball.
So this morning I spent fifteen minutes chopping up the turnip and half a dozen carrots. I melted some butter and added the vegetables to the pan. We didn't have any oregano, not even dried oregano, but I found some thyme in the refrigerator
I mostly ignored it as it cooked for five minutes as I worked on removing the thyme from the stalks. I added the thyme to the pan with some salt and pepper. I tasted it and decided it needed a little more time. I threw in more butter and gave it a few more minutes.
It was delicious. Turns out that Soda's instructions were pretty spot on. You do just add some butter and herbs and cook for 5 minutes. There's nothing to be afraid of with macomber turnips. I understand the reverence for this turnip. I understand the enthusiasm. I understand the need for a memorial plaque.
The only problem? I still need to know what to do with this….