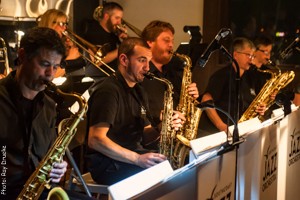 On the first Monday of every month, the Airport Grille at New Bedford's regional airport hosts the Southcoast Jazz Orchestra.
It's been on our To Do list for a while and this seemed like the right week for it. These short days after daylight saving time are always sobering. And they are especially jarring this week with mild sunny days that abruptly end in the afternoon. The temperature outside just doesn't seem to reflect the hunkering down aspect of the season.
The Airport Grille was the perfect place to spend last night to banish the darkness with style. Small groups, large groups, couples all added to a cheerful atmosphere. "Is it always this crowded?" I asked our waitress.
"Not usually on a Monday," she said, "It's the jazz."
Ah, right. We had come for the food (because we're working on the restaurant guide for the first issue…it's heavy lifting but we're serious workers) but also to see the monthly jazz sessions that we'd heard about.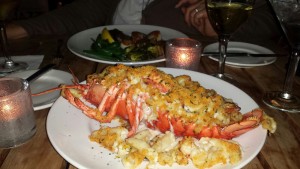 We arrived before the band and ordered the seared scallops and lobster mac and cheese. The mac and cheese arrived in the most impressive display we'd ever seen.
Then the band began to assemble. It wasn't simply a jazz trio or quartet. This was a 17-piece orchestra. Even writing "17" doesn't seem to adequately reflect how big this band is. And when they began to play? Everything else that was important (the perfectly cooked scallops, the large chunks of lobster floating in the creamy mac and cheese) was a footnote. What a treat to listen to this band. Don't go to this dinner with an old friend who you haven't seen in years. Once the Southcoast Jazz Orchestra begins, you couldn't care less what your old friend has been up to — you'll just want to pay attention to the music.
It's great theater to watch a band this big: all of the different personalities melding together and sometimes splitting apart to create their music; the gleaming trumpets, trombones, and saxophones all lined up, the audience's attention focused and rapt. It makes you want to learn how to play an instrument and join in. It makes you think about making a reservation for next month's session. It makes you wonder about throwing a party for the Southcoast Jazz Orchestra to perform at.
Like, say, a magazine launch party? Like, say, in May?
Stay tuned….