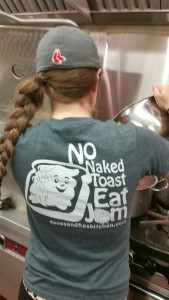 My toast looked bereft this morning.
Some would say naked.
Actually, Robin Cohen would say that. She's the jam lady. Every week, the owner of Doves & Figs arrives at the Dartmouth Grange with her minivan packed to the gills with boxes of fruit and equipment. "Like a gypsy caravan," she says. She unloads the fruits she's purchased from local farmers and gets to work in the Grange's commercial kitchen turning it into jam.
Last July, I spend a lovely morning with Robin and her assistant (and family friend) Michelle Hurwitz, a student from UMass Dartmouth with perhaps the sweetest job among her friends. The day I visited, a huge 40-gallon steam kettle with figs, apples and dried cranberries was bubbling away. Michelle patiently stirred smaller pots filled with simmering strawberries. Boxes of fruit were strewn about on the stainless steel tables.
Doves & Figs business model is based on seasonality because seasonal cooking is what led to jams in the first place, Robin says. She lets the just picked fruit shine in her jam. No pectin, no preservatives. These cool weather days are devoted to apples, pears and cranberries.
All of the jams' names are delightful – Falling Leaves, Bramble Tea, Merry Berry, Winter Carnival, Chocolate Fig Sunshine. And their contents can be a bit quirky — Peachy Mean features "sweet summer peaches with a kick of black pepper and hot red pepper flakes" while Peachy Keen features "caramelized peaches with pecans and a bit of Southern Comfort."
Robin's thing for sauces, jams and compotes hearkens back to happy childhood memories in her grandmother's kitchen, surrounded by a family who loved to cook. At the end of each summer, her dad took Robin and her brothers foraging for grapes and made gallons of grape jam. When her father was diagnosed with Parkinson's disease, he and Robin battled the sadness of his decline by discussing recipes and taking on the challenge of recreating the recipe of her Aunt Jenny's apricot and pineapple jam. In 2011, Robin left her corporate job and followed her passion for jam.
Standing at my counter this morning, in front of the barren toast, I was remembering the 500 jars that Robin and Michelle prepared that July day and the many cauldrons of their bubbling jam. It was lovely to revisit the nice memory. But the jarring reality is that I still have naked toast.
My advice: pick up some Doves & Fig jam at Alderbrook Farm in Dartmouth. Or online. Or at the dozens of shops and farmers' markets around Massachusetts which are listed on the Doves & Figs website (dovesandfigs.com). (MB)