Reprinted from our Late Summer '21 issue.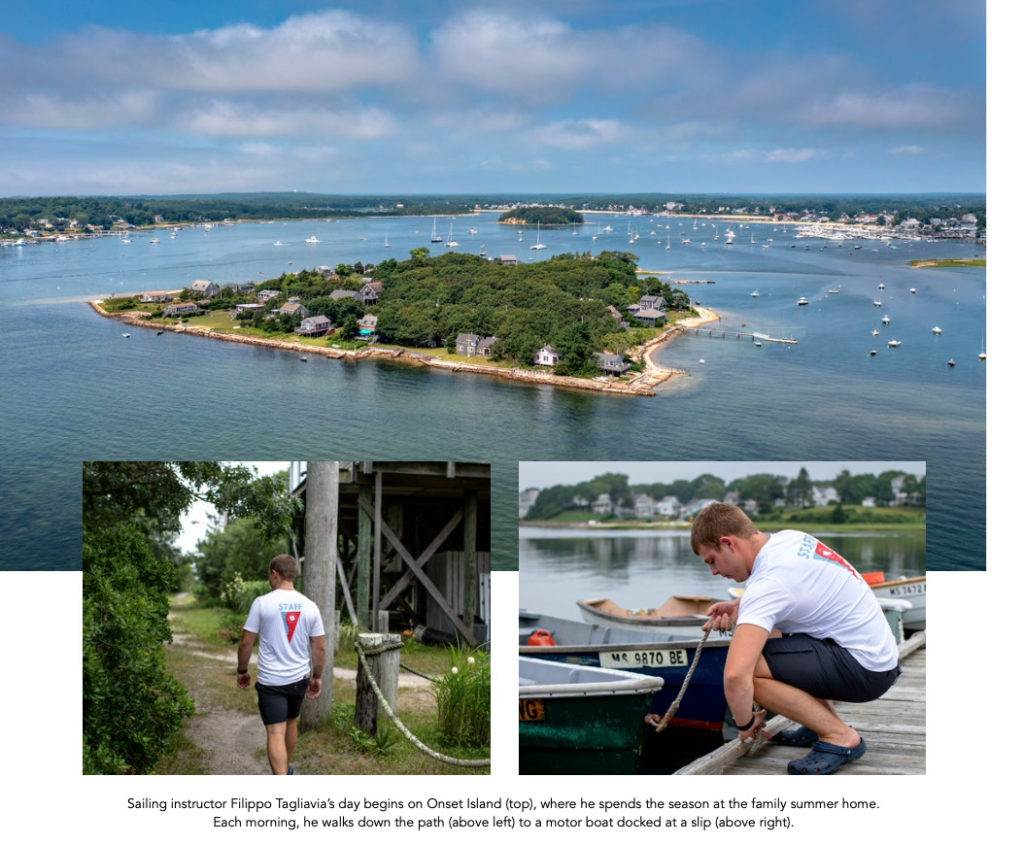 Filippo Tagliavia, a Massachusetts Maritime Academy cadet, was recruited to be a sailing instructor at the Buzzards Bay Coalition's Onset Bay Center.
He only lives about a mile away from his summer job, but his commute is more interesting than any of the other instructors.
The 19-year old grew up in Houston, Texas. But his summers are spent on Onset Island in his family's longtime summer home. No cars–not even golf carts—can be found on the small island dotted with fifty or so summer homes. It is accessible only by boat, so every morning, Filippo motors over from Onset Island to start the day.
Not only does he live on an island, but he is the grandson of Beetle Cat boatbuilder Bill Womack. So it's not surprising that Tagliavia knows his way around a sailboat. He was about 5 years old when he first took the tiller. By 7 years old, he could sail by himself in Onset Bay.
These days, he's barely awake when he and the other three instructors, all Maritime cadets, meet their morning campers at 9 am. "They're very energetic," he says. "and we're all still trying to wake up!"
The sailing program takes kids with virtually no sailing experience on Mondays and has them sailing on their own by Friday. "We push them just enough out of their comfort zone," Tagliavia says. "On Monday, they're scared to sail. On Friday, they're sailing by themselves."
* * *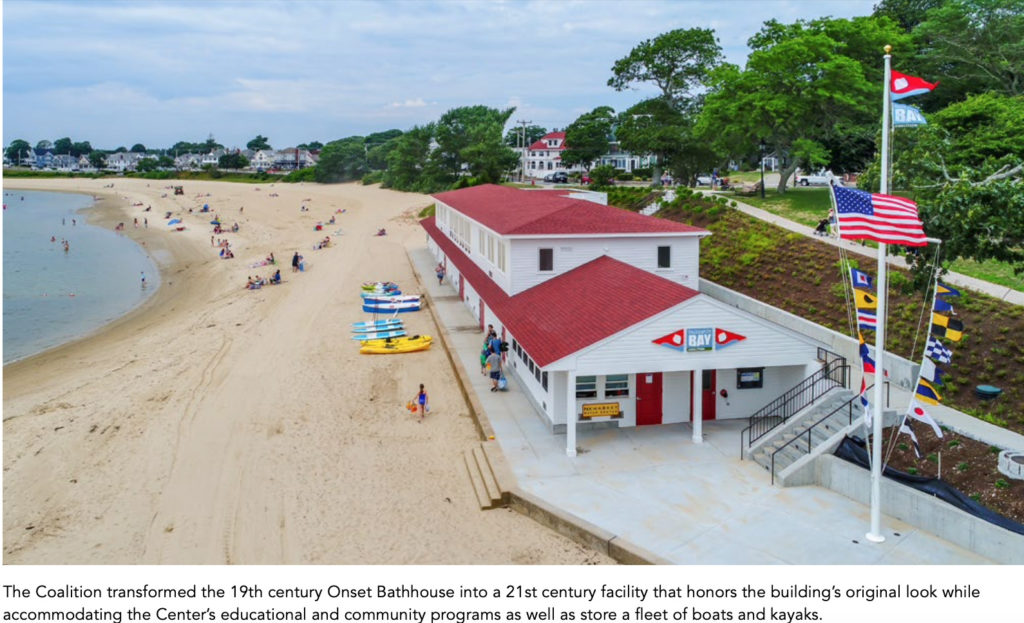 The Buzzards Bay Coalition renovated the 19th century Onset Bathhouse with the idea of becoming a public yacht club, offering waterfront experience to all. With nearby protected lands at Wickets Island, Burgess Point and the Shell Cove marshlands, there are plenty of destinations to explore beyond the main beach.
Director Kat Garofoli says the idea is to provide opportunities for future generations to get experience on the water. In doing so, they are empowering and enabling people to feel confident in a variety of vessels.
"This is about adventure, not about competition. We want people to get out there, to see Onset from the water, to feel like they have ownership of this," she says, gesturing to the scene around her. To make on-the-water accessible for all, the Coalition offers scholarships for up to 50 percent of the kids in their programs with a preference for those from Wareham and Buzzards Bay.
In summer, the Center is bustling with programs and kids, in addition to the regular crowd of beachgoers. On a hot day, the beach is teeming with people, the sounds of kids' call-and-response — "Marco"…"Polo" — ringing through the air. On the water are sailboats, kayaks, motorboats and paddleboards. It's a feast of water activity.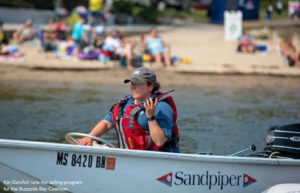 When the camps are in session, Garofoli is a multi-tasker. Her attention may seem focused in conversation with someone but out of the corner of her eye she is also scanning the waterfront making sure that everyone is safe and accounted for. She does things far outside her job description. "I haul boats all day, every day," she laughs. She engages kids with fun games like paddleboard rodeo. Once a week, she pushes a lawn mower over to the Onset Pier, climbs into a boat with it and heads out to mow the lawn at the top of Wicket's Island. There is nothing she won't do to make the Onset Bay Center shine.
* * *
After serving hundreds of children and adults in 2020 with waterfront programs, the Center introduced its sailing program this year in partnership with Mass Maritime. The Academy provided cadets with sailing experience and summer housing for them; in return, the Buzzards Bay Coalition offered jobs and sponsored Level 1 Small Boat Instructor certification from U.S. Sailing for the cadets.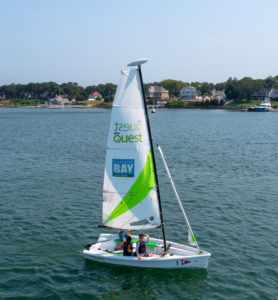 The cadets exude confidence on the water which is exactly what they're trying to impart to kids who arrive at the beginning of the week afraid to tip over. Two days later, the kids are begging to capsize. "Safe risks. That's what childhood is all about. That's what life is about," says Garofoli.
Onset Bay presents a smorgasbord of challenges for sailors, both new and experienced. Low tide brings with it unexpected sandbars around Wickets and Onset Islands. You've got the canal and Buzzards Bay acting to funnel wind into Onset Harbor. Tagliavia describes the wind here as "bouncy." Others call it "squirrely." You can't expect it to stay consistent, even from moment to moment.
So teaching sailing can be tricky and requires the instructors to adapt to changing conditions. Maybe it's too windy, maybe it's not windy enough, maybe Tropical Storm Elsa is arriving. In the case of Elsa, the instructors created fun indoor activities on the fly: like reinforcing knot-tying by having them tie up an instructor to see if he could escape, Houdini-like.
As in any sport, there's a lexicon of terminology which seems a little overwhelming on Monday morning. At some point in the week, however, it all starts to click. Tagliavia says it's all about putting motion to the words. You can tell the kids the difference between tacking and jibing, but it's when they're in the boat doing these things when they start to get it.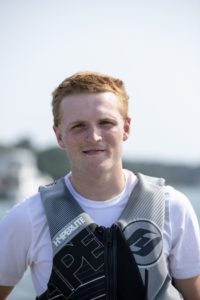 Like Filippo, fellow cadet Norman Walker talks about how rewarding it is to see when everything clicks into place for the young sailors. "It's amazing to see when it hits them," he says. "It happens in a moment and you can see it. They go from having no idea how to sail to being able to maneuver the boat."
It seems to be working. On a recent Friday morning, the class of young sailors were sailing circles in the Optis, like ducklings playing follow-the-leader. Filippo manned the Zodiac inflatable motorboat while Walker and another participant kayaked nearby.
Garofoli loves seeing the transformation on reluctant kids' faces in all of the Onset Bay Center's programs. Recently, she was working with some kids from the Boys & Girls Club who made it clear that they weren't entirely on board with water activities. A few days later, one of them turned around on his paddleboard, beamed at her and said "this is a lot more fun than I thought it would be!"
They learn that if the boat capsizes, they have the strength to right the ship. "We're helping to channel their courage," Garofoli says. "It transfers to other facets of their lives."
For more about the sailing program, including adult lessons, along with all the other Onset Bay Center programs, see here.
Photography by Erik Kowalski of edk studio.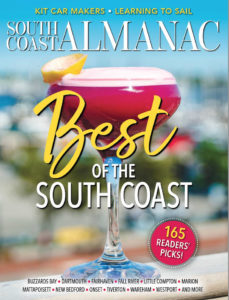 Want more stories celebrating the South Coast? Subscribe for our print magazine today, right here, 4 issues a year for just $19.99.