Our friends at Surprenant & Beneski, PC sent us to Farm & Coast Market to peer behind the wall into their kitchen.  Here's what we learned this month: the pizza is the sneaky great thing on the Farm & Coast menu. S & B is a law firm that is all about family and nothing says family like pizza night.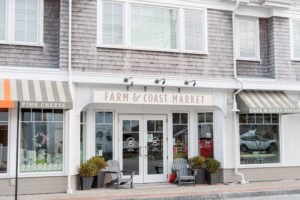 We knew that Farm & Coast was the place to go for so many things: prepared foods, picnic fixings, local meat butchered on the premises, wine dinners, game nights, book clubs and so much more. It's really a community hub in Padanaram. Here's what we didn't know: their pizza, oh my!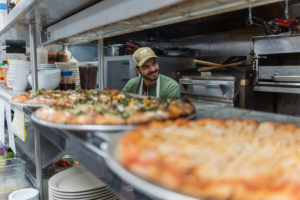 Executive Chef Jeremy Montijo let us in back to watch them one afternoon. The first thing we noticed -- besides the huge bucket of flour waiting to be transformed into dough -- was that there is a lot of camaraderie back there in the kitchen. Those folks are having so much fun back there -- try to catch a glimpse of it when you're standing at the butcher counter outside.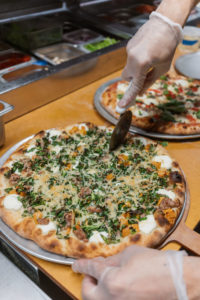 But first, the serious stuff. We were there for the pizza whose popularity exploded during the pandemic and has never waned since. They've got a couple who drives from Connecticut every single week just to get their pizza. Well over 100 pizzas fly out the door on summer evenings. It's gotten so popular that the kitchen is preparing for a new oven soon that will allow them to double or triple their pizza production.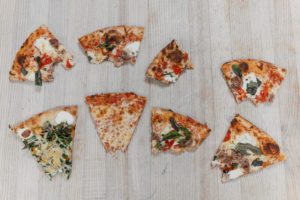 We watched them expertly shape the dough into neat circles and then layer on the elevated ingredients. We were trying the Harvest Pizza with kale, sausage, roasted butternut squash with alleppo pepper, parmesan and whipped ricotta cheese and the Godfather with red sauce, housemade sausage with local pork, peppadew peppers, cheeses and pressed garlic. They also made us a regular cheese pizza. We had a tasting party afterward. You can see from the picture which was the most popular.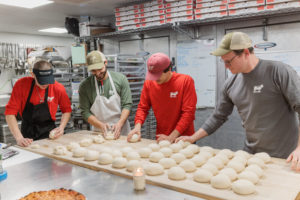 There was a lot of good natured ribbing, like when they each joined in to roll  out 42 dough balls, each claiming to create the perfect denseness in their circles. Their team spirit thrives like this throughout the day. Like when Jeremy leads the team in push ups at the end of every shift. "We all do 30 pushups together. It's a test of endurance," he jokes. Or when General Manager Jodi Cote hides plastic cows throughout the kitchen. Find one and you'll get a special prize from the bag: Farm and Coast gear, gift cards, sometimes even time-and-a-half for that shift.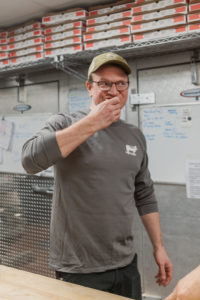 Chef and butcher Ricky Dare is the author of their pizza dough recipe. He came to Farm & Coast to apply his butchering skills from Day 1 of its opening in 2016. How'd he become a butcher? I ask. "A book to my left, a cow in front of me." He's like a pioneer guy, super resourceful, making bird suet and candles from fat left over from his butchering. This creative resourcefulness comes in handy when they add new things to the menu, like the ice cream which they started making in-house last October. The biggest seller right now may be vanilla but those folks in back are having fun and encouraging you to try different things like corn ice cream, honey-lavender ice cream and limoncello ice cream.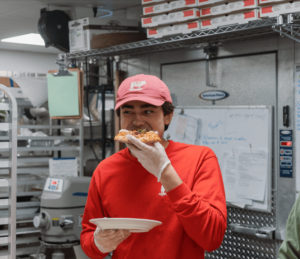 The bottom line is that there's a lot of good karma back there in the kitchen and you can taste it in the pizza (and everything else).
Secret tip: buy some par-baked pizzas from their freezer and you can pop them in the oven for a delicious dinner at home.
Farm & Coast Market, 7 Bridge Street, S. Dartmouth.
Photos by Liam Connor Photography.
We hope you enjoyed this post, which is part of a series of blog posts celebrating local food spots, sponsored by Surprenant & Beneski, P.C., the premier estate planning and elder law practice serving clients in Southeastern Massachusetts. Surprenant & Beneski can help you prepare the foundational documents needed to facilitate healthcare, financial and legal decisions should a medical crisis occur. Early planning can save money, heartache and angst during a temporary bout of incapacity or a long-term care event. Getting your estate plan in order gives you peace of mind. Find out more about Surprenant & Beneski here.
If you want to make sure you don't miss learning the next favorite food spot, sign up here.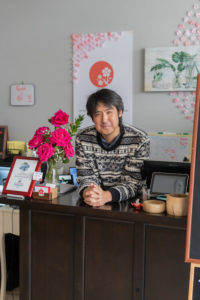 Last post in the series: Owner William Foley at Yozakura Sushi will create any Japanese dish for you, even if it's off-menu. "If you see something in an anime or a manga," he tells folks, "I can make it for you." Sometimes patrons will bring up photos on their phones to show him what they want. Yep, he'll make it happen. Find out more here.