Our friends at Surprenant & Beneski, PC sent us to Forno Bakery in Wareham where we devoured thick slices of delicious fresh bread while Melissa Sepulveda told us stories about her Sicilian grandmother, mother and aunts. S & B is a law firm that is all about family and so this seemed about right.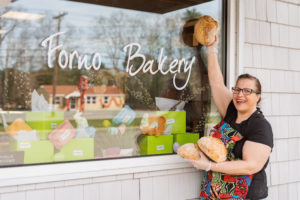 When Melissa Sepulveda baked fourteen loaves of bread, her husband told her he really liked bread but gently suggested that their family couldn't eat quite so much of it.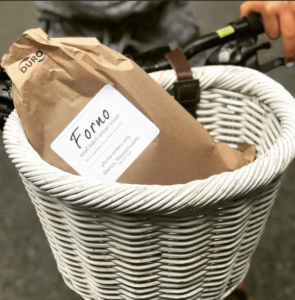 She spread the word on Facebook ("does anyone want fresh bread?") and started giving loaves away. Before long, she was selling some loaves. People came to the door to buy her bread. Next, her kids were delivering bread around the village of Marion, bread piled in the baskets of their bicycles.  She laughs, "it was like a Hallmark movie."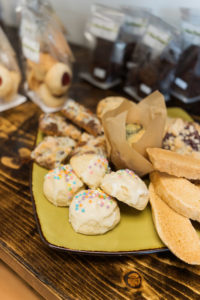 And like a Hallmark movie, a second career fell into place. Her friend Beth Winn encouraged her to start the business. She agreed to be Melissa's business partner and take care of everything that didn't involve baking. Another friend gave her a commercial baking oven that she had outgrown. Another friend helped set up her venting system.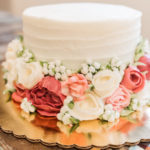 Even when everything falls into place like this, sometimes the nuts and bolts of running a small business can make your head spin. Whenever Melissa starts to feel this way, her partner Beth reminds her to "just bake the bread."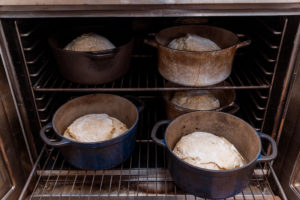 It's become a great life mantra: Just bake the bread. Five days a week, Melissa bakes bread in her little shop on Route 6. When she's baking bread, she's in her zone. She treats each of her artisan boules as if it's heading for a special occasion, each one steamed individually in dutch ovens to create a pillowy soft inside and crisp crunchy crust.  She has a sixth sense when the bread has risen enough. If you ask her how long the boules take to rise, she says, "I don't know. When it puffs up enough. I just have a sense." She tries to explain it further. "It's a relationship," she says of the bread. "I can't describe it. Sometimes, I'll start talking to it."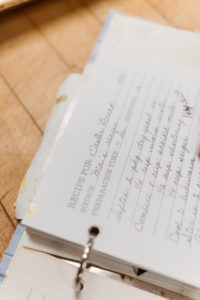 She feels especially connected to her mother and grandmother while baking. In fact, she turned to bread when she was recovering from the double whammy of a mastectomy and her mother's death. Bread helped her heal and feel grounded. It brought her joy. It's probably that joy that makes her bread so good. She invokes her mother and grandmother every day when she pulls out her family recipe book, filled with her mother's neat and careful writing, to make lots more than bread: biscotti, anise cookies, rum cakes, scones, muffins and more.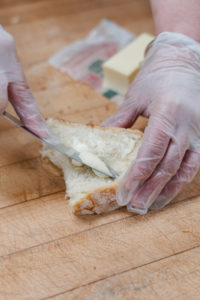 Tucked away next to Sullivan's Liquors in Wareham, you may have driven by Forno Bakery dozens of times without even realizing it. We're telling you, pull over. Try the boule. Bring it home, cut a rough slice and slather butter on it with a sprinkling of salt.
There's nothing better.
Forno Bakery, 260 Marion Road, Wareham. Melissa's bread and pastries can also be found at the Scarlet Rose Bistro and the Blue Foot Cafe in Wareham, Marion General Store in Marion and Poi Market in Mattapoisett.
Photos by Liam Connor Photography.
We hope you enjoyed this post, which is part of a series of blog posts celebrating local food spots, sponsored by Surprenant & Beneski, P.C., the premier estate planning and elder law practice serving clients in Southeastern Massachusetts. Surprenant & Beneski can help you prepare the foundational documents needed to facilitate healthcare, financial and legal decisions should a medical crisis occur. Early planning can save money, heartache and angst during a temporary bout of incapacity or a long-term care event. Getting your estate plan in order gives you peace of mind. Find out more about Surprenant & Beneski here.
If you want to make sure you don't miss learning the next favorite food spot, sign up here.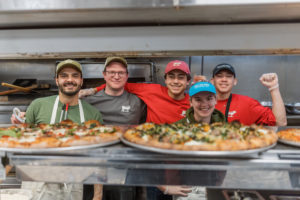 Last post in the series: Here's what we learned this month: the pizza is the sneaky great thing on the Farm & Coast menu. On our visit, and we quickly realized there's a lot of fun happening back there in the kitchen and it shows up in the food. Find out more here.