A Roundabout Journey From England to the South Coast
Meet John Stobart, a world-renowned and highly sought after marine painter lives quietly on the shores of the Westport River. .
Born and raised in Derby, England, and formally trained at the Royal Academy Schools of London, Stobart came to Canada and then the US as a young man more than a half-century ago to establish gallery relationships and sell his grand depictions of maritime history and life to deep-pocketed collectors on this side of the pond.
He garnered a show for himself almost immediately upon his arrival in New York City, and at one point in his career he was a featured artist at six galleries throughout the Northeast. Currently, his work is for sale at his gallery in Salem, Massachusetts.
After living for years in Connecticut and on Martha's Vineyard, Stobart visited a friend in Westport and fell in love with the area. He transformed a small cottage into a larger home with a studio space, where views of the ever-changing skies and picturesque shores inspire the artist daily.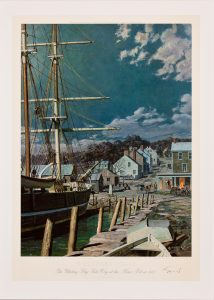 He has painted the Kate Corey, the last large whaling brigantine to be built in Westport in 1856, at dock at Westport Point. When he sketched the scene, the Kate Corey wasn't there, but his reference of models of the vessel and other records allows him to paint it as if it were. "All those houses, however," he notes, "were as they were."
Another favorite reference point is of the Knubble. But not all of Stobart's paintings reference the past. The painting featured above is of a couple of resting sailboats with the iconic landform in the background.
Now in his eighties, Stobart doesn't produce quite the volume of work he once did, but he revels working through the twilight of his career in a "very paintable area," he says. "This has been a terrific place for me to settle."
John's story is part of our series WHY I LIVE/WORK HERE, a feature of our print magazine. We invite you to become a subscriber to meet other fascinating folks who have chosen to settle down on the South Coast. Just $19.95 allows you to support a quarterly magazine that seeks to explore the very best that the South Coast has to offer.