Better Than an Ice Cream Truck!
Suzanne Belanger was blown away on the streets of Nashville when she spotted a VW bus- turned-floral shop. She took so many photographs that her children made fun of her.
The floral designer came home to Marion and told her husband Marc that she wanted to do something similar. He gamely found her an old VW single cab bus and together they refurbished it to become Bella Flower Truck.
"I want the truck to be more than a place to buy flowers," she says. "I want it to be an experience, a place where people stop and talk."
Suzanne focuses on sustainability. The environmental costs associated with the cut flower industry have led to a "Slow Flowers" movement which encourages folks to buy from small growers in their area who farm sustainably. Bella will be stocked with local flowers so you can take home a "50 mile bouquet."
Find her at special events along the South Coast and beyond by keeping up with her on Instagram or on her website.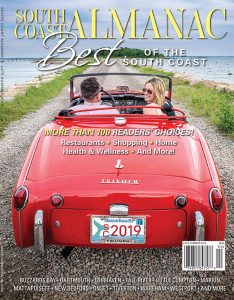 This piece ran in our late summer 2019 issue. Subscribe today for just $19.95 to have 4 issues delivered straight to your door and keep up with all the cool things on the South Coast, like Bella Flower Truck.