We've got the best job in the world! We get to travel around the South Coast, finding good stories. Sometimes our readers lead us to great stories. Sometimes our advertisers do. In this case, Sharon Viens from Split Rock Townhomes in Mattapoisett suggested we talk to a Marion couple who had purchased a home at Split Rock. When we knocked on their door, we were greeted first by their wonderful pets and then discovered a wonderful Valentine's story…..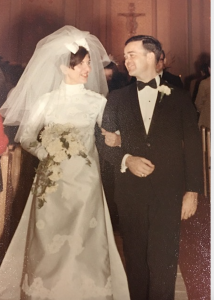 Jeanne & Joe Daly were married on Valentine's Day. Exactly 50 years ago. And here's what they know after five decades of marriage: it's almost impossible to get a reservation to celebrate your anniversary.
That's the downside.
The upside? You never forget your anniversary.
They both grew up in Massachusetts, but it took moving to New York for them to meet. They met there in May, were engaged in September, married on Valentine's Day and moved to Boston a few days later.
Jeanne's mother was not happy with their choice of wedding date. "She was afraid there would be a blizzard," says Jeanne. It was a legitimate worry: Jeanne's birthday is February 15 and, in the days when schools got few days off for snow, Jeanne stayed home a couple of times on her birthday because of a blizzard. "Best birthday present!" she remembers.
A neighbor told her mother to hang rosary beads out the window to ensure good weather. They did so and it did the trick – it was a clear, if chilly, day. At the end of the day, Jeanne took the rosary back inside. Sure enough, it snowed heavily the next day – Jeanne and Joe were on the last plane to their Puerto Rican honeymoon before they shut Logan Airport down.
This year, they'll stick close to home. Drawn to the area as boaters, they used to sail their boat down from the North Shore and dream of a place by the water. They travelled into harbors along the South Coast and Cape Cod before zeroing in on Marion.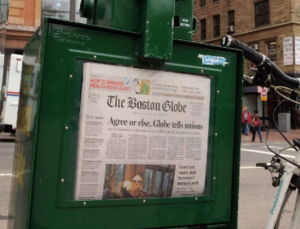 Joe tells a story of quintessential small-town life that drew them to the South Coast. They were on their boat and he was heading out to pick up a few things at the General Store. Jeanne called after him "Don't come back without the paper!" Joe walked over to Marion's General Store but they were sold out of newspapers. Jack Cheney (the owner of the General Store) drove him up the street to buy a paper at a newspaper box. (Remember them?)
The box was empty. So Jack drove Joe all way to Wareham to make sure Jeanne got her paper.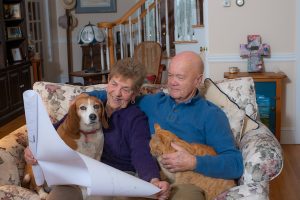 They've happily lived in Marion for over 20 years. When it came time for them to downsize slightly, they didn't want to move far. They wanted all the comforts of home, without having to weed the flowerbeds or power up the snowblower. By the end of the year, they'll be settling in at Split Rock Townhomes in Mattapoisett.
In the meantime, if you want to wish them well on their Golden Anniversary, you'll find them at Tastebuds in Mattapoisett (they have reservations!)
Happy Valentine's Day! Happy Jeanne & Joe day!
Want to meet some of our other favorite South Coast couples? Check out some past Valentine's Day posts with other great local couples here and here.
Our print issues are always chock full of other great stories, restaurant and calendar ideas…..become a subscriber so you get the full round-up of great things to do on the South Coast. Subscribe right here for just $19.95 a year, delivered straight to your door!