From time to time, we take our advertisers out to breakfast to review a local breakfast place for our readers. We recently invited Pete Covill of Humphrey, Covill & Coleman to join us for breakfast and he instantly said, "Why not lunch?" 
Pete wanted us to check out the re-opened Lebanese Kitchen. But shhhh, it's kind of an open secret…it's not officially open yet. There's been no grand opening. Although you wouldn't know it from the crowds already heading there. The Lebanese Kitchen relocated to Mattapoisett after a fire 4 years ago decimated the family's New Bedford location and their home. They've got super fans all over the South Coast going back over 35 years who have been waiting patiently for the last four years for the Moujabber family to reopen their restaurant.
It's a family affair. Nabih and Nouhad Moujabber own the restaurant and their son Gary helps run it. Gary says,"My mom is the back of the house, I'm the front of the house. My dad is the whole house!"  Nouhad  arrives each day by 8:00 to start making all the staples homemade from scratch: tabbouli, hummus, babaganoush. She'll be there until after midnight many nights.
It's a big change from their small 35 seat place on Purchase Street in New Bedford. The Mattapoisett location has seating for 250 and includes a large bar area. Gary says they're still in the soft opening phase because they want to make sure they iron out the kinks for this much bigger operation. He wants everyone to be patient while they do this. Based on the crowds, I'd say they're doing a great job of smoothing out the kinks.
We settled in and ordered the Maza, billed as a "tour and taste of Lebanon with our chef's exotic Lebanese specialties served family style." It is like a tasting menu, a smorgasbord of everything, in vegetarian and non-vegetarian options. It seemed the perfect introduction to the Lebanese Kitchen and to Lebanese food in general.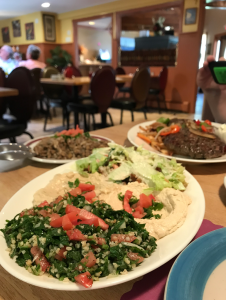 It arrived and could probably have fed a small family: falafel, hummus, baba, tabbouli, chicken and kafta kebabs, mjadra (a thick lentil stew) and loubieh (string beans, tomatoes, onions and garlic sauteed in olive oil – so yummy!). Despite the abundance of food, we quickly made short order of it because you have to sample everything and one thing is better than the next. A special shout out for their special garlic paste which looked a little like mayonnaise but is actually almost entirely garlic emulsified in the blender to become a thick and creamy spread that makes everything taste even better: kebabs, pita, french fries. Gary jokes, "I brush my teeth with that stuff!"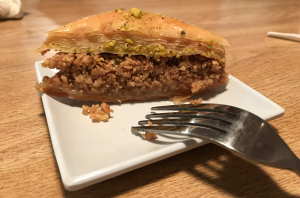 As full as we were, we tried the baklava for dessert, homemade of course. Flaky pastry with sweet honey, pistachios and just a hint of rose water. I'm thinking next time I go, I may have my dessert first before I get too filled up.
We peeked into the kitchen to say goodbye to Nouhad who had overseen all this deliciousness. She was far younger than I thought. Her food made me think she was an ancient woman because her skill in the kitchen seems based on ages and ages of experience.
Pete Covill was a regular at their Purchase Street location, just a short jaunt from his insurance agency. Pete can fully appreciate the art in Nouhad's cooking because he is an avid home cook. He knows good food. Follow Pete's lead and become a regular at the Lebanese Kitchen. (We're thinking of following his lead on all things culinary!)
When the Moujabber's original place burned up, Pete was there helping to carry things out. He cried with the family. His clients become his family. He does all sorts of things for them: he bought a tuxedo and waited tables for one client, he gets up in the middle of the night when their pipes burst, he even helped pick out the wines for the Lebanese Kitchen. His father Raymond instilled in him this conscientiousness. He remembers an elderly woman coming in with her car which had graffiti all over it. It was an older car and she had no coverage for this kind of damage. Raymond and Pete went out to the parking lot, got some polish from Raymond's car and they polished the graffiti right off her car. Pete proudly notes, "My cell phone number is on the front door." His clients know how to reach him and he picks up the phone. No matter where or when it rings.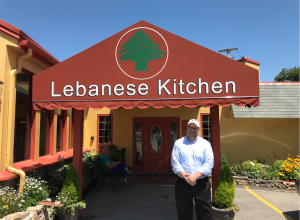 Pete is pretty passionate about insurance. It's not put-on, it's really genuine. Over lunch, he told me with enthusiasm that there's never been a better time to be in insurance than right now because with the de-regulation of the coastal flooding programs, he can get significant deals for homeowners who need flood insurance. It makes him almost giddy when he's able to reduce homeowners' insurance sometimes by thousands and thousands of dollars. He's the guy that real estate agents call when their clients are having trouble getting a mortgage because they've been told that a coastal home is uninsurable. If you want to check in with him, give him a call. His number is plastered on the door of his agency so he said it's okay to plaster it here: 508-264-0130.
Find Lebanese Kitchen at 79 Fairhaven Road, Mattapoisett. Find Pete at Humphrey, Covill & Coleman Insurance Agency at 195 Kempton Street, New Bedford.
And, finally, to keep up with South Coast Almanac's restaurant hopping and lots more going on in the area, sign up here.