Here comes September — back to school, back to work, back to reality. Lucky for us we live on the South Coast and our reality is pretty darn sweet. Here are our 8 Great Things for the month ahead.
Annual Onset Bay Illumination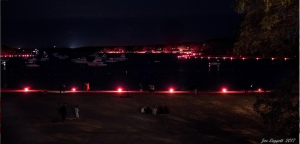 One of our all-time summer favorites (postponed by rain earlier this year which makes the start of September that much better!), Illumination Night is truly magical. After dark settles in, a horn sounds and volunteers run the beaches and two islands, lighting thousands of flares as they go. The result of their efforts: fire lining all of Onset Harbor. Stroll along the flares and enjoy the spectacle. Beforehand, spend the day in Onset enjoying its annual kite festival from 10 – 4 and the El Caribe steel drum band performing at 7:30 pm. September 1, Onset Beach (free parking available at Hynes Field, a 5 minute walk from the beach). Free. See more here. 
2. Butterfly Census
Help members of the Massachusetts Butterfly Club find and identify different types of butterflies in Allens Pond Wildlife Sanctuary. The butterfly club guides will lead teams into parts of the Sanctuary and provide their knowledge about butterflies native to the South Coast. The event is free, but pre-registration is required. Wear long pants, sunscreen, and bring water and a snack — butterfly watching can work up an appetite! September 8, Allens Pond Wildlife Sanctuary, 1280 Horseneck Road, Westport, 10 -2. Sign up here.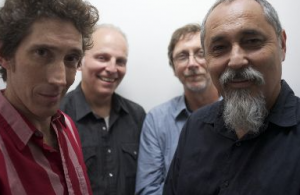 3. Narrows Festival of the Arts
What better way to spend an early September Sunday than outside, enjoying a variety of live music, perusing selections of work from art vendors, enjoying food truck food and lemonade, and maybe even saying hi to some exotic animals? The Narrows Festival of the Arts promises all this along Fall River's historic waterfront. The festival is free and has fun for all ages, between the Children's Museum tent and the indoor and outdoor stages of live music, there's sure to be something to please everyone in the family. September 9, 16 Anawan St. Fall River. More here. 
4. Ready. Set, Run!
Cooler temps means all the more reason to get outside and run the South Coast! There is no better way to start than with a fun 5k, through the gorgeous Fort Phoenix State Beach and Reservation. The 5k benefits a variety of local charities, and registration is $15 prior to the race (and includes a t-shirt) or $20 the day of. So hit the ground running and embrace the start of fall in Fairhaven. September 9, 10 am, Fort Phoenix State Beach and Reserve, Fairhaven.  More here. 
5. Get your dancing shoes on!
What do celtic music, French Canada and New Bedford have in common? Genticorum! Genticorum is coming to the James Arnold Mansion this September, and bringing with them their jubilant Celtic-based music all the way from French Canada. Join the band to experience music influenced by jazz and Québec folk music with fiddle and flute (seems fun to us!).  Tickets at $20 in advance (available online) or $25 at the door. September 14, 7:30 pm-9:30 pm, Wamsutta Club, 427 County St, New Bedford, Get tickets here. 
6. Time to get spooky!
What better way to jump start some Halloween spirit than with a day touring cemeteries?! Little Compton Historical Society is opening up all town cemeteries for an afternoon. So get out and explore the beautiful historic grounds (including many which are normally not open to the public!). Volunteers at each site will be available to answer questions and share information. Tickets are $10 for Society members, $15 for non-members, and free for kids 12 and under. September 22,  11-4. Wilbor House Museum, 548 West Main Rd, Little Compton. See more here. 
7. Lakeville Arts and Music Festival
September is the month of music and art! If you missed the Narrows Festival (or if one just wasn't enough), head to Lakeville for its Arts and Music Festival. The festival celebrates local artists and musicians from the South Coast. Rain or shine, the day is filled with fun and entertainment for the whole community and, guess what, it's free. September 29, 10-4. Lining the intersection of Routes 105, 18 and Precinct Street. More here.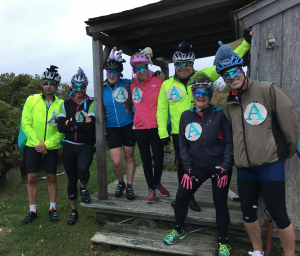 8. Bike on!
We love Buzzards Bay, South Coast early fall views, biking, clean water, and a good party. That's why this September, the South Coast Almanac team is biking the Buzzards Bay Watershed Ride for the third year straight! The route has 100, 75, and 35 mile options, so there's something for everyone. Cyclists each raise $300 (or more!) to support the great work of the Buzzards Bay Coalition. You'll have access to five water stops, a yummy food truck lunch, and dinner with beer and wine at the party (which features live music and award presentations!). The SCA team is always looking for new riders (and trust us, we have A LOT of fun, see photos of our award winning costumes from last year), email us at [email protected] if you're interested in joining our team! In the past, our publisher, editor, and advertising director along with board members and friends of the 'Nac have ridden. We want you to join us!! September 30, start time depends on which route you choose. See more here. 
Wanna keep up with the coolest happenings each month on the South Coast?! Sign up for our free newsletter right here!
OR subscribe to our print magazine which has even more activities and events to keep you busy all summer. You can buy a copy of our current issue right here for just $8.95 delivered to your door. An annual subscription is right here.