When we turn the calendar page to August, we get a little frantic — gotta make that list of all those summer things we haven't done yet: dig for quahogs, cheer on the Wareham Gatemen and New Bedford Bay Sox, learn to sail (ha, that one's on a longer list!). We've put together 8 Great Things that should be on  your 2018 summer bucket list that will create memories to reflect fondly upon come February.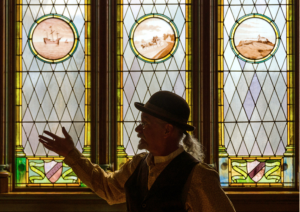 1. South Coast's Best Walking Tour
Featured in our current issue, the Henry H. Rogers Walking Tour is lauded as one of the best in the Northeast by the Huff Post. The tour explores the life of Standard Oil Co. executive Henry Rogers and the many extravagant buildings that he donated to Fairhaven, his home town. The tour is a perfect way to celebrate the exceptional architecture of Fairhaven. Plus, it's free (!!) and begins outside the Town Hall. Tuesday and Thursday mornings through September, 10am (weather permitting). See more here.
2. Historic House Tours at Martin House Farm
The Martin House Farm in North Swansea is a lovely 18th century farm house and barn on 50 acres of farm and wood lands. The land features the beautiful original stone walls, as well as the farm house steeped with rich history. Members of the Martin Family lived in the house for over 200 years, before it was donated to the National Society of the Colonial Dames in 1930. Learn all about the Farm's past on the guided tours, every Sunday in August. 1-4 pm, $5. See more here.

3. Did Someone Say Grateful Dead?
We've heard that the Toe Jam Puppet Band is like the Grateful Dead for toddlers. Even if you don't have a toddler, aren't you kind of intrigued? Sing, dance, and play for the whole hour with these local superstars. The Band performs weekly at the Buttonwood Park Zoo, so there is plenty of time to see them before summer ends. Mondays, 10am or 11:30am. 425 Hawthorn Street, New Bedford. See more here. 
4. Wishing on Many Stars
The Perseid Meteor Shower boasts meteors at rates of up to one per minute. Getting cozy in the fields at Stone Barn to watch seems like the perfect way to spend an August night. Be sure to pack your snacks and water, insect repellent, layers, and maybe even binoculars or a telescope if you'd like. August 11, 8 pm. Allen's Pond Wildlife Sanctuary, Stone Barn Farm, 1280 Horseneck Road, Westport. $10 for Mass Audubon members, $12 non-members, pre registration required. For more information and to register, go here.
5. Fishing for Wine
Don't you love the eclectic mixing of a fishing boat and a wine tasting? Onset's Neat Lady thought so too and is transforming itself into a wine tasting and learning experience for a sunset cruise. Their wine expert says it will feature "wines sourced from vineyards along water, we'll make this a focal point for understanding how the water plays a role in why the wine tastes the way it does, inviting folks to think of their local surroundings of having more potential for growing grapes and complicate their understanding of local vineyards in a delicious way." Sounds like a recipe for a perfect night to us and includes cheese and charcuterie, along with the wine (and learning). August 12, 7 – 9 pm, $38. See more here. 
6. Lovely Local Spaces Filled with Music
Music from Land's End brings chamber music concerts with internationally acclaimed artists to the South Coast. Artistic Director Ariadne Daskalakis has worked hard to bring two wonderful concert series to us this summer, wrapping up in August with the String Quartet Program. To learn more about the program and the featured artists, check out their website! August 18th, 7pm at Marion Music Hall, 164 Front Street, Marion. August 19th, 5 pm at Church of the Good Shepherd, 74 High Street, Wareham. Open to the public, by donation (recommended donation is $25).
7. Eco-Herbal Medicine Interactive Walk and Talk
Join herbalist Brendan Kelly on a foraging walk to learn about the identifications, tastes, and uses of local medicinals and edibles. The interactive walk and talk is co-sponsored by the Sippican Lands Trust and the Marion Institute and explores the beautiful trails at Brainard Marsh. August 25, 9am-10:30am
$5 for Sippican Lands Trust members, $10 non-members; pre-registration required. See more here. 
8. Onset Chalk-Full-O-Fun Festival
This annual festival truly lives up to its name. There's nothing better (or more summer-y!) than getting your hands dirty in the chalk, and this festival celebrates just that. Enter the fun yourself and join the competition as an individual or as a group. Your entry comes with chalk and a sidewalk square to create your masterpiece. To get your creative juices flowing, featured chalk artists create breath-taking works and local artists really step up their game for the competition. There's also live music from noon to 4 and vendors throughout the day. August 25, registration begins at 9 am. Festival is free but if you want to register, $5 gets you your own square and a box of vibrantly colored chalk. Lillian Gergerman Bandshell, Onset Avenue, Onset. See more here.
Wanna keep up with the coolest happenings each month on the South Coast?! Sign up for our free newsletter right here!
OR subscribe to our print magazine which has even more activities and events to keep you busy all summer. You can buy a copy of our current issue right here for just $8.95 delivered to your door. An annual subscription is right here.