If you are looking for a great place to stay while you are visiting the South Coast or a place for a quick overnight getaway, consider one of these intimate accommodations. 
This originally appeared here in our Early Summer 2020 issue. We reprint it here as a good accompaniment to our upcoming Early Summer 2021 issue's feature: 24 Hours on the South Coast.  
1. Cottage 29, Tiverton
With great views across the bay to Portsmouth's Hummock Point, this little cottage is an inspired take on classic coastal style. Open all the windows and doors out to the veranda and enjoy the salty air. It also includes a gourmet chef's kitchen and a garden patio.
If the Cottage is taken, consider a couple other Moore House properties in Tiverton with the same waterfront feel: Dockside and Boat House (not to be confused with the exemplary restaurant of the same name in town).
Facts:  Bedrooms: 2 |  Sleeps: 4 | Bathrooms: 1 | moorehousefamily.com/stay
2. The Stone House, Little Compton
On 2.7 acres near the tip of Sakonnet Point, the Stone House recently underwent comprehensive  renovations of its rooms and was outfitted with a state-of-the-art geothermal heating and cooling system.
The original four-story building was constructed in 1854 as a private residence and was once home to David Sisson and his son, Henry Sisson, a civil war hero. The Stone House was named to the National Register of Historic Places in 2008. The property features 14 spacious and well- appointed guest rooms and suites, beach access, and a fire pit.
Facts:  Bedrooms: 1- 2 |  Sleeps: 2 – 4  | newportexperience.com/stonehouse
3. Silvershell Inn, Marion
The parsonage built in 1799 features a lovely garden and a side porch for al fresco breakfasts. Owners George and Jean Linzee are lovely hosts who will happily give you your privacy during your stay. But we suggest that you ask them lots of questions. Because chances are that the portrait you're looking at or the antique table has a story connected with George's family who prominently figured in many of the most important moments in American history. George calls it a "living history farm." So pull up a (period antique) chair, and prepare to be entertained by the history behind Silvershell Inn.
Facts: Bedrooms: 1 (there are 3 bedrooms, 2 bedrooms have queen beds and the other has 2 queen beds) |  Sleeps 2 – 4 | silvershellinn.com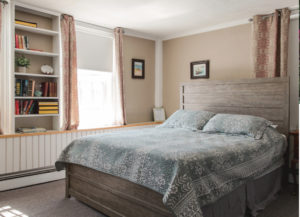 4. Inn on Shipyard Park, Mattapoisett
Built in 1799, the Inn has served as a blacksmith shop, a ship chandler and a speakeasy, among other things. Today, it's a popular local spot for brunch, dinner and live music. Owner Nils Johnson says the Inn is best suited for guests who enjoy live music because it's an old home with all the soundproofing that that suggests. No designated drivers required, you can spend the night socializing in their charming colonial- style tavern, walk upstairs to one of the 3 bedrooms, and wake up to a wonderful view overlooking Mattapoisett Harbor from the private balcony.
Facts: Bedrooms: 1 (there are 3 bedrooms, 2 bedrooms have queen beds and the other has 2 queen beds) | Sleeps 2-4 | theinnonthepark.com
5. Mink Cove Treehouse, Wareham
Butch Ripley's daughter sketched a dream treehouse when she was 6 years old and Butch set out to build it for her. In the nearly 10 years since, the treehouse has taken on a life of its own. Butch handcrafted almost everything with salvaged materials, some of which he saw in passing backyards while working on the commuter rail.
It's three stories of magic, complete with a hard-to-find escape hatch, tower, spiral staircase, and a compostable toilet and now it's available for adventurous visitors. Set in their backyard, you are sleeping in the trees, adjacent to over 100 acres of conservation land.
Facts: Bedrooms: 1 | Sleeps 3 | airbnb.com/rooms/35228147
6. The Whalehouse, New Bedford
The Whalehouse is a grand Victorian built in 1855 in historic downtown New Bedford. Home to Herman Melville's sister, this is where he used to stay while visiting her. Laura Parrish, an independent design director, and her husband Nick, a financial advisor, were looking for a house outside of Boston. They stumbled upon this on Zillow during their honeymoon and did an historical renovation.
The Guest Suite, which they made over as well and started renting out in April 2019, is a fully separate two-floor apartment, which has its own private entrance and is stylishly decorated. There is also a small kitchenette, living room with a fold-out sofa bed, and a dining nook.
Facts: Bedrooms: 1 | Sleeps 2-4 | thewhalehousenb.com
7. Koselig Cabin, Westport
Near Horseneck Beach, Buzzards Bay Brewery and Westport Rivers Winery, this little cabin with an open concept is only a five-minute walk to the quiet little neighborhood beach.
Facts: Bedrooms: 2 | Sleeps 6 | airbnb.com/rooms/22502385
8. Captain John Henry Swift House, Fairhaven
A Greek Revival built for Captain James Henry Swift in 1844, it became the residence of a close associate of Henry H. Rogers, Job C. Tripp, who resided here in the house through 1917.
The formal parlor features a black marble fireplace, custom draperies and French doors. A fireplace with rare Bennington tiles and a built-in china cabinet are located in the adjacent private dining room. Up the grand staircase to the second floor is your private bedroom and bath.
Facts: Bedrooms: 1 | Sleeps: 2 | airbnb.com/rooms/20451275
9. Cranberry Gardens Inn, Wareham
Owners Meg and David moved to Wareham from Needham, drawn to the beautiful property that has since become the Cranberry Gardens Inn. Previously owned by a local cranberry grower, the majestic home and carriage house is described by guests as "quintessentially New England." Meg and David don't think of hosting a B&B as work. "It's like having friends over," says Meg. They're passionate about cooking and they don't mind getting up early to prepare cooked-to-order breakfasts for their guest, many of whom become repeat visitors.
Facts: Bedrooms: 1 (3 in total: 1 with King bed, 1 with Queen bed and 1 with Full-sized bed) | Sleeps: 2 | airbnb.com/rooms/7355501
10. Quonset Hut, Tiverton
A Quonset hut is a lightweight prefabricated structure of galvanized steel made popular in World War II to store ammunition and named after Quonset Point on the other side of Rhode Island, where they were first made.
Only a handful are left in Rhode Island, and this one has been restored to include a sitting room with a baby grand piano and domed kitchen and dining area with a table that seats ten. When the weather's nice, enjoy the deck, fire pit, and hot tub. The property also comes with bikes and kayaks.
Facts: Bedrooms: 4 | Sleeps: 10 | moorehousefamily.com/stay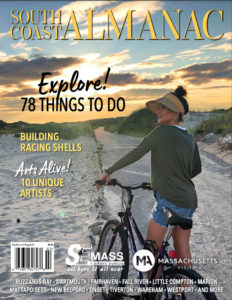 Want some itineraries to go along with these great stays? Order our current issue with 73 things to do delivered straight to your door. Just $19.95 gives you 4 issues chock full of stories about the people and places of the South Coast.