As you might expect, from time to time we meet with our advertisers, usually at their offices. We've decided to make these meetings even more efficient (and fun) than they were before. The idea: meet them for breakfast, at a favorite place of their choosing, and review the place for this blog.
Today, Kristi Cornuet from T.M. Ryder took us around the corner from her Middleboro office to Coffee Milano. Kristi says her office orders either breakfast or lunch from there nearly every day. The restaurant staff will see the Caller ID on the phone, know that it's her and answer: "What'll it be today?" Then, they'll ask after others in the office "How about for your Dad? Your sister?"
Here's the lowdown on our meal:
Coffee Milano is a no-frills place where you order at the counter and they bring your food to the dining area when it's ready. Kristi told me she usually gets the Breakfast Sandwich (sausage, egg & cheese) on a croissant with a side of spicy jam. That sounded so good to me that I ordered it too. Side note of apology: sorry we didn't order different dishes so we could give you a sense of the variety but, honestly, that order just sounded so good.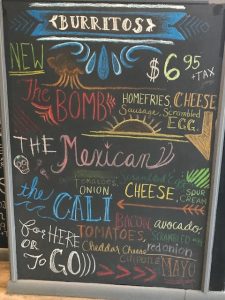 Kristi says she orders the breakfast sandwich about 90% of the time. But she sometimes chooses the Cali Burrito. At lunch, she often has the turkey and brie sandwich but there's even more variety for lunch here than there is for breakfast. Kristi loves the flatbreads and quesadillas. Her father gave a shout out for "The Steak Bomb." And her sister Kira says, "the Big & Juicy Cheeseburger is amazing."
But back to our meal! Kristi ordered an iced green acai tea, made to order. I got a plain coffee, nothing added, because although there is an extensive menu of coffee drinks, I felt like I needed something simple to justify my leap into the hedonism of a fully loaded breakfast sandwich on a croissant.
The sandwich was everything I hoped for –and I'm grateful for Kristi's insider trick of ordering the spicy jam on the side. It put the sandwich over the top. Hours later, my stomach is still happy.
You Can Ring My Bell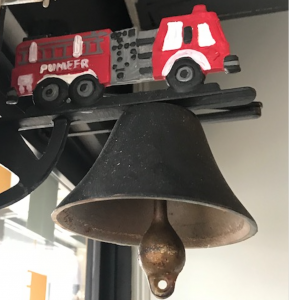 While we were eating, we heard a bell clang cheerfully. We found the bell by the door as we were leaving, and got the scoop on it. If you feel you've gotten good service, you can ring it on the way out. Kristi rang it. She smiled. I smiled. I saw an older man drinking his coffee smile.
It was a great way to start the week.
The verdict: 2 thumbs up!
Where to find them: Coffee Milano, 58 Center Street, Middleboro. 508-946-4006. Open for breakfast and lunch daily.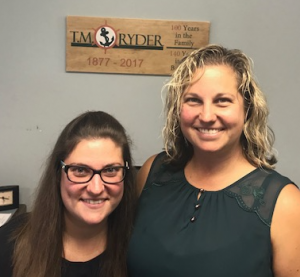 This review has been brought to you by T.M. Ryder Insurance Agency. After breakfast, Kristi and I walked just around the corner to her office. Over breakfast, she had told me that T.M. Ryder has been invested in the Middleboro community for over 100 years (started in 1877 by Mr. Ryder, Kristi's great grandfather took over one hundred years ago in 1917). But when I looked at the photos and old equipment prominently displayed in their offices, I got a more tangible sense of how much time (and experience) that really means.
I snapped pictures of an antique adding machine: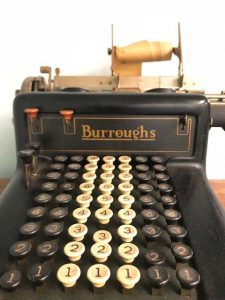 vintage filing cabinets;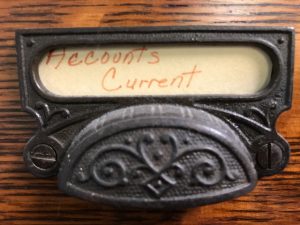 and old photographs of the business: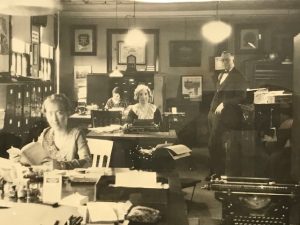 More than that, I experienced a business actively engaged in its community. In the short time I was there, two gentleman separately came in to make inquiries about their policies. You sure don't see that personal service with the giant insurance companies.
If there were a bell at the door of T.M. Ryder, I would have rung it loudly.  T.M. Ryder Insurance Agency, 8 Thatchers Row, Middleboro. 508-947-7600. 
---
If you want to stay in the know about other cool breakfast spots, as well as stories about the people, places, food and other things that make the South Coast special, sign up for our free emails right here.
Look for more in our series coming soon. And feel free to tell us your favorite breakfast nooks by commenting below or emailing us at [email protected].
Maybe we'll see you there sometime soon.