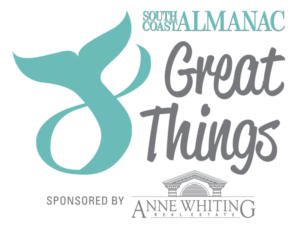 Spring is everyone's favorite season (until summer arrives and takes the mantle!) and we're smack dab in the middle of it. Take a look at our 8 Great Things list and you'll find all the wonderful outdoor things you've been missing: many walking tours, sailing, paddling and beach games, afternoon outdoor tea and a peek inside a historic temple. As always, many thanks to our sponsor  Anne Whiting Real Estate.
1. A Regional Arts Festival
For the third year in a row, SouthCoast Spring Arts transforms the area into a creative arts hub with (mostly) free and interactive programming for all ages. From Wareham to Fall River, there are dozens of cool activities for you to participate. We could have chosen all 8 Great Things this month from their listings alone! Go check out the offerings, with everything from floating teacups, to trivia nights, 3D theater, birdhouse making, paint and sip, and lots more. From May 5 to 14, see the list of activities here.

2. Plants Galore
The highly anticipated annual sale of the Garden Club of Buzzards Bay will take place on the lovely grounds of the Rotch-Jones-Duff House & Garden Museum. The sale benefits the club's community projects and features long time favorites, including colorful and varied annuals grown in the Club's own greenhouse, unusual perennials from members' gardens, an array of popular geraniums and special coleus, striking succulents, heirloom tomatoes, and herbs. May 5 (3 to 6 pm) and May 6 (9 am to 1 pm). 396 County Street, New Bedford. More here. 

3. Eye Dreaming
Anthony Barboza grew up in New Bedford before embarking on a wildly successful career as a photographer whose work appears in publications from National Geographic, Vogue, Vanity Fair and many others. He is well known for his photographic portraits of jazz musicians in the 1970s and 1980s, as well as his collaboration with other Black professional photographers who sought to combat discrimination and negative stereotypes through the Kamoinge Workshop. He joins the New Bedford Historical Society and Art Museum for a book signing and reception with his current book Eye Dreaming. 2 to 5 pm. May 6, New Bedford Art Museum, 608 Pleasant St. New Bedford. More here.
4. Moseying Around the Fall River Highlands with a Poet
Our own entry into the SouthCoast Spring Arts festival is the season opening of our Walking Book Tour, which explores a special corner of Fall River with Mark Elber and his award winning collection of poetry Headstone.  We'll have a leisurely walk in the historic Fall River Highlands, just under two miles with a few stops along the way to read, chat and enjoy a snack before ending at Temple Beth El, with a special chance to view the spectacular stained glass windows inside. We love seeing places that aren't generally open to the public and this will be a real treat, as we'll learn the history of this grand building from Mark and his wife Shoshana Brown. 4 to 6 pm on May 10. Free, but pre-registration is required here. 
5. AHA! Moments
We mark our calendars for the second Thursday of every month for Aha! New Bedford, with its myriad of cool cultural activities. Up this month: an urban birding adventure; New Bedford Symphony's Dave Prentiss compares Beethoven and the Beatles (with free tickets to the NBSO); an architectural tour of Paul Rudolph's iconic brutalist architecture on UMass Dartmouth's campus; a walking tour of historic houses; and lots more.  Free, May 11, 4 to 7 pm, throughout downtown New Bedford. More here. 
6. Tea for Two (or Eight!)
Enjoy a Mother's Day Tea in the historic garden of the Rotch Jones Duff House & Museum. Spring hats and dress encouraged for groups from two to eight people with seating under the outdoor tent. Tickets include tea, teas sandwiches, scones, desserts and admission to the Museum House. $25. Tickets must be purchased here by May 5. Event takes place at 1:00 pm on May 13 from at 396 County Street, New Bedford. More here. 
7. Get Out on the Water
The Buzzards Bay Coalition welcomes warm weather with its Onset Community Beach Day. You can play with their great water sport equipment: row, sail, paddle -- and play beach games like Kan Jam and Spikeball. It's all free but pre-registration is required. 10 am to 2 pm, May 13, 196 Onset Ave., Onset. More here. 
8. May is National Walking Month
The Dartmouth Natural Resources Trust is making it easy for us to celebrate national walking month with walks scheduled all month for all ages. They've got a StoryWalk, a Women's Walk, a Spring Ephemerals Walk, bird walks, hikes with tykes, and more. Join them throughout the month at one of their many beautiful properties. Various times and locations. More here.
***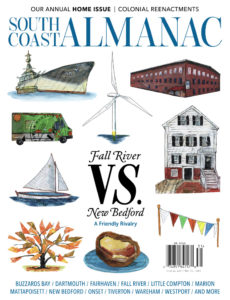 Our Spring issue is out and is filled with even more calendar listings, as well as great stories on the friendly  rivalry between Fall River and New Bedford rivalry, some dream homes, colonial reenactments and lots more.
Become a subscriber for less than $20 and get the magazine delivered straight to your door