I'm attracted to trends that can be reduced to hashtags. So when REI announced they were staying closed Friday and were encouraging folks to #OptOutside, I thought it was a great idea.
We took the lists compiled by the Buzzards Bay Coalition suggesting good walks for the day after Thanksgiving (2014 List and 2015 List). We picked West Island which led us to a quiet beach and clambering over rocks.
I liked the idea of eschewing Black Friday in exchange for some nature. But, well, I kinda wanted to go shopping too. So we made our way to the Town Wharf General Store with a specific assignment: get yankee swap presents for our extended clan Christmas party next weekend. It's not an easy task – we've got a wide variety of people in this group: young, old, male, female, candle-lovers, candle-haters.
Yankee swaps are pretty common so I assume everyone knows about them. But if not, here are the rules in a nutshell: everyone brings a gift, gets a number and picks another gift in numbered order which they can either unwrap or trade for a previously opened gift.
Basically, the goal as the gift recipient is to end up with something you like but that is not so fabulous that you know someone with a better number will steal it away from you. The goal as the gift giver is to give something that will not lead to disappointment. People don't groan audibly when they open the gift but you can sometimes see a groan on their faces. By all means, you want to avoid the silent groan.
So we went to the Town Wharf General Store in Mattapoisett and owner Chris Demakis was there. He asked if he could help us and we gave him the assignment: something in the $15 range that would not be a disaster whether it ended up with my uncle Tommy or my cousin's teenaged daughter.
An almost impossible assignment, right? Not for Chris and the TWGS. Here's what he came up with.
SPOILER ALERT: Anyone heading to the Briggette's family Christmas party next weekend should stop reading. Or maybe not. You can start strategizing on which package you want. Or don't want.
Here are the things we brought home: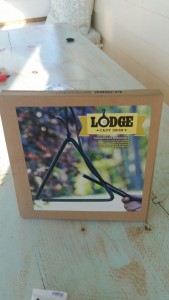 Chuckwagon Dinner Bell. I'm not sure how many people would want this but I know we wanted it. And that was enough to decide to buy it. Yankee swap pluses: it's unisex, no one already has one and everyone needs one. (Well, maybe not the last.) ($20)
Coop's Hot Fudge. Handmade in Massachusetts, Chris says this hot fudge is unbelievable. I'm going to pair it with a gift certificate for some ice cream and make someone very happy. ($10.95)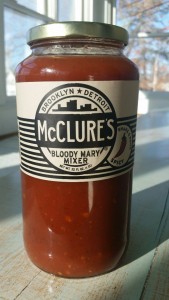 McClure's Bloody Mary Mixer. Made in Brooklyn by McClure's Pickles, it's apparently spicy and delicious. And easy — you just shake and pour. I'll add some garnishes to the package to round it out. Alcohol not included. ($9.99)
Even though McClure's can be enjoyed without alcohol, some of the younger ones may not like its spiciness so I've got something they can swap this out for…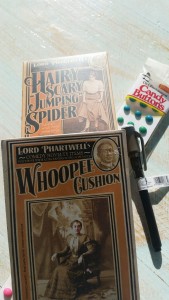 An assortment of old-fashioned fun. A bag filled with a whoopee cushion ($4.99), a Hairy Scary "Jumping" Spider ($5.99), an invisible ink pen with ultraviolet light ($5.99) and some candy buttons ($1.00).
I know I shouldn't have opened the box, but I wanted to demonstrate the jumping spider in action:
We actually only need to bring three gifts to the party. One of these will stay home with us. If you have any strong opinions on which should stay home, leave me a comment. (M.B.)