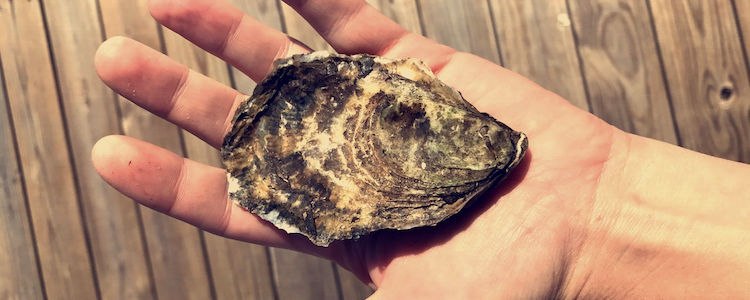 At 63 years old, Wareham's David Paling decided to embark on a second career as an oyster farmer. He shared his story with us in the current print issue of South Coast Almanac and we're reprinting it here. Settle in and read his story (and join us for a boat ride to his shellfish grant on July 20th — details below)…
On good days being an oyster farmer can feel like you've got the best job in the world. When cool weather and low tides sync, and your boat is running well, and the tasks that day are not back-breaking, and all around you have hundreds of thousands of happy oysters suspended in their floating bags silently gobbling up planktonic food and growing like crazy, it is easy to reach the level of happiness that is elation. The miracle of farm raising Crassostrea virginica — Eastern oysters — can do this. Bliss comes in many forms: an hour or two wading in quiescent water and finding nothing wrong with gear, nor any evidence of human or natural predation; the freedom of being the master of your own liquid domain, driven by tide and weather rather than artificial schedules imposed by more traditional occupations; the thrill of seeing your crop — fingernail sized when you bought them from a hatchery — achieve the three-inch length, deep-cupped status required by today's market forces; the wonder of nature all around you with cobalt skies and shimmering sun overhead and teal water below giving life to the likes of so many species. The list is simply too long to capture. In times like these, the work doesn't seem like work, and you feel lucky to be amidst these marvels, a part of the ecosystemic, global spin.
But there are bad days as well, and it becomes quite clear that oyster farming is not easy money and physically not something that anyone can get up from their chair and do. To wit: Steve Patterson and myself, general partners and owners of Crooked River Shellfish Farm, have accidentally dumped our oysters on the substrate by miscalculating the mesh size of our containing bags. We've had closure flaps fail, spilling yet more of our young spat along the shallow bottom. We've bounced our boat — the 'All In' — off the docks. We've gone home bleeding from contact with razor-sharp barnacles and oyster shell edges. There have been other low points. The first day we found dead oysters, natural victims of the expected mortality rate dealing with them, I got a whiff for the first time of this necrotic slop and it smelled as bad as, no worse than, a dead oyster. The constant repetitions of hoisting some 183,000 oysters in and out of the boat for culling purposes has escalated degeneration and my arthritis has me hurting from topgallant mast to stern. And once, when replacing the drain plug after emptying the boat of sea water at full throttle, I threw myself, my wife and oldest daughter Carly all out of the 'All In' when it took a violent right turn the moment I let go of the wheel.