Our friends at Surprenant & Beneski, PC sent us for some good, old-fashioned barbecue at Bootleg BBQ in Westport where we feasted on a whole lot of deliciousness while Fred Melnyk told us everything that went into what was before us (spoiler alert: hours of tending the fire).  S&B is a law firm that is all about family and we can tell you, Bootleg BBQ is a great place to take the whole family.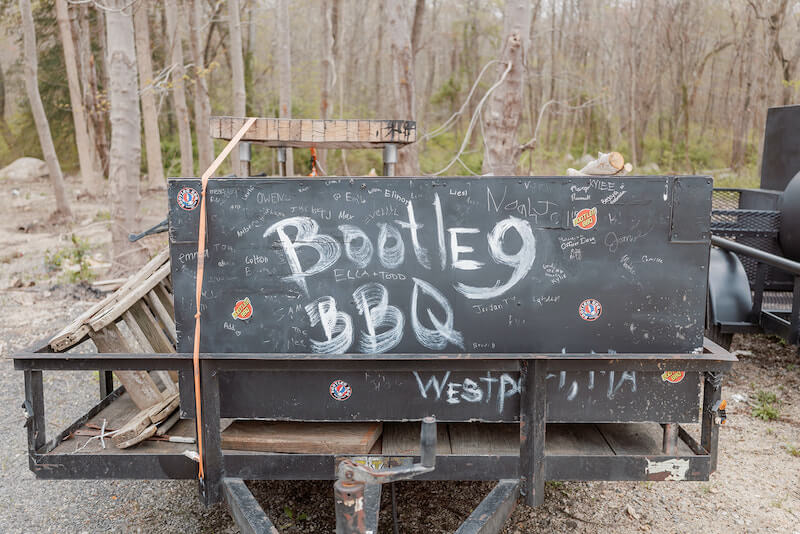 Before it was a business, it was simply a fun July Fourth tradition. Fred Melnyk spent 3 days smoking meat on a 55 gallon drum for his annual party for family and friends. The party grew and he figured out how to fabricate a bigger smoker using a decommissioned 500 gallon propane tank. He added a used trailer so he could haul it around the yard when he had to mow the lawn. Before long, friends were asking him to cater parties. Not a food truck, exactly, but with the trailer he was portable and he became a popular fixture at the Westport Fair and the Westport Winery sunset concert series.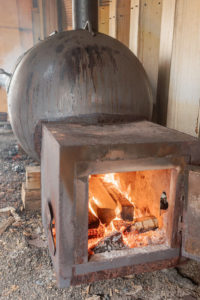 This smoker he wheeled around town was a side gig from his regular job as a Little Compton firefighter. Perhaps there's a natural affinity between firefighters and barbecuing. Fred already knows how to read signals: white smoke indicates the wood is burning cleanly. Gray smoke indicates some moisture in the wood and can create a bitter taste. He's figured out how to get the highest quality wood to avoid the latter.
Certainly, it helps to know fire when you're feeding and maintaining a fire over a hundred hours a week. By 2018, he had retired from the fire department to focus on his barbecue business full-time.
When space opened up last year in the Westport Village Commons on Main Road, Fred and his wife Heather were ready to give the business a permanent home in their own hometown.
It's got that vibe that all great barbecue joints have. Crowded and woody, with walls constructed of repurposed wood from a Westport home built in 1790. The portrait of a cow overlooking the dining room looks rustic but required hours of preparation ("it took the painter three days to paint that, 27 layers of paint and a lot of power sanding").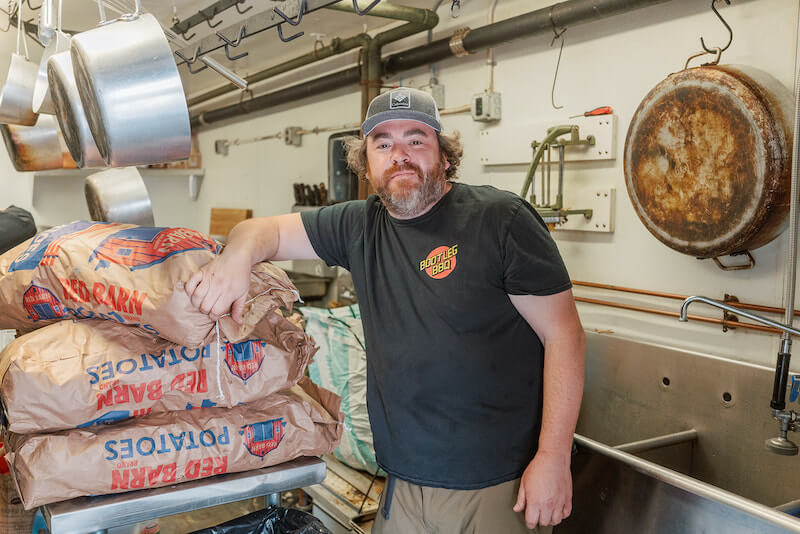 Same with the food, it's the simple things you've always loved: brisket, pulled pork, burgers, fries, mac-n-cheese, but it's all very labor intensive. The fries, for instance, are all hand cut. That's 800 pounds a week of potatoes, hand cut.
And the meat, forget about it. It takes 16 hours of slow cooking to get that yummy plateful. They don't do phone orders, because while you're phoning in your order, table 5 may just have ordered the last of the brisket. And once they sell out, they can't just throw more meat on the grill to serve that night. Either Fred or his assistant pitmaster Chris Camara is out in back overseeing the cooking and steadily shoveling more wood on the fire to keep the heat constant. They're out there no matter how hot, cold, or wet it is. Fred leaves the restaurant at about 10:30 pm but returns at midnight to shovel in more wood for the night before Chris comes in at 7 am to start it up again.
While they're out back tending the fire, head chef Daphne Jonsson is in the kitchen cooking up her popular smash burgers, along with her famous chili, signature cornbread,  mac-n-cheese and house specials.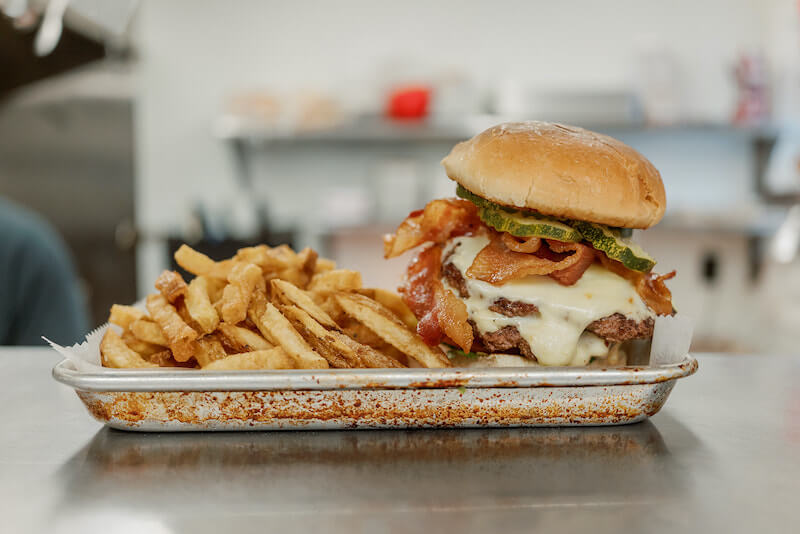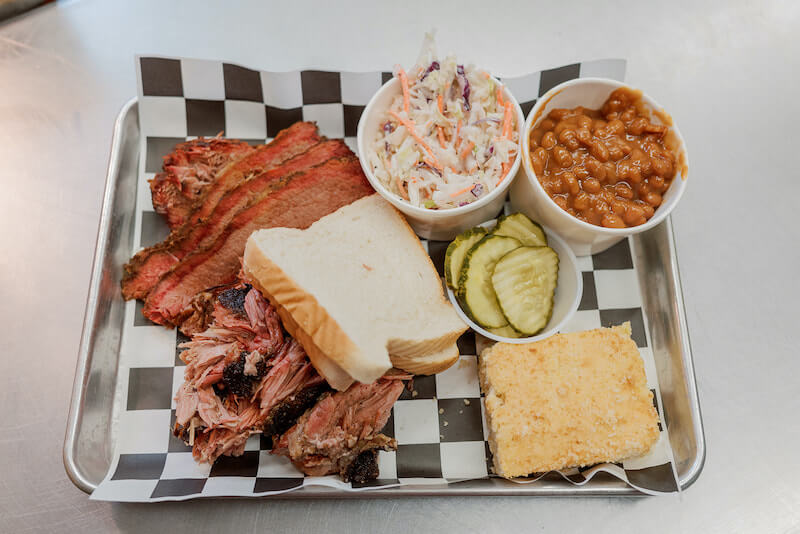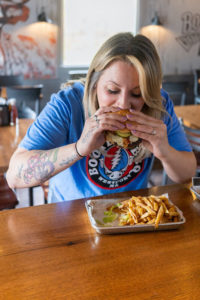 Come here with an appetite and you won't be disappointed. No one will give you the side eye if you order a triple burger topped with pulled pork and mac n cheese. The staff has seen it all...they've even served a quadruple smash burger! When the movie star Kevin James was in the area, he ordered the Triple Smash Burger (no bun).
It's all simple and wonderful and the joint is jumping. Southern barbecue featuring a Memphis dry rub served the traditional way with a couple of slices of white bread that can double as utensils for barbecue purists.
No reservations. No phone orders. They're already outgrowing the space they moved into last December. Some nights, the wait is an hour and a half. But it's worth it.
Just bring your appetite.
Bootleg BBQ, 778 Main Road, Westport.
Photos by Liam Connor Photography.
We hope you enjoyed this post, which is part of a series of blog posts celebrating local food spots, sponsored by Surprenant & Beneski, P.C., the premier estate planning and elder law practice serving clients in Southeastern Massachusetts. Surprenant & Beneski can help you prepare the foundational documents needed to facilitate healthcare, financial and legal decisions should a medical crisis occur. Early planning can save money, heartache and angst during a temporary bout of incapacity or a long-term care event. Getting your estate plan in order gives you peace of mind. Find out more about Surprenant & Beneski here.
If you want to make sure you don't miss learning the next favorite food spot, sign up here.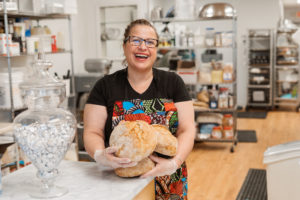 Last post in the series: when Melissa Sepulveda started baking bread for her family, she couldn't stop. Her kids were delivering bread around the village of Marion, bread piled in the baskets of their bicycles.  She laughs, "it was like a Hallmark movie." More here.