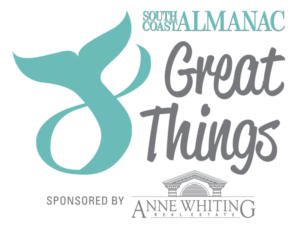 Is June everyone's favorite month? It should be! Take a look at our 8 Great Things list and you'll find so many ways to celebrate this month on the cusp of summer: firefly adventures, walking and eating tours, a historic unveiling, garden hopping and cajun cookouts. As always, many thanks to our sponsor  Anne Whiting Real Estate.

1. A Double Header in Westport
We've got two special events in Westport that lead from one to the other -- and, rather than renaming this 9 Great Things -- we're suggesting you do both. A little art, a little nature....they complement each other so well! First, celebrate 15 years of Art Drive (returning this August) by enjoying the opening reception of A Show of Gratitude at Dedee Shattuck's gallery. Then head over to Westport Conservation woods for a Full Moon and Wildflower Walk where you'll be searching under the full moon for plants that bloom at night. June 3, 5 to 7 pm at Dedee Shattuck's Gallery. More on that here. June 3, 7 to 8:30 at Westport Conservation woods. Register for that here. 
2. Walking & Talking Books
We're taking the Walking Book Tour series to Bay End Farm this month, where we'll wander on the farm to the little hideaway cottage from which Kahlil Gibran wrote The Prophet, one of the world's best-selling books. Join us for a little book chit-chat, a little walking and a little snacking with other book lovers. Free, but pre-register here. June 10, 2 to 4 pm at Bay End Farm in Buzzards Bay.
3. Welcome Abolition Row Park!
New Bedford opens a new historic park: Abolition Row Park to celebrate the city's history as a place that welcomed formally enslaved people escaping to freedom. The park will have a pathway representing the Underground Railway listing 125 names of fugitives and a sculpture of Frederick Douglass scuplpted by Richard Blake. Come join the celebration in the statue's unveiling, across the street from where Douglass lived and wrote his autobiography. June 23, at 1:00. Abolition Row Park, 22 7th Street, New Bedford. More here.  
4. Sail Away
For three Thursdays in June, the Buzzards Bay Coalition is hosting folks on their 12 person Dascombe rig for sails around Onset Bay. Tonight's sail is almost filled but check out the next two Thursdays. Head out and return in time to enjoy a bite to eat overlooking the water at Quahog Republic or at Onset Bay Grille, or head over to Marc Anthony's for the iconic Onset pizza experience. The sail is $10. Dinner's up to you. Sign up here. 
5. A Taste of Portugal
Woo hoo! New Bedford Food Tours has launched a new walking tour. This one takes us on a one mile amble around downtown Fall River with a focus on Portuguese food and drinks and a fun guide who'll reveal all kinds of delicious facts. $90 includes all food, drinks, restaurant tips and tour guide. June 16 and 30 at 1:00. More here. 
6. Peek in some Gardens
The Little Compton Garden Club is hosting a self-guided tour of seven private gardens in town. Experience some beautiful coastal gardens and help the Club fund its many important community efforts. $40 pre-tour/$50 day of the tour. June 17, 10 am to 4 pm. Tickets and information here.   (Note: if you love garden tours, check out the Marion and Mattapoisett tours on the following weekend.)
7. A Fun Summer Cookout
The DNRT is hosting three fun cookouts this summer and we're invited. This month's features a Cajun-inspired menu plus the wonderful South Coast Brass Band, along with drinks and lawn games. $75 per person. June 23, 5:30 to 7:30 pm at Helfand Farm, Chase Road, Dartmouth. For tickets and more information, click here.
8. Firefly Magic!
Join the Wareham Land Trust and Plymouth County entomologist Blake Dinius on an evening walk to explore the fascinating world of fireflies just at the perfect time of year when firefly activity is at its peak. June 23 at 8:30pm. Douglas Westgate Preserve, Papermill Road, Wareham. Free to members/$5 to non-members. Registration is required here.
***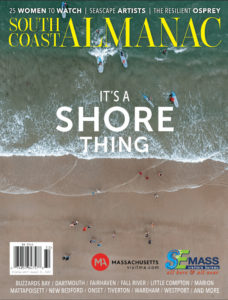 Our early summer issue is out and is filled with even more calendar listings, as well as great stories on everything related to the shore, seascape artists, 25 women to watch, and more.
Become a subscriber for less than $20 and get the magazine delivered straight to your door