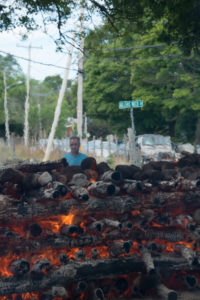 In the early morning light, the clambake begins.
They toss kindling atop a concrete slab, then stack a layer of logs, followed by a layer of smooth river stones. Logs, stones, logs, stones, until the pyre is about five feet high.
By 9 am, the pyre is glowing an array of oranges and reds. Smoke billows. The smell permeates. The wood turns ashy gray; most of it burns away. A heap of stones is left blistering, glowing like lava.
Men — many wearing old firemen's jackets, masks, helmets, hoods, and heavy work boots with soles burned smooth from years of participating in this event— grab pitchforks and rakes.
They lift away stones, literally on fire, with pitchforks. I hear the sound of rolling rocks, the click of stone on stone, tumbling down to the ground. (Once burnt, the rocks can never be used again. So fresh rocks, 1.5 tons, I'm told, are donated each year by farmers and contractors.)
"If anybody's got a mask, go to the other side!"
"Rake it out!"
"Let's drag that last log out!"
"Somebody get a rake on this!"
They rake until the concrete slab is bare. Then they run hoe-like flat-edges across the baking concrete to clear the ash.
"Go, go, go, go, go!"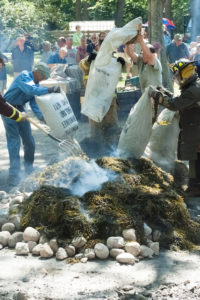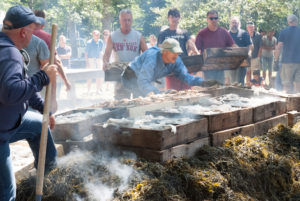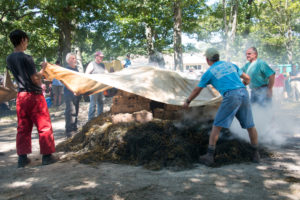 Scorched rocks are piled back on the concrete slab. The men dump some two tons of rockweed, gathered by the Friends at the same spot of the Westport River each year, from some 90 nylon grain bags onto the rock bed. It creates a thick fluffy mattress of seaweed.
I can smell it instantly — the intense tidal smell in my nose. The salt on fire.
Crates of clams are placed atop the bed of rockweed. As soon as they hit, I smell them cooking.
Then crates of fish, sausage, sweet potatoes, ears of corn, onions, and secret dressing in tin pans. Old canvas boat sails — which strikes me as particularly symbolic in this old Yankee fishing town of South Dartmouth — are heaved atop the mountain of food.
The sails closest to the food are soaked in water. Steam billows.
At 12:55 p.m., Bakemaster Troy Vincent tests the first clam, a searing hot bit of meat. He gives the OK.
The sails are lifted. Men use pitchforks to heave off rockweed. Men and women descend upon the pile to begin serving.
The Allen's Neck Friends Meeting Annual Clambake, is celebrating its 130th year.
I know instantly that I am watching something special, something ritualistic, ancient.
* * *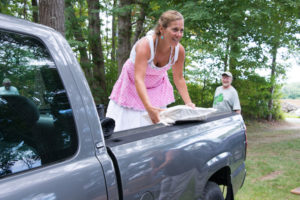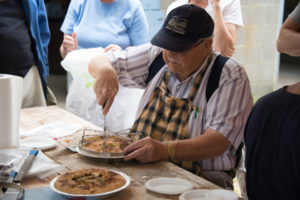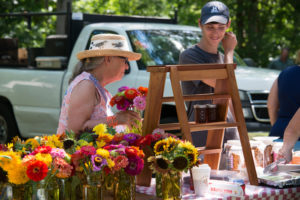 Stan Stopka, a white-haired man with glasses, has been helping out at the clambake for a quarter century, doing "a little bit of everything."
"I like the fact that I get to see friends I might only see once a year," the Dartmouth resident tells me while pulling off the blackened overalls he used to break the fire to reveal khakis underneath.
"It's my favorite day of the year. There are lots of people here I see only once a year," Mike Harrison tells me, pitchfork in hand, standing by the fire remains with his kids, Levi and Piper.
"We've been bringing the kids since they were in carriers. I've been coming since I was a little kid. I love it," says the Dartmouth resident. "It reminds me of my relatives who are no longer with me. It's about the continuity, the learning passed down, generation to generation."
His mother, Polly Harrison, 72, tells me she's been attending the clambake for 70 years.
"I'm sure I got pushed here in a carriage," she says with a laugh. "I love the camaraderie, the families that come here year after year over long distances."
She arrives at the clambake with pies. They need at least 90, which come from various members of the Meeting. Nowadays, some pies might come from bakeries, but in the old days they were all hand-made, as was the brown bread, a staple of the clambake, though many "people nowadays think comes in cans," as a few of the older women told me.
Lindelle O'Keefe, 75, of Dartmouth starts making the "secret dressing" three days before the bake. The recipe has been handed down through generations. I ask her if she can tell me what's in it.
"Absolutely not," she answers.
* * *
Peter Crysdale is the minister at the Allen's Neck Meetinghouse. As Quakers don't use titles, he's known simply as Peter.
He tells me that this parcel of land — a grove at the corner of Allen's Neck and Horseneck roads in South Dartmouth, with no exact GPS address — is used only one day a year: for this clambake.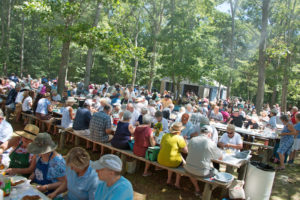 He stands up on a picnic table to say a prayer, and some 625 people go silent.
Long rows of picnic tables — each row seats 88 or so — are numbered, and servers are assigned to each table. The head server oversees everything, and some have binders containing notes from years past, names of regulars, some dating back generations.
Kids deemed old enough to help out are "table runners," running plates of food to the appropriate table, swiftly.
When the main course is done, runners quickly collect plates and "pie runners" — kids with what look like milk crates of pies strapped around their neck, like something out of the 1920s — walk the rows with pie slices, sitting on paper plates: blueberry, pumpkin, lemon meringue, key lime, chocolate.
"We're like a well-oiled machine," says Sarah Gifford Smith, who tells me she has been coming here since she was "a newborn." Table 6 has been in her family for generations; the women in her family have been its head servers dating back to when the clambake started, she tells me.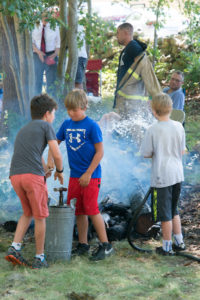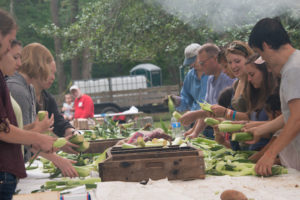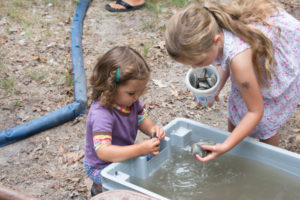 In all, I'm told there are some 25 bushels of clams, a bushel of quahogs, 180 pounds of fish, 230 pounds of sausage, 75 dozen ears of corn, four bushels of sweet potatoes, 150 pounds of onions, 50 pounds of butter, some 90 pies, brown breads, 24 watermelons, and plenty of coffee, ice, water, jams, cream.
Dawn Tripp, of Westport, leads the First Day School at Allen's Neck Friends Meeting. She motions to her 15-year- old son Jack, who worked as a runner: "He used to be one of the little boys running around, just playing. This year, he worked as a runner. When he's older, he'll shed the flip flops for work boots and be part of the laying of the stones, preparing the bake," she says.
Kathy Neustadt, of Danbury, N.H., was a grad student studying folklore at the University of Pennsylvania in 1986 when she visited her aunt in Westport and attended her first Friends of Allen's Neck Meeting Clambake.
"The experience blew me away. It's a farmers' ballet," she tells me. "I said, 'This is what I'm studying. I can do my dissertation on this.'"
And she did so in 1988, then expanded it into a university- press book in 1992, "Clambake: A History and Celebration of an American Tradition," which she sold at the clambake for years afterward. Although this year, the copies are conspicuously absent.
"We come down just for this. We can't miss it," she tells me. "People here, when they take a new job, they write 'Third Thursday in August' as a day off… It's so magical."
Story by Lauren Daley. Photographs by Alexandria Mauck.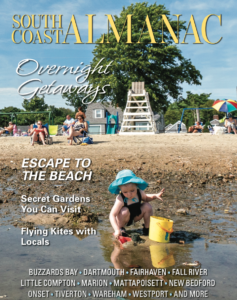 A version of this article appeared in our Summer 2017 print issue. Want to support stories likes this one by Lauren Daley and see more of Ali Mauck's photographs in all their glory?
Subscribe to the magazine and it will arrive in your mailbox with stories and photographs reflecting back the beauty and character of the South Coast! Subscribe right here for $19.99 a year.