July, it's nice to see you again! We're starting to see calendars become useful again as activity starts to hum around the South Coast. We've got some great things to do outdoors or from the comfort of home on our 8 Great Things list this month. Stay healthy, stay safe, and enjoy the pleasures of summer this month.
1. Secret Garden
Over 350 rose bushes and they're in full bloom this month at the Rotch-Jones-Duff Garden in New Bedford. This is a perfect way to get outside and stay socially-distanced.  And, folks, touring the garden is always FREE!  More info here. (Note: this garden was one of the 11 most radiant gardens we listed in our current issue. See the rest by purchasing an annual subscription right here.)
2. Wine Night!
Head to the Drawing Room on July 10th at 5:00 pm for a Sangria Tasting event — to meet and learn about The Sangria Lady, a sangria brand all about thinking and drinking differently! You can choose a virtual or in-person tasting. Register for free right here.
3. Friday Night "Out" from your Couch!
Get your groove on with the Narrows Center's live stream concerts every Friday night! There is no better way to spice up your Friday night while supporting local musicians! They've got a great line-up in July, including our favorite Mark Erelli! Free, but register here.
4. Seed to Vase
Move over Farm to Table and make room for Seed to Vase. The Local Bouquet's 2020 Farmer Florist Series is still on this July but is taking on a new virtual format. Register for their class on July 11th with Weatherlow Florals and learn how to grow a beautiful summer bouquet and tour the field and farm all from the comfort of your own home. Then design your own bouquet with a flower bucket that was shipped directly to your front door. 9 to 11:30. Register here. 
5. Arts in the Park! It's on!
Support local artists and artisans at the Marion Art Center's annual outdoor artisan market! You'll find tons of amazing unique goods from ceramics, to furniture, to photography. 10 to 4, July 11. Bicentennial Park, Marion. More here.
6. Row, Row, Row (Their) Boat…
The Buzzards Bay Coalition Onset Bay Center is open and offering fantastic ways to get outside and explore! Borrow a dory, kayak over to Wickets Island for some yoga, sail away on one of the Center's sailboats, Register here!

7. Yoga at the Fort
Here's a cause for celebration! Yoga at Fort Phoenix is back! This is weather permitting so check the Facebook page for any weather or important updates.  Classes are only $10. Saturdays and Sundays at 8:30 am; Tuesdays at 5:30 pm. Fort Phoenix in Fairhaven.
8. Bicycles AND ice cream
It's always a good idea to take your bike out for a spin. Revisit our blog post for 5 local routes between 20 and 30 miles, all rated by access to ice cream! What better way to spend a Saturday or Sunday afternoon? More here.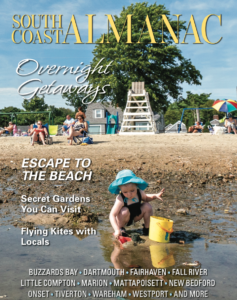 Have you seen our Summer issue on newsstands yet?  Want it delivered straight to your door?
Sign up for an annual subscription right here.