March forward with our round-up of the 8 Top Picks for the South Coast this month!
Not winter, not spring. This is that sneaky month in New England where we don't know quite what to expect. Don't worry about the weather and take the month in stride by marking your calendars with these 8 fun things to do.
Sex in the Woods
We knew that would grab your attention! For 3 Saturdays in March, the Mass Audubon Society is introducing us to the courtship mating rituals of the American woodcock (check out some of their moves on youtube here) on its Wild, Wild Woodcock Walk at dusk at Allen's Pond, Register for March 2 here.  Register for March 9 here. Register for March 16 here. 5:30 to 7:00. Stone Barn, 786 East Horseneck Road, South Dartmouth. $10 members/$12 non-members.
Mardi Gras Brewer's Feast
A special one-of-a-kind Mardi Gras themed 5-course menu (think shrimp étouffée, blackened chicken po boys, and gumbo) paired with Moby Dick's own ales and lagers, capped off with a behind-the-scenes tour of the brewery from Brewmaster Scott Brunelle himself. $40. March 5. Moby Dick Brewing, 16 S. Water Street, New Bedford. Tickets and menu here.
Celebrate Women's History Month
The good people at the Whaling Museum have made it easy for us to celebrate women's history month by adapting their wonderful "Lighting the Way" outdoor walking tour to an indoor walking tour. Join them on Wednesdays in March for a one hour tour highlighting the stories of remarkable historic women from diverse cultural and ethnic backgrounds who shaped our SouthCoast communities, the nation, and the world. 1:00. Wednesdays in March. New Bedford Whaling Museum, 18 Johnny Cake Hill. New Bedford.
Spindle City Fest
The folks at the Narrows got together to decide what they liked to do on Saturdays (eat, drink some wine, do some yoga, listen to some rock and roll) and decided to put it all together for a festival, free and open to the public.  Urban Sketchers — an international organization of sketchers who do quick, live sketches of the world in front of them — will be there and are happy to have you look over their shoulder and see what they are working on. 10 to 3. March 9. Narrows Center for the Arts, 16 Anawan Street, Fall River. More here.
Just Chili'n
Warm up with some spicy chili and friendly folks at Onset Bay Association's Mostly Annual Chili Cookoff. Think no one can beat your chili? Sign up to enter and put yourself in the running for the $100 cash prize. OBA President Kat Jones ays they'll take entries at the door — just show up with your chili and the $25 entry fee but see here for the contest rules. Or just show up to judge them for yourself (everyone gets to vote!).  6 to 10 pm. March 9. Stone Path Malt, 11 Kendrick Road, Wareham.
Movie Magic
We all know that music can make, and even define, a movie (anyone catch Lady Gaga & Bradley Cooper's steamy performance at the Oscars — check it out here). This month the Symphony treats us to music from Gone With the Wind, Sound of Music, West Side Story, Casablanca and Breakfast at Tiffany's (and more!).  If you think you're not a symphony person, consider this your gateway to classical music and get yourself down to the Z. 7:30. March 9. Tickets from $30 to $60, students are always $10. The Z, Purchase Street, New Bedford. More information about the concert here and ticket information here.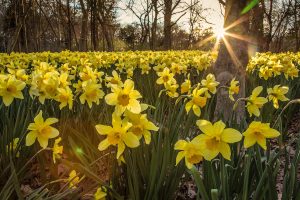 Make Way for Daffodils!
Next month, Parsons Reserve will be blanketed with daffodils. This month, the Dartmouth Natural Resources Trust needs your help to get things ready. Volunteers are needed to lay down wood chips, remove invasive plants, and burn brush so that we all can fully enjoy the magic of daffodils at Parsons Reserve. Tools and gloves are provided, as are yummy snacks and coffee! 9 to 12. March 19. Parsons Reserve, 50 Horseneck Road, Dartmouth. More here. 
Greet Spring First
Be among the first to officially welcome spring by joining the Buzzards Bay Coalition at Gooseberry Island on a sunrise walk. As a reward for the early hour (and – likely – the chilly air), tea, coffee and hot chocolate will be provided.  6:30 to 7:30 am. March 20. Horseneck Beach State Reservation, West Shore Road, Westport. Free but register here.
Tossing Our Hat into the Ring
Come experience the sport that spawned so many expressions in our language (tossing your hat into the ring, throwing in the towel, take it on the chin). The Kilburn Mill presents a unique setting, overlooking the New Bedford harbor, to watch US Sanctioned Boxing. Doors open at 6, fights start at 7. March 23. Kilburn Mill, 127 West Rodney French Boulevard, New Bedford. More info here.
Wanna keep up with the coolest happenings each month on the South Coast?! Sign up for our free monthly newsletter right here!
If you want a copy of our beautiful Fall/Holiday print magazine, filled with things you can't find online — Best Dishes from favorite local chefs, Local Makers Gift Guide, Nightlife Guide: A to Z, and lots more — subscribe right here!
Or just spread the word about South Coast Almanac by sharing this post with your friends on facebook, twitter or by email.