HELL ON WHEELS
by JACQUELYN MYSLIWIEC
BY DAY, EMILY NOLAN IS A STUDENT at Brandeis University working toward two master's degrees. Before she went back to school full-time, she was working in fundraising and operations at a charter school in Dorchester. Prior to that, she was conducting a Fulbright research project on financial services for women in Niger, West Africa.
By night, she is known simply as Malice Paul, a member of the Mass Attack Roller Derby (MARD) in Fairhaven. The derby name Nolan chose is a tribute to her favorite suffragist, Alice Paul. Nolan wears the number 1920 (the year the 19th amendment was ratified), and right above her numbered armband on her left arm is where you'll find a picture of her idol's face in ink.
Roller derby is no longer the theatrical sport popular from the '50s to the '70s played on a banked track. It is now a serious athletic endeavor on a flat track with professional league rules laid down by the Women's Flat Track Derby Association (WFTDA) in 2005.
It didn't take long for these changes to spark interest in hundreds of women, like Nolan, seeking an active outlet in their adult life, and to share a bond between other strong women of all walks of life.
Opposing teams travel around a track, with a designated jammer earning a point each time she laps an opposing skater, while teammates block, or protect her along the way. "Despite its rough objective, my favorite part about roller derby is the support and camaraderie between all players," says Nolan, who has skated with MARD for a little more than two years. "I don't know how many times I've congratulated someone for getting a good, clean hit on me and knocking me on my butt!"
For more on how to join or become involved with local roller derby, visit www.massattackrollerderby.com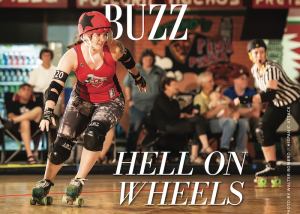 This story originally appeared in our May 2017 print issue. Do you want to get our next print issue delivered straight to your door? Subscribe right here. Just $19.95 brings you our next 4 issues!