2016 represents the 200th anniversary of commercial cranberry production in Massachusetts which makes it the oldest cranberry growing region in the country. With approximately 13,500 acres of commercial cranberry bogs in the state, primarily in Southeastern Massachusetts (that's us! and Cape Cod, too), our farmers produce 15 percent of the world's cranberries.
Folks, we own cranberries.
So we should get out there during cranberry harvest and celebrate the little red berries. Here are five ways to get out there and soak in the cranberry season (sometimes quite literally).
1. Family Farm Tours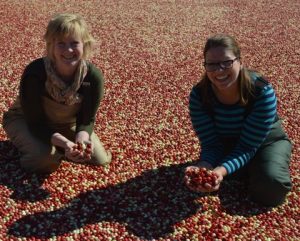 Joanne and Scott Harding have been cranberry growers in Acushnet for thirty years. They know their stuff about cranberries and they're happy to share it with others. A couple of years ago, they opened up the farm for public tours. Since then, people have come from near and far to witness a cranberry harvest up close and personal. The tour ends at the bog, where folks don boots and chest-high waders and get down into the bog surrounded by photogenic, ripe berries. Joanne commemorates the bog visit with a photograph. The Hardings have hosted people from Denmark, Germany, Hawaii, Texas, and the West Coast. Their Tripadvisor rankings are uniformly excellent. We live so close, maybe we should see what all the fuss is about!  Stone Bridge Farm, Leonard Street, Acushnet. Tours are only available during the harvest season through reservation. Email Joanne at [email protected]
2. Survey Your Own Cranberry Farm
Nestled in Myles Standish State Forest is a 7 acre commercial cranberry farm owned by…you!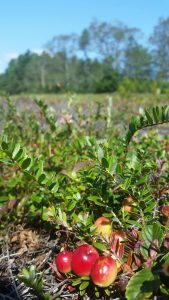 It's wholly owned by the Commonwealth of Massachusetts which makes it yours and mine. Used as a living laboratory, classroom and demonstration area to promote sustainable agricultural practices, it's also a for-profit farm managed by the UMass Cranberry Experiment Station and the Department. You're welcome to wander around the Rocky Pond Cranberry Bog – it's free and if you're lucky, you may see the harvest which generally happens sometime between mid-September and mid-October on weekdays. Myles Standish State Forest, Cranberry Road, South Carver (508) 866-2526 (from the ranger station, head out on College Pond Road, take a left on Bare Hill Road and follow that until you reach parking lot 7 where a short walk brings you to the bog).
3. Cranberries and More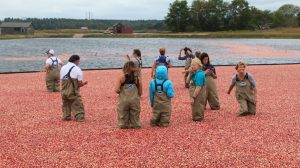 No list of ways to celebrate South Coast cranberries is complete without mentioning the A.D. Makepeace's annual Cranberry Harvest Festival on October 8 and 9, rain or shine. Every year, hundreds of people visit to see a wet cranberry harvest demonstration, along with cooking demonstrations, paddleboat rides on Tihonet Pond, juried crafters, food vendors, music and more.
…this year has an exciting development — an inaugural bog-to-table event which features a cocktail event held in a flooded bog full of floating berries.
Preceding the festival weekend this year is an exciting development — an inaugural bog-to-table event which features a cocktail event held in a flooded bog full of floating berries. Guests are encouraged to don waders and step right into the fun. Cocktails are followed by dinner prepared by local chefs and caterers that highlights cranberries in every course. Click here for information about the cranberry festival and click here for information about the bog-to-table event.  A.D. Makepeace, Tihonet Road, Wareham.
4. Use Cranberries As An Excuse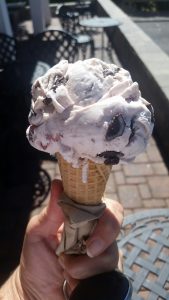 Celebrate our cranberry-growing region by mixing them with your favorite indulgences. Ice cream lovers should head to Acushnet Creamery and Somerset Creamery. Both places feature a flavor of homemade cranberry-based ice cream packed with craisins, walnuts and dark chocolate chunks. At Acushnet Creamery, ask for Cranberry Harvest and at Somerset, ask for Cranberry Bog.  Chocolate lovers should head to Dorothy Cox's Chocolates for their locally made chocolate-covered cranberries. Cocktail lovers should head to their favorite drink spots and order a Cosmo or Seabreeze, two of the most well-known drinks featuring cranberry juice. You get the idea….use cranberries as an excuse this month.
Acushnet Creamery, 264 Main Street, Acushnet. Somerset Creamery has three locations: 1931 GAR Hwy., Somerset; 146 County Street, Somerset; and, 1268 Route 28A, Cataumet. Dorothy Cox's Chocolates, 117 Alden Road, Fairhaven and 8 Kendrick Road, Wareham.
5. Make Homemade Cranberry Sauce
If you don't already make your own cranberry sauce, it should be at the top of your learn-to-do list. Bursting with antioxidants, it makes everything taste better. Put it on burgers. Put it on mashed potatoes. Put it on ice cream. It's so easy you don't even really need to follow a recipe after you've made it once. You don't even have to cook it.
Here's what I do. Put about 16 ounces of cranberries in a food processor. Cut an orange in eighths (keep the rind and skin on –  told you this was easy) and add it to the food processor with ¼ to ½ cup of sugar (depending on your fondness for sugar). Pulse it all together until the oranges have broken down and distributed themselves throughout the bowl but the cranberries are not too finely shredded. Keep it in the refrigerator for up to a week. Start putting it on everything.
Enjoy your cranberry season!