This is the first in an occasional series called South Coast Day-tripping. If you'd like to play tourist for a day in a South Coast town you're unfamiliar with, email us and pitch us an itinerary. If we choose yours, we'll ask you to jump right in and Feriss Bueller it. We'll reimburse you for the day's expenses (up to $150). Let us introduce you to our first day-trippers, Mike and Michelle Long from Canton, MA, who chose to visit a place they had never been on a mid-August weekday. Here's how their day in Mattapoisett went down (as told by Mike)….
We started off the day at Shipyard Park, where we had a simple picnic lunch from home. The waterfront area was beyond peaceful; combined with a beautiful day, the moment was an instant contender to be the highlight of the trip. From there, Michelle and I made our way up to the Town Wharf General Store, where we perused a few wares, day-dreaming of a future family beach house along the way. Across the street at The Inn at Shipyard Park, we discovered watermelon sangria that was a perfect 'drink of the day'. We sat on the porch, and let the New England seaside breeze charm us.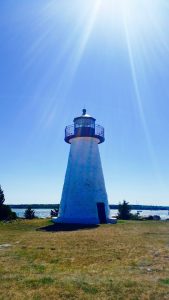 Next, we headed over to Ned's Point to check out the lighthouse. The theme of seaside tranquility continued here, as we sat along the rocks and took in the bay for what felt like hours. Surrounding us was a mix of fellow tourists and locals just relaxing, not letting the moment pass them by.
Taking a look at the map, we decided to hop back in the car and take a drive along Point Connett. Beautiful houses in a shaded, relaxed neighborhood. Reminiscent of the best of New England shoreline, sprinkled with a slight Carolina flavor. All in all, the quintessential beachside neighborhood.
Our next stops, or our next attempts at stops, didn't work out for scheduling reasons. We had been looking forward to hitting up the Mattapoisett Museum & Carriage House but missed it as it had closed at 4pm (note to always check the time – Google is your friend!). After that, looking for something to do before dinner, we had decided to hit up the bowling alley we had driven by – sadly, Bowlmor Lanes was not open on the day we were there. Poor planning on our part, but we ended up passing time before dinner at The Stowaway, a nice little hole in the wall bar across the street from Bowlmor. The bartender and clientele were super sociable, with bonus points for being Red Sox- friendly, complete with large flat screens visible from any seat in the bar. As a side note – the restrooms at the Stowaway were a surprise! (Michelle was expecting a typical dive bar bathroom but she found something much better.)
Our last stop was Turks Seafood Market for an early dinner. We had heard great things about Turks. Our dinner not only met but exceeded already lofty expectations. Bacon wrapped scallops with brown sugar glaze starter was our perfect kickoff to further deliciousness. I had grilled local swordfish, blackened, served over warm tomato and arugula salad with a balsamic reduction. Absolutely delicious. Hyperbole aside, the best swordfish ever in the history of things. Michelle was wowed by the seared tuna with wasabi vinaigrette served with ponzu veggies.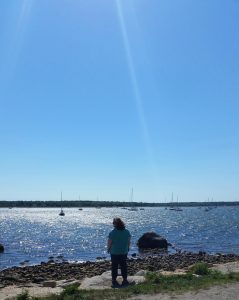 Mattapoisett is a great South Coast town that packed a lot of memories into a short window of time for us – we certainly look forward to the chance to get back there! (Michael Long)
Town Wharf General Store, 10 Water Street (508) 758-4615
The Inn on Shipyard Park, 13 Water Street (508) 758-4922
Mattapoissett Historical Society Museum, 5 Church Street (508) 758-2844
Bowlmor Lanes, 22 County Road (508) 758-6783
The Stowaway, 35 County Road (774) 582-1188
Turks Seafood Market, 83 Marion Road (508) 758-3117