Surprenant & Beneski, P.C. is sending us around town to their favorite food spots because they know that after this past year, more than ever, our favorite businesses need a shout-out. This month, our photographer Liam Connor told us about some amazing macarons he'd had so we stopped in to visit Lauren Wingate at Wingate Cake Design in Westport….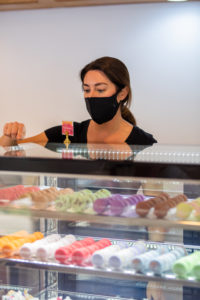 Lauren Wingate didn't bring macarons to the South Coast. The South Coast demanded macarons from her.
"People were obsessed…obsessed," she says, "I never set out to become a macaron baker." She was a cake designer, happily ensconced in her kitchen designing and building cakes that travel to weddings across the South Coast and beyond. But people were clamoring for macarons.  She now often sells 500 macarons a week — sometimes more — and she's only open 2 days a week! Wingate's Cake Design has become the go-to spot on the South Coast for macarons.