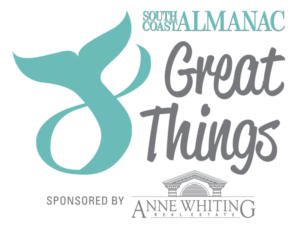 With all the good things happening this month, we're going to eke every last drop out of summer. Take a wander through our list and pick a couple of things to make some last summer memories before the official start of fall (which, by the way, is NOT Labor Day!) Thanks to Anne Whiting Real Estate for making it easy to keep things fun on the South Coast with this monthly list!
1. Yuk It Up
The first and only Whaling City Comedy Festival launches this weekend and tickets are selling fast. Some of the 25+ comedians on Netflix, Comedy Central, The Tonight Show with Jimmy Fallon, and more. Now's your chance to see them in real life! August 31 through September 3. Tickets from $30, BYOB. More here.
2. Look Up!
Exciting news, hot off the presses! A full-scale historic replica of Ferdinand Magellan's 16th century tall ship that circumnavigated the world, arrives in New Bedford for a few days. Visitors will be ferried from City Pier for tours and visits on the ship. $15/adults; $5/kids (children under 5 are free). 10 to 8 pm. September 5 to September 10. See more here.
3. Travel Back In Time
The Creative Arts Network (C.A.N.) is bringing us an interactive mystery event that will transport attendees back in time to the early 1900s in Fall River. There will be excitement, drama and mystery, inspired by Fall River's history, when attendees become part of a captivating storyline, where they are invited on a Fall River Line ship from New York to the reading of Frederick Borden's will. Be the first to solve the puzzle it presents! 6 to 9 pm. September 8. $40 (includes dinner). DCR/Heritage State Park located at 200 Davol Street, Fall River. More here. 
4. Craft Beer & Food Truck-A-Palooza
Local brews + food trucks = fun and we've got a couple to look forward to. On September 9, head to the Madeira Festival Grounds in New Bedford for the third annual Craft Beer & Food Truck Festa. On September 17, head to Fest on Ferry in Fall River for their Community Beer Festival. Both events feature local brews, great noshing and live music. More on September 9 New Bedford event here. More on September 17 Fall River event here.
5. A Picture Postcard Walk
We're obsessed with postcards this month after featuring them in the current issue! We're heading to Marion for our Walking Book Tour, featuring Spinner Publication's A Picture Postcard History of Marion. We'll wander around the village -- you can even grab a cocktail at Cast before we start -- and we'll end up at the Sippican Historical Society for refreshments. September 17 at 2 pm. Free but please register here.
Separately, we're also hosting a little reception with a few local postcard collectors during Aha! night at Groundwork. Come see why we're obsessed with postcards. September 14 from 4 to 6. Copies of the current issue with our postcard feature will be available. Free but please register here for September 14.
6. Harvesting Fun
On either end of the South Coast, you can celebrate the harvest this month. In Onset, the Harvest Festival is a day filled with live music, family activities and culminating in Fireworks over the Harbor. September 23. More here. The next weekend, you can visit Westport for the South Coast Harvest Festival, featuring professional garden designs, giant pumpkin carving, scarecrow displays, dog stunts, fall food and more. September 28 through October 1. More here. 
7. History Outside Four Walls
Fairhaven hosts fun outdoor walks and presentations designed to get us outside, learn a bit and enjoy ourselves (they've even been included on nationwide lists for Best Immersive Tours!) Through the end of the month, you have a chance to experience the Henry H. Rogers Walking Tour on Tuesday mornings, Pirates and Privateers presentation on Friday mornings at Fort Phoenix and A Visit with a Barber/Dentist/Surgeon from the 17th Century on Thursday afternoons. All free!!! More on all three right here. 
8. Cape Cod Canal Day
SORRY! CANCELLED BECAUSE OF THE STORM. We love a festival that includes a cornhole tournament for the masses! And a 5K! Plus all the other things you expect from a celebration (food trucks, music, fun vendors) and situated in picturesque Buzzards Bay Park in the shadow of that cool engineering feat that is the Railroad Bridge. September 16 from 11 to 6. More here.
***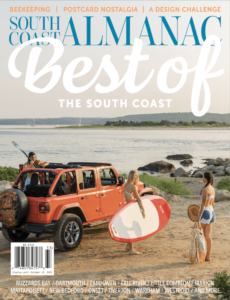 Our late summer issue is out and is filled with even more calendar listings. It's also our annual Best of the South Coast filled with our readers' top picks for everything from lobster rolls to architects. We've also got features on the magic of beekeeping, postcards and designing a coastal home while avoiding a beachy theme, and more..
Become a subscriber for less than $20 and get the magazine delivered straight to your door