It  started as Small Business Saturday, an antidote to Black Friday and Cyber Monday. It's since evolved into #shopsmall, a hashtag that we like far more. Because we should be looking out for our local, independents every day, not just the Saturday after Thanksgiving. These businesses are the ones sponsoring little league teams, packing Thanksgiving boxes, raising money for area non-profits, and supporting local media to get important information out to you (thank you, advertisers!)
---

Fairhaven's Carefree Homes is a good example. They brought a healthy contingent to the United Way's Hunger Heroes program last week  to help pack 400 Thanksgiving packages for needy families. Carefree Homes' Stephanie Pickup says,"We're a family company. Giving back to the community is a natural extension of who we are. The community is made up of our customers. We have to reciprocate."

---
Small, locally owned businesses are such a big and positive influence in our neighborhoods, it's time to say thank you! So as you think about the shopping season ahead, think big but #shopsmall. Here are what some of our favorite places are doing to celebrate the season:
Fairhaven
The tireless Stephanie Pickup at Care Free Homes has organized a coordinated effort for discounts and treats throughout Fairhaven on Saturday, November 26th. Check out her South Coast Shop Small effort on facebook or on her blog and learn about the significant discounts, treats and fun planned for November 26 in over a dozen local businesses. Make sure you stop at the Village Toy Shop where they can hook you up with the coolest toys and games….head over there to learn about joinks, slacker lines and lots of other great gift ideas for the kids on your list.
Mattapoisett
If you haven't checked out the new coffee counter at the Town Wharf General Store, now's the time. They'll be serving complimentary coffee from Jim's Organic Coffee on Small Business Saturday alongside all their wonderful gifts. Plus, owner Chris Demakis will be around this weekend and he always figures out what to give my hard-to-buy-for uncle.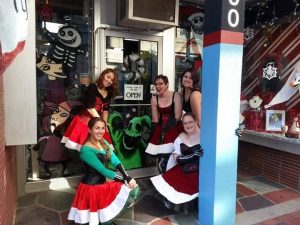 Downtown New Bedford
Over at TL6 The Gallery, Jenny & Arianna are filled with the holiday spirit. They'll dress up in holiday attire and leave cookies out for Santa (and shoppers) during the holiday Shop and Stroll on December 2 and 3d when all of downtown comes alive with live performances, over 50 decorated storefronts, treats, holiday projects and important visitors like Santa and Mrs. Claus. Check out the full schedule of events here. And while you're there, make sure you wander over to Purchase Street to check out Hippo, the newest addition to downtown, which showcases delightful handcrafted gifts.
Marion Center
Last year, we picked up some cufflinks at the Marion Sports Shop made from baseballs actually used in a Red Sox game. We'll be heading there this weekend and reveling in the quaintness of Marion Center.  As an added bonus, Serendipity by the Sea will offer 20% off and Marion Bookstall will offer 25% off storewide this Friday and Saturday.
For the Fashionistas
For the stylish people on your list, head to some of the shops that collaborated with us on our 2017 fashion shoot (to be revealed in our 2017 issue): Calico (New Bedford), Details & Design and Flora Style (both in Padanaram), Marion Sports Shop (Marion), Salt (Tiverton) and Country Woolens (Westport).
Let us know your favorite local shops….
Click here to join our email list for updates from South Coast Almanac.