Our August issue had profiles of some amazing South Coast athletes. In this season of New Year's resolutions, we thought it'd be great to throw them online for a shot of inspiration, motivation, or just plain appreciation. First up: Jany Rodriguez-Ramos!
Marathoner Janytzabell Rodriguez-Ramos, or Jany to her friends, has got determination. And a toughness borne of an early childhood battling leukemia. At 1 ½ years old, she was diagnosed with the disease and given a 22 percent survival rate. For the next four years, her family's focus was to make sure she was among that 22 percent of survivors.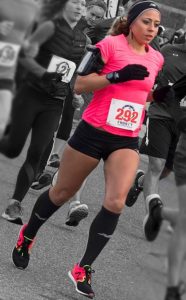 In and out of hospitals until she was 5, she spent another chaotic year there when she was 10 and they were afraid the cancer had returned (it hadn't; her symptoms were just residual side effects from the treatment).
So the suffering that comes from marathon training and competing? It ain't nothing compared to battling leukemia for years.
Jany originally started running because she was bored with her daily walks around Buttonwood Park. She had started walking as a way to get in shape after gaining some weight in graduate school. After three months of walking, she figured "why don't I run to that tree?" The next day, she went a little farther. She repeated this again and again, each time using additional trees as a goal marker.
Before she knew it, she was running around the block and a friend suggested she try the New Bedford Half Marathon. She gave it a whirl and despite its difficulty (she says she was cursing her friend for most of the route), she found herself hooked after she crossed the finish line. She forgot all the cursing and thought, "It wasn't that bad. I didn't die. The medal is cool."
---

She forgot all the cursing and thought, "It wasn't that bad. I didn't die. The medal is cool."

---
She set her sights on qualifying for the Boston Marathon, a lofty goal for someone who just a year before had avoided exercise like it was actually bad for her. She says she was always that kid who knew how to play the school nurse so that she could avoid gym. She has exercise-induced asthma. She has some stomach issues from having had the leukemia. She can't tolerate regular water while running – it makes her throw up on the side of the road. She has to carefully portion out 20 ounces of maple water to last over the course of a marathon.
The Boston Marathon qualifying criteria is not easy (currently, you have to run another sanctioned marathon in less than 3 ½ hours). But Jany was undeterred. Starting in 2012, she ran 10 marathons in three years in an effort to reach the Boston qualifying time. She finally did it at the BayState Marathon in Lowell. She came around the last corner there, looked at the race clock and, realizing she was going to make the qualifying time, she started sobbing on her way to the finish.
Since then, the 32-year old has run in four Boston Marathons and two New York Marathons. She has set her sights on completing the World Marathon Majors, a medal awarded to runners who finish the six largest and most renowned marathons in the world (Tokyo, Boston, London, Berlin, Chicago and New York City). She's training right now for the Berlin Marathon. It'll be her 22nd marathon, a special number considering her leukemia survival statistics. After that, she only has the London Marathon left. For the world marathons, she's looking for an average of 3:15 or less.
To reach that goal, the New Bedford native is up before the roosters at 4:00 am so that she can get at least 10 miles in before having to leave for Anchor Academy in Middleboro, where her workday starts at 7:00 as a full-time school clinician for students with social and emotional disabilities.
It's dark when she starts her run (and in some months, it stays dark throughout the run) and she varies her route for safety's sake. Her base is 70 miles a week and she'll run through blizzards, pouring rain and below-zero weather. As a marathon approaches, she increases her weekly mileage to100 miles a week by adding additional runs after school lets out in the afternoon.
Her long run is on Sundays ("the Church of the Long Run" she calls it, quoting Olympian Shalane Flanagan) and she's devised multiple 10- to 22-mile routes that all end at Starbucks in Dartmouth. She orders from the app about a mile away so there will be a large iced tea waiting for her when she arrives, along with a trenta size cup of water, courtesy of the baristas who cheer for her all year long. Her mother meets her with fresh, clean clothes and gives her a ride home.
Sometimes, it's hard for her to believe that she's become a runner who can aspire to marathons under 3:15. But her training motivation is simple: "Reaching one goal—or getting close—gets me determined for the next goal." It's how it all began. Setting her sights on that one tree. And then another tree just a little farther on. And then another…
Subscribe to South Coast Almanac so you don't miss out on stories like Jany Rodriguez-Ramos'. Our mission: to explore the people and places of the South Coast. Join the tribe and you'll be supporting stories like this one. We'll deliver 4 issues each year to your door for just $19.99. Subscribe right here.
Prefer digital? You can get all the past issues for just 99 cents right here.