Our August issue had profiles of some amazing South Coast athletes. In this season of New Year's resolutions, we thought it'd be great to throw them online for a shot of inspiration, motivation, or just plain appreciation. Up next: Arthur Mpofu!
It can be hard for a teenager from Botswana to come to America without parental guidance.
But Arthur Mpofu, now 23, settled in Wareham with a foster family, became fluent in English and has nary a trace of an accent, and graduated high school.
He was working essentially two full-time jobs to eke out a living, but it was monotonous, exhausting and he lacked any personal fulfillment. He was desperate for an outlet for his passion.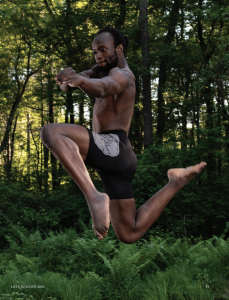 Since he enjoyed watching ultimate fighting, he strolled into SBG East Coast one day to inquire about its mixed martial arts classes. He was instantly hooked. He's only been involved in the sport for two years now, and in August 2018, he appeared in his first sanctioned fight. He won another a few months later and became amateur champion of his 135 lbs. weight class. Unfortunately he lost the belt on June 15. He's still 3-1 and looking forward to using the loss as a learning experience. He plans on getting the belt back in the near future.
Others toil for years before reaching such heights. What is his secret?
In addition to his hard work and training, Mpofu has an uncanny ability to enter a zone before a fight. It is not rage-or adrenaline-fueled, but rather a sweeping state of calm, where he relies on his training. "It's like no other feeling," he says. "People ask me after the fight about certain details andI say I don't remember. I have to watch the fight on video to understand what I did. And then I watch it over and over and over."
Like a lot of athletic endeavors, the mixed martial arts industry benefits from building the brands of their athletes. Mpofu has built a large following and sells tickets (they are actually tasked with hawking their own tickets) based on his easy-going and affable personality, as opposed to some who portray themselves as intense and intimidating. (Mpofu only brings those out when he is in the cage…)
Mpofu goes into all of his fights smiling.
After all, he is doing what he loves.
Competitions are short. Three three-minute rounds for most fights and five three-minute rounds when contending for a belt. So the athletes have to come out swinging with all they got.
Mpofu has quit those previous jobs. He now teaches classes at SBG East Coast, including Jiu-Jitsu for kids and Thai boxing (or Muay Thai) for adults. He trains there and at a gym in Boston. He hopes to become a professional one day.
But he'll never forget the community where it all started, that welcomed him to America (he notes Andrea Cannon at Wareham High School, who took the young immigrant under her wing), and the gym there that got him on this path."I like living here. It's my type of vibe, especially in the summertime," he says. "Everyone is happy."
When it comes to teaching, his best outcome is when he instills confidence in kids who were lacking it. "I watch as they began to walk into the gym with their heads held higher and with an increasingly positive posture," says Mpofu."Their personalities flourish."
He knows. He sees himself in those kids.            –Scott Lajoie
Subscribe to South Coast Almanac so you don't miss out on stories like Arthur Mpofu'. Our mission: to explore the people and places of the South Coast. Join the tribe and you'll be supporting stories like this one. We'll deliver 4 issues each year to your door for just $19.99. Subscribe right here.
Prefer digital? You can get all the past issues for just 99 cents right here.