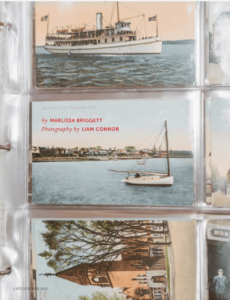 Recently, Peter Meggison and Max Isaksen gathered to hunt for historic postcards at an estate sale on West Island. They entered as soon as the sale opened, dashed in and scooped up all the postcard albums that were available. "It took seconds," says Isaksen.
Because postcard collecting is a small world, they knew Beverly Wilson, the estate's late owner. Postcard collectors know one another; they often help each other find postcards. They get together to trade duplicates. Meggison, Isaksen and Wilson all collected local postcards and lived on the South Coast. Of course, they were friendly.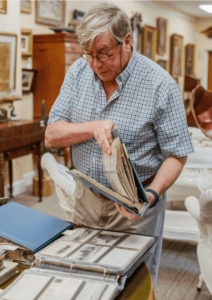 Frank McNamee, owner of Marion Antiques, was overseeing the sale. A casual collector of postcards himself, he owns roughly a few hundred postcards of Marion and Wareham. Also, he knows antiques and collectibles. When he saw Wilson's collection, he knew right away it was one of the best collections he'd seen.
McNamee had several albums available at the estate sale; Meggison and Isaksen got them all, planning to meet up a few weeks later to compare their conquests and to perhaps exchange duplicates. In his haul, Isaksen was happy to find about 10 cards that he'd never had before. They'll join the rest of his collection, which focuses on Fairhaven, Acushnet and New Bedford.
The rest of the postcards from Wilson are scheduled for the auction block on August 19 at Frank McNamee's Marion Antiques located in the old Marconi wireless station (itself the subject of vintage postcards). McNamee will be at the dais offering them in bundled lots to a variety of audiences: the live audience before him, an online audience, and eight staff members who will be taking bids by phone.
They are the ancestors of Instagram...
Brief messages or updates that accompany a wide variety of remarkable images, perhaps a little humble brag to friends back home. They have postmarks and messages that can make you pause, sometimes even chuckle.
Many thousands of postcards depicting the beauty and history of the South Coast have been produced since the advent of the medium in the late 1890s. Collectors are often drawn to postcards for the history they provide, where you can see horse and buggies on Fall River's Main Street or steamboats lined up at New Bedford's piers.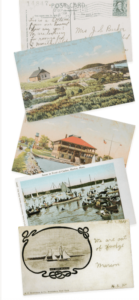 With a postcard, an experience is tangible and bite-sized – you can hold it in your hands. Some are enamored by the creative or even humorous musings of the postcard writer. Marion's Pete Smith has a postcard in his collection dated October 1908 with an etching titled "Off Ram Island" that depicts ships in Marion's harbor. Next to the picture is a simple, but surprising message: "We are out of fudge." Onset's Marie Strawn laughs about the grumpy message on one of her Onset postcards of the Point Independence Yacht Club: "You can have Onset! The mosquitos are terrible! The weather is awful!"
Many collectors start with a box of old postcards they find in the attic after a grandparent passes away. Sometimes, the draw is a fascination with their own hometowns. Call it the gateway postcard. You buy a postcard of the town hall at a flea market for a few dollars. Then, you just keep going.
Local historical societies use them to bring the past alive. Jenny O'Neill of the Westport Historical Society uses postcards of Westport's one-room schoolhouses with school field trips now. She asks the children to look closely at the cards, and they are amazed by what they see. Many of the children in the postcard are barefoot; their clothes a little dirty. It was a different place in the early 1900s. Postcards help bring that home to the kids.
Strawn has been collecting postcards since she was 11. She never liked history in school but she loves the history she gleans from her collection. Now, she gives talks at the Wareham Historical Society and uses her postcards to bring the past alive. When we met, she was working on a presentation of the Dummy Bridge in Onset, which transported vacationers from the depot to downtown Onset by a dummy steam engine.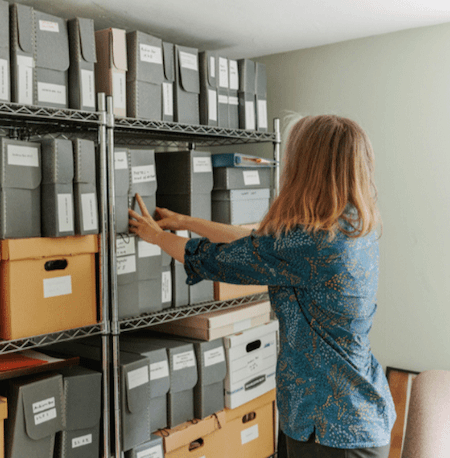 O'Neill marvels at the range of images she has of early Westport thanks to postcards. "Why is this remote, obscure community [in the early twentieth century] the subject of postcards?" she asks. In fact, publishing companies used to send stringer photographers out to New England towns to take photos that would become postcards
History is one reason to collect postcards. Nostalgia and personal connections with your family are others.
Behind the postcard of the steamship Commonwealth of the Fall River line, Strawn's mother wrote home from her high school trip to New York: "oh, for a dozen lemons." Strawn figures she was seasick. It's thrilling to find a personal connection that way, like getting a message in a bottle from her mother.
Jones started collecting postcards of Westport in his forties. He was working in Boston and homesick for Westport, where he had spent his summers. Postcards gave him a way to connect with the South Coast when he couldn't be there. He quickly focused on East Beach and Acoaxet. The postcards were like clues to a landscape that had changed dramatically, whether from storms and hurricanes or simply from the passage of time.
He loves the way postcards provide time capsule glimpses into lives lived in another time period. He sees a postcard with a handwritten message from Jeannie, vacationing at East Beach, addressed to her friend Betsy at a knitting mill in Fall River. He sees postcards bearing witness as automobiles supplanted horses as primary modes of transportation.
David Jones' postcard collection grew into something that unexpectedly complemented another hobby: cycling. A recreational cyclist, he has been racking up over a thousand miles each year, pedaling through small towns and byways. Postcards show him the interesting villages of the early twentieth century which are exactly the right kinds of places for cycling. He likes postcards that give him a biking destination, an excuse to ride to an intersection and compare the current view to the view on his postcards. "I like to see what Main Road looked like 100 years ago. It's fascinating to see what has changed and what has stayed the same. Westport Point and Head of Westport are beautifully preserved." His postcards coupled with his cycling attest to that. "At bicycle speed," he says,"it all hangs together. 100 years ago... it took a long time to go from town to town."
Weirdly, the most valuable postcards are not necessarily the prettiest.
It's like a scavenger hunt where the rarest of cards take on an out-sized importance. Max Isaksen talks of one holy grail of postcards. There is a postcard of the New Bedford Storage Warehouse. "It's such an ugly postcard. Who would send a postcard of that?" he asks. Because of its rarity, it's highly prized. He came across it by chance when he bought a box of postcards from a dealer and unexpectedly found it when he got home.
Dealer and collector Mary Valentine of New Bedford has 50,000 postcards. She's still looking for at least a dozen cards that have eluded her, including that New Bedford Storage Warehouse postcard. "Someone scanned a copy of that for me. But that's not enough," she says. She's got her New Bedford collection categorized by location, oldest to newest view: the library, city hall, the bridges, etc. She says, "I like history because of postcards."
Like Valentine, Westport's Jack Lowney isalso a collector and a dealer. He has watched as postcard clubs have come and gone. He worries a bit about the future of postcard collecting as collectors get older. But as a dealer, he also sees the magic take hold among the next generation. He remembers one customer looking through his postcards and finding a photo of his father. Another person asked him for a 100-year-old postcard with four Cape Codders gathered around a table because one of the men was her grandfather. Jack knew the card; it wasn't a rare one, he told her. "She went through my stuff and found it!"
Peter Meggison from Westport was at a paper show in Hartford looking through the large letter postcards (the ones that say "Greetings from...") and found one from New Bedford. It wasn't rare or special. He says, "I have dozens of copies of this postcard. But I turned it over. The postcard was sent by me to a postcard dealer in December 1963 when I was 13! It came back to me almost 50 years later."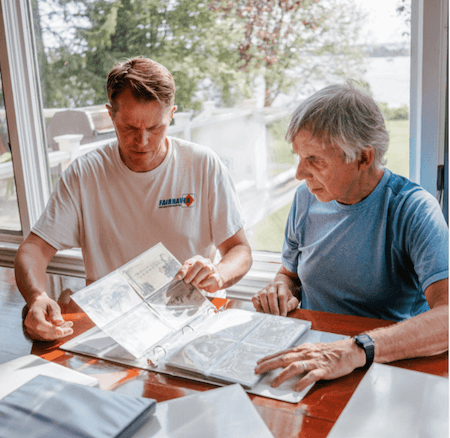 As they rummaged at the estate sale last spring, Isaksen remembers that Meggison felt a little pang, seeing Beverly's collection displayed for sale. Meggison has been collecting postcards for nearly six decades and that day he pondered the fate of their own collections. Isaksen reminded him how happy Beverly would be to know that they were the guardians of her collection.
It's a lesson that postcards themselves teach time passes, many things change. But postcards? Postcards can keep going.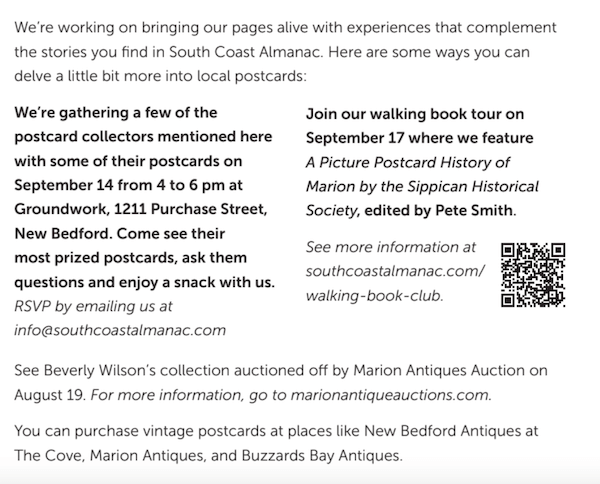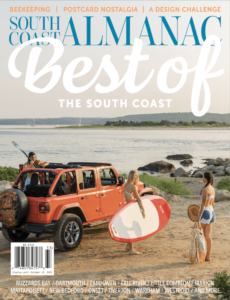 This article was published in our Late Summer 2023 print issue. Become a subscriber to our print publication for more local stories like these.