The Lowdown on Our Juice Taste Test
Juice cafes are all the rage. Green juices, cold-pressed juices, artisanal juices. We had a question: are they really worth the price tag?
We sat down for a juice taste test with two of our advertisers, Kendellyn Cavanaugh Gagne & Jen Manse. Our assignment was simple:
Purchase juice from People's Pressed, New Bedford's juice cafe;
Taste several flavors;
Review them;
Have fun!
We picked Kendellyn and Jennifer because they share an office and both work in holistic health fields. Kendellyn is a physical therapist specializing in myofascial release; Jen specializes in biofeedback. It seemed like their small businesses have a nice synergy with a healthy juice shop. (Unfamiliar with biofeedback and myofascial release massage? Hold on! We'll get to that after the juice.)
"What are we doing again?" they asked me when I showed up, juices in hand.
"We're doing a juice taste test!" I told them, enthusiastically.
"How come we didn't get a wine-tasting assignment?" Jen said. Kendellyn quickly jumped in, "Well, we can use the juice to make cocktails!" Before you knew it, Kendellyn was plopping a bottle of Prosecco on the table.
This was going to be fun.
I took out the bottles of juice and we admired them. Not since the invention of the juice box have I marveled at the presentation of juice. People's Pressed uses simple clear bottles so that you can see right through to the bright crimsons, greens and oranges of the juice inside. It brings to mind the old adage:  "Eat your colors."
---

Not since the invention of the juice box has the presentation of juice been something to marvel at.

---
We took a small sample of the Beauty and the Beet (made with beet, carrot, apple, lemon, and ginger).  It was delicious and a beautiful, deep garnet color that looked alive. Tangy and really filling, it felt more like a meal than a glass of juice. At the same time, it was smooth and light, with  no froth or foam. Just pure nutrition or, as People's Pressed likes to say, raw energy. Kendellyn said, "it's not too sweet and there's a bit of a zing, which is nice on a grey day." Jennifer concurred, "yeah, a bit of a tang. I could have this as a snack."
Next came the Soulshine, which was tiger-orange — we assumed it would taste carrot-y. We drank this juice quicker. "Oh, this is much milder. You could drink way more of it." "There's something sweet in it. Canteloupe? Pineapple?" "It's an everyday juice."
The Soulshine won our hearts.  Filled with carrot, apple, lemon and ginger (no canteloupe, no pineapple), we'd be coming back for more of that.
The ginger-lemon booster shots came next. They are super tart. While the name itself should have prepared us for that simple fact, we weren't ready. It was really, really sour. It kind of made our eyes pop out with the unexpected strong burst of flavor. "It's like a Fireball!" said Kendellyn. When I told Amanda Desrosiers, the mother of People's Pressed, about our experience, she laughed. "It hits you over the head, Your eyes water and your throat burns. You're supposed to shoot it, like a shot, like an alcoholic beverage. You're not supposed to sip it because that will dissuade you from having the rest!" Then why have it? It gives you a boost of energy, helps your immune system and is good for your digestive system. Plus, having super spicy and sour things is fun.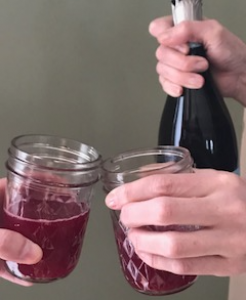 It was time to open the Prosecco (because it was 5:00 somewhere). We mixed the Prosecco with the juices. We liked the juices even more than before and decided they'd definitely liven up any cocktail and any party.
The answer to our initial question — is it worth the price? Yes, cold-pressed organic juice made with a commitment to quality and that simply couldn't be any fresher is worth it. It's nutrition all wrapped into a pretty and delicious package.
The Lowdown on People's Pressed Juice
Amanda Desrosiers has been making home deliveries of these juices for over a year and selling them at farmer's markets throughout the South Coast. What sparked her love of juice? An avid climber, she was on a climbing trip down in Tennessee where she happened upon a juice shop and "I gave them all my money every day!" She learned the magic of cold pressed juices which have five times more nutrients than juice made with a centrifugal juicer (which adds oxygen and heat to the juice making process). She came home, bought a Norwalk Juicer and started making her own cold pressed juices.
She found the process of juicing zen-like. She started selling her juice to friends, family and at farmer's markets. She entered the Summer 2017 class of EforAll (a crash course in entrepreneurship for local folks) and was filling custom orders of juice every week, all the while looking forward to the day she could open her dream shop: a healthy, high vibe juice cafe.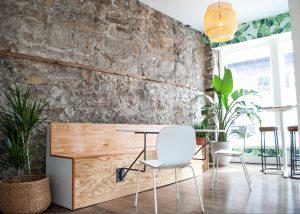 The dream has come to fruition and she's opening her own shop in downtown New Bedford this month. The space is hip and cool. The juices are fresh (made at the shop daily). You can't get the juice anywhere else because Amanda is so devoted to freshness — she wants to control the shelf-life which she can't guarantee in other retail locations. She will not sell a juice that is more than 3 days old.
Go visit her at her beautiful new juice cafe in the new Co-Creative Space recently renovated by the Waterfront Historic Area League. And do some taste testing of your own! People's Pressed, 141 Union Street, New Bedford, 774.992.8075.
A great big shout out to our taste testers (and a little insight into what myofascia and biofeedback mean)…
The Lowdown on Myofascial What? and Biofeedback What?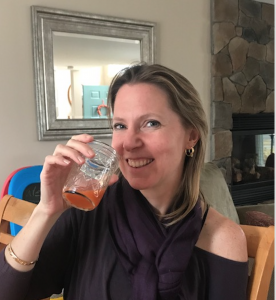 Jen Manse specializes in biofeedback which is still relatively unknown on the East Coast, but popular on the West Coast. Basically, our bodies harbor stress in a number of places which can lead to physical complications and ailments (insomnia, digestion, skin issues, etc). Biofeedback combats stress by introducing relaxation techniques and training your body to follow them. What does an appointment with her look like? She hooks you up to some electronic monitors which give feedback on her computer. You spend a pleasant hour with her (maybe you'll drink tea, maybe you'll nod off, maybe you'll chat) and she can highlight where your body is processing the stress. Armed with this information, your body starts to heal itself. "If it works better, our body will do it. It just needs to be shown where exactly it's not working," Jen says. I asked her what she tells people when they ask what she does at cocktail parties (it seemed appropriate as we sipped on our Soulshine Prosecco mixture.) "I liken it to a computer check-up. You do a virus check on it from time to time and it starts performing better. I do that for the body."  Her clients range from A-game athletes who want to focus on muscle repair and reeducation; teenagers who may not be handling hormone changes well ("Parents tell me that their kids have gone from screaming witches to calm and reasonable"); and elderly folks who may want to wean themselves from some medication ("because life is complicated enough.") Want to learn more? Contact Jen at Biofeedback on the Cape, Bourne Health Center, 1 Trowbridge Street, Suite 333, Bourne. 508.524.4741.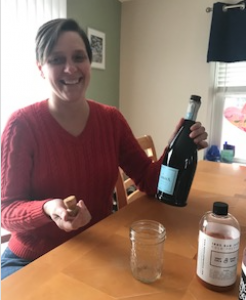 Kendellyn Gagne is a physical therapist who specializes in myofascial release. Myofascia is the connective tissue that covers all of our muscles and bones. We're all pretty informed about healing and strengthening muscles after an injury through physical therapy. But few people pay attention to healing the connective tissue which means that whatever was wrong will likely recur. And the problem may be in an entirely different area than where we're experiencing the pain. "It's like a pull in your sweater," explains Kendellyn. "A little pull down by your waist can eventually lead to fraying up at the shoulder. Everything's connected. You gotta fix the original source of the problem or you're just going to end up having the same problems." She says many people come to her after they've tried all sorts of traditional approaches (injections, traditional physical therapy, surgeries) with no results. Her motto is: This is the last stop.  She says, "I won't be your first date, your first drink, your first kiss. But I'll be your last." Kendellyn can be found in the same suite as Jen. Balanced Physical Therapy & Myofascial Release, Bourne Health Center, 1 Trowbridge Street, Suite 333, Bourne. 508.566.0636.
P.S. Keep up with more taste-tests, Prosecco, shenanigans and news/updates from the South Coast by signing up here.
P.P.S. This post was not brought to you by the Prosecco industry.