"April is the cruelest month," writes T.S. Eliot in the opening lines of his poem, The Waste Land. Thousands and thousands of words have gone into analyzing this opening line. You know why? Because it makes no sense. April is pretty darn great. Here are 8 more things that make it so….
1. A is for April; A is for Art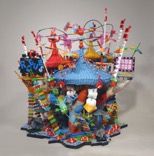 The first exhibit of the 2018 year at the Dedee Shattuck Gallery is here! Solastagia, curated by Charlotte Hamlin and Anna Kristina Goransson, presents work from several textile artists. We've checked out the exhibit page (see it here) and are in AWE of the artists' work, it was hard to pick just one photo to feature! Check out a sneak peak of the work online, and then head out to the artist's reception on April 7th from 5-7pm to see the exhibit and celebrate the opening with the people who brought the exhibit to life! If you can't make it to the opening, you can check out the exhibit from April 4th-29th. 1 Partners Lane, Westport, 508.636.4177. Wed – Sat, 10 – 5, Sun 12 – 5.
2. Black Violin?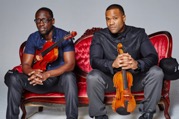 Hip hop meets violin. Have we got your attention yet? Wil Baptiste and Kevin Sylvester, the artists of Black Violin, blend their classical violin background with hip hop, R&B, rock, and bluegrass music. They and their band are returning to the Z this April. Still not convinced? Check out this video to see them jamming with their full band (complete with an electric violin!!). April 6, 8 pm, The Zeiterion Theater, 684 Purchase Street, New Bedford. Tickets $22 – 35.
3. What a Hoot!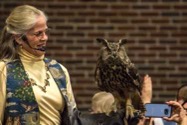 We're in for any event that promises a "fun hooting lesson". The Westport Land Conservation Trust is presenting their annual live owl show, featuring naturalists Mark and Marcia Wilson and their captivating owls! Learn about the owls and get close-up views of the birds of prey that are local to Massachusetts. And then, check back in with us to show off your new hooting skills! Two shows on April 7, 10 am or 1 pm. Westport High School, 19 Main Road, Westport. Tickets: $10 for adults/$5 for children. Register here.
4. The Things They Carried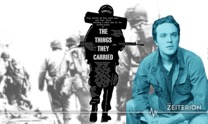 This solo performance, with an original cello music score, promises to captivate audiences with Tim O'Brien's classic. Before the show, join Dr. Bob Meaghar, an author and professor, for a pre-show discussion (free of charge) about the experience of Vietnam veterans. This event is part of the The Z's page-to-stage book club, so feel free to check out the novel and give it a read before the show. Find out why so many high schools have it on their reading lists and why some have tried to ban it from reading lists. April 12, 7:30 pm. New Bedford Whaling Museum, 18 Johnny Cake Hill, New Bedford. Tickets: $25. Find out more here. 
5. Watch the Herring Run!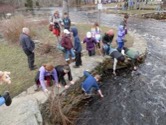 What better way to welcome spring than with food, games, music, exhibits, and furiously swimming fish?! In the spirit of getting ready for spring, we're ready to celebrate the famed herring at the Middleborough-Lakeville Herring Run Festival! Watch the herrings make their annual pilgrimage upstream and celebrate with a festival in their honor, featuring live music and local vendors. Bonus: we hear the river gets so packed with herrings you can catch them with bare hands! April 14 – 15, 11 – 4. Oliver Mill Park, Route 44 and Nemasket Street. Free.
6. Earth Day at Night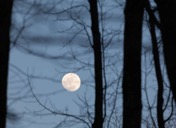 Show a little love to nature on Earth Day and have fun while doing it! This Earth Day, celebrate the planet on a special night hike with the Lloyd Center for the Environment. The event promises to teach hikers about the creatures that come out at night, the sounds they make, and where to search for them! Also, learn about how to make your own yard more inviting for our wildlife friends. April 20, 6:30 – 8:30 pm. Lloyd Center, 430 Potomska Road, Dartmouth. 508.990.0505 x31. Cost: $8 for members, $10 for non-members. Register here. 
7. The Farm Gates are Open!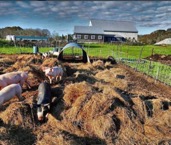 We love farmers markets! But you can't hang out with barn animals while overlooking Allen's Pond Wildlife Sanctuary and chatting with your local farmers at most farmers markets. You can do that at Open Farm Days at Round the Bend Farm! Meet the team, see where the produce is grown, and explore the farm while shopping for products from the farm and other local farmers. Our favorite part: you can buy honey from bees that live right there on the farm. Plus, Executive Director Desa Van Laarhoven shared with us that the farm just welcomed baby goats! A guided family friendly tour of the farm begins at 11am. April 21, 10 – 5. 92 Allens Neck Road, South Dartmouth. 508.938.5127. See more here.
8. Get Out There and Run (or Walk)!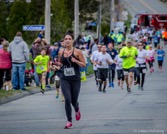 We're ready for a road race! Get outside and get training for the West Island 5k. The course promises to be mostly flat with a downhill start (sounds good so far!) and a challenging uphill for a finish (okay, as long as we can see the finish line). Register soon to get a free beach towel or race shirt. Also, join fellow racers and carb up for the race during the spaghetti dinner on April 28th from 4-6pm (cost $5/person). April 29, 11 a.m. For more information and to register, see here.  All proceeds support Fairhaven High School's cross country team and the non-profit Strive to Achieve.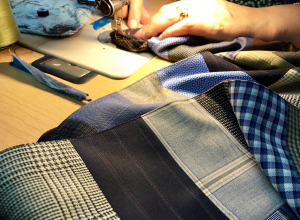 BONUS: Check out the Margo Petitti Factory Sale on April 21st -22nd from 10-5 for great discounts! Her scarfs, made right here in Fall River, have been seen on lots of celebrity necks. Now's your chance to stock up for next winter at a fraction of their usual price! 54 Front Street, Fall River.
Keep up to date with everything cool on the South Coast by signing up for our monthly updates here.