We gathered four of the region's most acclaimed confectioners and bakers for a little friendly competition: Whose signature dish makes for the best holiday dessert? Here are the entries for our Great South Coast Holiday Dessert Bake-Off…
CHOCOLATE CAKE WITH MOCHA BUTTERCREAM FROSTING
by StacyCakes, Westport
LIKE A LOT OF PEOPLE who stumbled into their life passion later in adulthood, STACY SILVA-BOUTWELL didn't dream of being a baker when she was younger. She was a social worker for years until one day a friend asked her to make a Mario Brothers cake for her son.
Soon, she was taking all of her friends and family up on their requests for cakes, and eventually she left her career in social work because she became "so tired of everyone being sad and upset all the time. But cakes bring people joy."
Her chocolate cake is rich and full of flavor. The frosting is light, but made with real espresso. The homemade white chocolate snowflakes, raspberries, sliced figs, and rosemary sprigs give a lively all-natural décor in the stripe of ganache over the top.
A GIFT-WRAPPED TIRAMASU
by Molly B's Cakes of Distinction & Design, Berkley
EVEN THOUGH MARLENE SOUZA was quite successful making cakes, at 50, she decided to go back to school because "I wanted the qualifications behind me. I knew the cooking techniques, I just couldn't name them."
Two years later, she opened Molly B's (it's her childhood nickname). She takes great pride in her work: If a cake needs edible violets, she'll grow and nurture them herself; if she has to pull an all-nighter to finish an elaborately designed wedding cake, she will.
A layer of ladyfingers is soaked with a coffee syrup, followed by a layer of tiramisu mousse topped with a layer of hand-shaved chocolate and coffee beans. The whole thing is repeated, topped again with the mousse and tied in a great big bow. Pirouline rolled cookies frame the dessert and Marlene adds edible decorations on top.
IN 2005, MEREDITH CIABURRI-ROUSSEAU opened Artisan Bake Shop to produce delicious pastries AND whimsical cakes.
She trained at the Culinary Institute in the Hudson Valley and came back to New England for her food management bachelor at Johnson and Wales. She interned in restaurants on Lake George and in Vermont. Her most interesting custom cake assignment? She had to do a full-scale model of a Model T engine for the 80th birthday of a Model T club member.
"What I love about this cranberry fool is that it requires no baking," she says. "Even though it is a cool dessert, it can be enjoyed in any season."
CHOCOLATE YULE LOG
by Confections, Fall River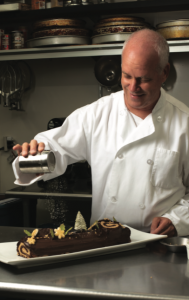 JIM KENNEDY'S SUGAR CREATIONS are pieces of art. His flowers look like the real thing. Hostesses from as far away as New York City and Newport call him when they need a unique and spectacularly designed cake for a celebration.
He has been working in restaurants since he was 16. When he graduated from dishwasher to prepping the desserts, he knew he had found his calling. One Christmas, in between restaurant jobs, he peddled gingerbread houses door-to-door in Newport before spending years at Seekonk's Café in the Barn, owned by the television chef Bernard Devodet.
Jim's gluten-free yule log is pillowy soft and deliciously pairs chocolate with coffee. The edible holly leaves and white chocolate snowflakes with a dusting of edible gold are festive and fun. Customers come back year after year for their yule logs.
PLEASE JOIN US NOVEMBER 16
THE GREAT SOUTH COAST HOLIDAY DESSERT BAKE-OFF will take place at Bristol Community College's spectacular Sbrega Building. The four bakers will each present and talk about their dish to a panel of judges including Bristol Professor of Baking and Pastry Arts Gloria Cabral, the co-owner of Little Moss Restaurant (and winner of our readers' vote for Best Dessert) Lisa Lofberg, and our editor Scott Lajoie. This will be followed by a tasting for audience members. All profits from the event will go to Bristol's Culinary Arts Scholarship Fund. For more details and to buy your $25 ticket, go here.
To read this and other great stories in our Holiday issue, subscribe right here and have the next 4 issues delivered straight to your door.