Drink more water. Exercise. Sneak kale into whatever you can. We've got a fun resolution to add to the list: get out and do things in the community! There's plenty of wonderful things on the South Coast to get you going, even in winter. We'll keep bringing you our 8 Great Things each month to give you ideas. That's our resolution!
Ahoy There, Mates!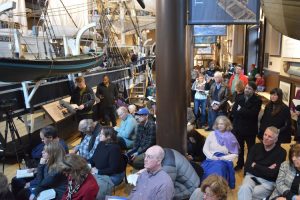 It's that time of year again — get ready for the Moby Dick Reading Marathon. We've been attending the marathon for the past four years, and it's become a favorite tradition for us. Hardy souls drop in for a few minutes or for the whole 27 hour marathon at the Whaling Museum (with one chapter read at the Seamen's Bethel). The event is free and open to the public and even features two mini-marathons, perfect for kids. Grab a coffee and a copy of the classic, and gear up for a night (and morning!) to remember. January 4-6, New Bedford Whaling Museum. See more here.
2. Get Outside!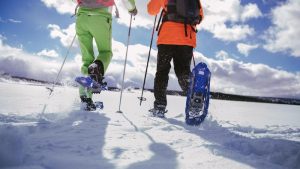 With no snow on the forecast, it doesn't seem like the weather is cooperating for the Appalachian Mountain Club's first snowshoe hike of the new year (but we can't complain about too little snow!) Join the Club for a 4 mile hike (or 2 mile snowshoe, should the forecast change) and experience the beauty of winter in the Sanctuary. The event is free and does not require advanced registration. January 6th, 12:30-3pm, Great Neck Wildlife Sanctuary, Wareham. For information on where to meet the group, see here.
3. Spend the Evening with Ludwig!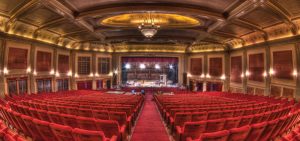 Notice how we always seem to include the New Bedford Symphony Orchestra in our 8 Great Things? It's because they're just that wonderful! This January, they've invited acclaimed pianist Yefim Bronfman to join the stage as they take on Beethoven's classics. The Orchestra plans to contrast Beethoven's pieces with works by Bartok and Boulanger and we can't wait to see what they've come up with this time! January 11th, 7:30pm, The Zeiterion, New Bedford. See more here.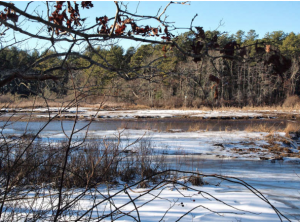 4. Mind Your Step
Is mindfulness on your list of resolutions? Join the Buzzards Bay Coalition for a morning of meditation to jumpstart the year with renewed focus! Jessica Webb, owner of Anchor Yoga, will lead a morning meditation walk through Slocum's River Reserve. The walk will be deliberately slow to encourage mindfulness and accommodates all fitness levels. It's free, although participants should register on the website. January 19th, 11am-noon. Slocum's River Reserve, Dartmouth. See more here.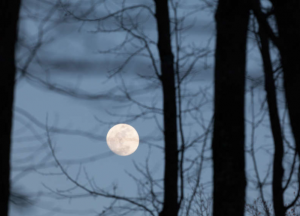 5. Middle of the Night Lunar Bonding
Who knew that a total lunar eclipse was coming this January!? If you (like us) were out of the lunar-loop, never fear! The Buzzards Bay Coalition has taken care of us! They've picked the Mattapoisett River Reserve, 500 secluded acres far away from bright city lights, as the perfect place to view the eclipse, and invited us all to join them! Bring your own lawn chairs and blankets (and maybe pillows, too!) for optimal viewing. The eclipse will reach its peak at 12:12 am on the 21st, but you can stop by anytime between 11:30pm-12:30am for views, company, and hot chocolate! January 20-21. The event is free, participants can register on the site right here.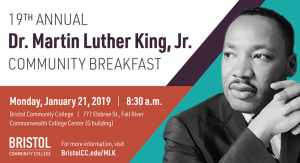 6. Celebrate MLK Day
Bristol Community College is opening its doors to all to celebrate MLK Day this January, as it has done for 19 years. The event is free and features a breakfast buffet, music, the announcement of the MLK Essay Contest and Visual Arts Challenge winners, and a keynote address. The Visual Arts Challenge is still accepting submissions and is open to all high school students with some great prizes (including the first place award of $150 and a free BCC course). See their site for details on how to submit! January 21st, 8:30 a.m., Bristol Community College, Fall River campus. More here.
7. Love to Hear Percussion!
Drumline Live is coming to the Z! The musical showcase promises sensational rhythms and beats, based on the Historically Black College and University marching band tradition. The performance is full of original compositions and soulful renditions of pop hits. The drum riffs and choreographed routines will be exciting for audience members of all ages, making it the perfect event for the family. Tickets range from $29-49. January 26th, 8pm, The Zeiterion, New Bedford. More here.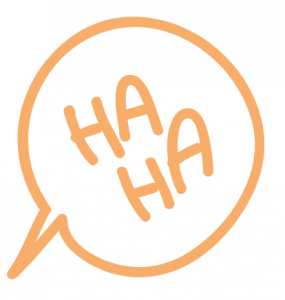 8. Yuk It Up (for a good cause!)
Here's no better way to get out of the mid-winter blues than with a night full of laughs! The Portuguese Kids, a Fall River based comedy group highlighting the funny side of growing up with immigrant parents, will be performing their new show to benefit Freetown-Lakeville United Soccer Club. Your $50 ticket includes the show, a silent auction, dinner, and dancing. January 26th, 6:30-11:30pm, White's of Westport. More (including ticket sales) here.
Wanna keep up with the coolest happenings each month on the South Coast?! Sign up for our free monthly newsletter right here!
If you want a copy of our beautiful Fall/Holiday print magazine, filled with things you can't find online — Best Dishes from favorite local chefs, Local Makers Gift Guide, Nightlife Guide: A to Z, and lots more — subscribe right here!