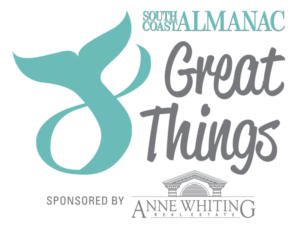 December is crowded with so many great events that we cheated this month and grouped multiple different events in the same group because we simply couldn't keep it down to 8. Take a look and see what we mean! (With many thanks to Anne Whiting Real Estate for sponsoring this fun monthly list!)
1. Survivor: South Coast Edition
Park at Onset Pier and the Buzzards Bay Coalition will ferry you to an isolated island (aka, Wickets Island) for a chance to learn some skills that might come in handy in the next season of Survivor, including; fire lighting, shelter building, knife and axe skills, solar still and water purification methods and following the "Bushman's Code." What are you waiting for?! Free but preregister here because space is limited. 10 am to noon, December 4. More here. 
2. Santa's Workshop
For nearly 30 years, artist Don and Joanna Cadoret host a holiday open house in their vintage Tiverton home which is awash in darling miniature holiday scenes. He also offers a variety of handpainted wooden trees that he's been working on since summertime. He's kept the prices of these little masterpieces at $20 for years and he will continue to do so this year. In a world of so much change, the Cadoret's open house remains a constant. December 3-4 from 11 to 5ish. 23 Reed Street, Tiverton. More here.
3. Singalong!
Outside of big stadium concerts, we don't think there are enough opportunities to singalong in a crowd. Here are a couple this month where you can belt out some holiday songs:
For generations, families have been enjoying the annual Christmas singalong at the charming Tinkhamtown Chapel, aglow with lights and good cheer. Tinkham Lane and Acushnet Road, Mattapoisett. December 17 at 5:00. For more information, email Gail at

[email protected]

 
The much loved Holiday Pops is back with two performances which include audience participation, along with other treats. December 11 at 3:30 and 7 -- both are almost sold out so reserve quickly. More here.
4. Let There Be Light!
We also love candles. Lots and lots of candles! Here are 2 favorite local candlelight services to celebrate the holiday season: the Seamen's Bethel candlelight service on December 18 at 4 pm and the magical Christmas Eve candlelight service at Fairhaven's majestic Unitarian Church which is open to all. (More on Seamen's Bethel here. More on Fairhaven event here.)
5. Ugly Sweater Hike
If we see the words "ugly sweater" in any event listing, we stop scrolling. Add the word "hike" and we're there. Join the Buzzards Bay Coalition for, yes, an Ugly Sweater Hike at Acushnet Sawmill! There'll be hot cocoa and a chance to win a prize for all wearing ugly sweaters (so no need to wear the very ugliest sweater, which is sometimes too much pressure). Free but register here. 1 to 2 pm. December 17. More here. 
6. Holiday Strolls and Merriments
Get out there and walk the prettily decorated streets with your neighbors in Fairhaven (December 10 from 10 to 3, more here), Fall River Tree Lighting (December 1, 4:30 to 6:30, more here), New Bedford, (December 10 from 12 to pm, more here), Onset (December 10 from noon to 3, more here), Padanaram (December 4 from 11 to 4, more here) and Tiverton (December 2 from 4 to 7, more here).
7. Church Basement Ladies
The Little Theatre of Fall River hosts a funny and heartwarming musical comedy featuring the women cooks who hold a rural church with their food and problem solving abilities. $25 (under 12 is $10). The first two weekends of December at Little Theatre's Firebarn, 340 Prospect Street, Fall River. More here. 
8. New Year's Eve Campfire
The DNRT is hosting its last hike of 2022, followed by a small campfire. Come join them for a memorable and healthy close to the year (with more than enough time left in the day to pursue some less healthy mischief) . Free. December 31 from 4 to 5:30. Destruction Brook Woods, 205 Slade's Corner Road, Dartmouth. More here.
Happy New Year! Thanks for reading our 8 Great Things in 2022. Thanks to Anne Whiting for sponsoring them. See you in 2023!
***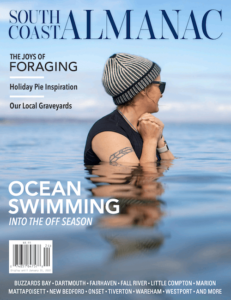 We've got even more calendar listings in our print edition!
Think about becoming a subscriber to support our mission to tell the South Coast's stories. The next issue just left the printers this week and will hit newsstands in the middle of November. Don't wait, become a subscriber for less than $20 and get it delivered to your door right away! Or give it to a friend -- we'll send the current issue with a card letting them know it's from you!