"I wonder what it would be like to live in a world where it was always June." Anne Shirley, Anne of the Island
Well folks, we have the next 30 days to pretend we live in a world where it's always June, that lovely doorway into summer days! And just to add a little icing on the cake of this great month, we give you 8 Great Things to check out in June.
1. Row, Row, Row Your Boat
If you've seen our current print issue, you know that Azorean whaleboats create great fun and community. Here's your chance to check them out, up close and personal. They'll be at Onset Beach this Saturday for the Onset Rowing Challenge to support the Buzzards Bay Rowing Club's Scholarship Fund. Watch the teams compete in a 3-mile row that takes you out to the mouth of the canal, by way of Wickets Island and returning on the opposite side of Wickets Island. Kayaks, canoes, rowboats and dories can join in the fun.  June 1, 2019. Onset Beach, Onset. 10 am. More info here. $20 per race participant. Free for spectators! (Bonus: South Coast Almanac will be there with our current issue!)
2. Turtle Love
An evening walk through the Southeastern Massachusetts Bioreserve  will likely yield some great turtle sightings as this is the right time of year for laying eggs. And — who knew?! – when female turtles are laying their eggs, ain't nothing going to mess with their focused efforts to reproduce, which allows for a closer approach. June 8 at 7 pm. Participants will meet at Fighting Rock Corner at the intersection of Wilson, Blossom, and Bell Rock Roads, Fall River for a 1 mile walk in the Southeastern Massachusetts Bioreserve. See more here. Free!
3. Spindle City Fest
We just love the Narrows' new take on weekend festivals. They got together to decide what they liked to do on Saturdays (eat, drink some wine, visit a farm stand, listen to good music) and decided to put it all together for a festival, free and open to the public. Go between 12 and 1:30 for the Boardwalk Ramble to stroll along the waterfront listening to live musicians play genres ranging from jazz and blues to rock and folk.  June 8, 10 to 3. Narrows Center for the Arts, 16 Anawan Street, Fall River. More here.
4. Nutritional Sanity
Paleo. Whole 30. Ketogenic. Who even can keep up with all the diet trends? Let's forget about all of them and get some thoughts on nutrition from Fred Provenza, a big deal in the animal behaviorist's world who comes to the South Coast courtesy of the Marion Institute. He'll reflect on feeding body and spirit in a world of change (after we appropriately feed on some light refreshments at the pre-talk reception). June 13. 6 to 8:30 pm. Weatherlow Farm, 845 Sodom Road, Westport. More here. $15 before the event/$20 at the door. Tickets may be purchased here. 
5. Walking Book Club Shenanigans
We had a rollicking good time at our first walking book club last November (see a recap here). We start our 2019 series of walking book clubs at Betty's Neck in Lakeville where author Susan Bernhard joins us for a little walking, talking and reading from Winter Loon, her debut novel.  Join us as we explore the novel by immersing ourselves in an outdoor space that evokes some of the novel's critical scenes.
Participants need not have previously read the book to enjoy the tour. Saturday, June 15, 2  to 4 pm. Betty's Neck,  59 Long Point Road, Lakeville. In case of bad weather, we'll meet at the Lakeville Library at noon. Free thanks to our sponsors: Partners Village Store and the Friends of the Lakeville Public Library but we ask that you pre-register on our Facebook event page or by emailing us at [email protected]
6. Wine, Cheese & Chocolate Festival
Can you imagine a festival celebrating everyone's favorite things? The Coastal Wineries did and it's taking place this month at the Westport Fairgrounds where they'll gather ALL 13 Coastal Wine Trail wineries under one roof, along with samples of cheese, chocolates. We'll say it again: wine, cheese, chocolate — we really don't think we need to add anything to this description. 200 Pinehill Road, Westport. Saturday, June 15, 11 to 8:30. Various prices, starting at $17.50. For more information, see here.
7. Get In Shape!
Fairhaven starts its annual free fitness in the park series on Tuesdays (yoga) and Thursdays (summer boot camp). This yearly event keeps growing and for good reason. The instructors, the setting, the community are all great! Tuesdays & Thursdays, 8:30 a.m., Cushman Park, Green Street, Fairhaven. June 18 thorough August 22. Free thanks to generous sponsors! See more here.
8. Knock Something Off Your Bucket List
We've got a South Coast Almanac team in this year's Buzzards Bay Coalition annual swim. Come cheer us on! We've always wanted to swim across New Bedford's Harbor and when we heard that the Coalition tries to time it so the currents push you along, we thought we'd give it a shot. More importantly, we hear there's a great party on the other side. Fun fact: you can go to that shindig whether you swim or not! June 22, leaving at 7 a.m from the beach at the former Edge Restaurant, 1480 East Rodney French Blvd., New Bedford. Finish line celebration is from 7:30 to 11 a.m. at Fort Phoenix State Park in Fairhaven (though we want to know if any swimmers will be there by 7:30?!)  See more here. 
Wanna keep up with the coolest happenings each month on the South Coast?! Sign up for our free monthly newsletter right here!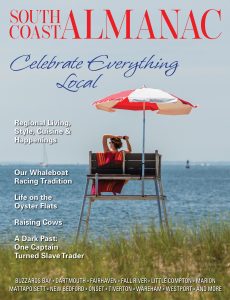 Our May issue is on newsstands now.  It's popping with great content (a Tiverton farmhouse that flirts with industrial style, the sport of Azorean whaleboating and the people behind it, behind-the-scenes with local dairy and oyster farmers, a fashion shoot in Padanaram Harbor, and lots more). If you want a copy delivered to your door with things you won't see online, subscribe right here!
Or just help us spread the word about South Coast Almanac by sharing this post with your friends on facebook, twitter or by email.