Welcome to July! It's that month with so much pizzazz: fireworks, heat & sunshine! After you enjoy your Independence Day festivities, here are some special things to make the most of the month ahead. [Drum roll for this month's 8 Great Things]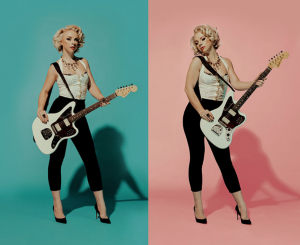 1. We Love Paloozas
Fall River is the place to be on July 11. Block-A-Palooza is back this summer featuring blues rocker Samantha Fish who has been called "a blues tornado." The free festival hosts Fish and opening band The National Reserve in front of the courthouse in downtown Fall River. July 11, starts at 6 pm. 186 S. Main Street, Fall River. More here.
2. Ahoy There!
The Buzzards Bay Coalition gives adults a FREE introduction to sailing, accompanied by a sail in the very lovely Onset Bay (we're partial to Onset Bay!) on their 14-foot RS Quest sailboats. July 11, 5:30 to 7 pm. Onset Pier, 184 Onset Avenue. Free but pre-registration is required. More information and registration info is here: https://www.savebuzzardsbay.org/events/adult-intro-to-sailing-jul-11-2019/
3. Free Fun Fridays
The Highland Foundation is offering free admission to over 100 Massachusetts museums this summer. Locally, Battleship Cove is free on July 19. Take advantage of the Highland Foundation's generosity by visiting these South Coast treasures free of charge. And check out the list to see if there are some other places you may like to visit further afield.  (See the list here.). Battleship Cove, 5 Water Street, Fall River.
4. NOLA on the South Coast
We love the South Coast Brass Band! Join them for some New Orleans jazz and funky stuff at Gilda's Stone Rooster. 8 to 11 pm, July 18, 27 Wareham Road, Marion. More here. 
5. Oysters, Up Close & Personal
If you enjoyed David Paling's account of becoming an oyster farmer at 63 years old in our Early Summer issue (check it out here), then join David and some of his Crooked River Farm crew as we motor over from Onset pier to his Wareham shellfish grant. A 2 hour trip will be filled with entertaining commentary from the farmers, shucking fresh oysters and tasting their oysters, which David calls the "oceanic version of the perfect Manhattan." July 20, leaving on the Miss Chris from Onset Pier, Onset Avenue. 4 to 6 pm. $49 per person includes boat ride & oyster tasting ($44 for subscribers of our print magazine). Email [email protected] for more information and to reserve your space.
6. Mamma Mia!
We are already humming Dancing Queen. In its 30th season, the New Bedford Festival Theater presents the show that'll have you smiling the whole way home. July 19 – 28. Tickets range from $39 to $65. The Zeiterion Theater, 684 Purchase Street, New Bedford. Buy tickets here.
7. Classic Movies
Mayor Jon Mitchell kicks off his summer movie series at the Zeiterion Theater with the original Willy Wonka & the Chocolate Factory, starring Gene Wilder. Just like the old days: enjoy a movie on the big screen in plush velvet seats. The prices are like the old days, too. Just $3 per person. Thanks, Mayor Mitchell. July 31 at 7 pm. The Z, 684 Purchase Street, New Bedford. More here.  
8. Outdoor Zen
During those deep winter months, we dream of tree pose with a salt water vista. It's the time of year to store up those views for the year. There are several classes that take advantage of the South Coast's lovely historic areas & vistas. For instance, check out Zen Revolution at Fort Phoenix. $5 drop in fee Mondays, Wednesday and Thursdays at 6 or Saturdays at 8:30. Fort Phoenix, Fairhaven. See more here.
There you have it, our top picks for July on the South Coast! Wanna keep up with the coolest happenings each month on the South Coast?! Sign up for our free monthly newsletter right here!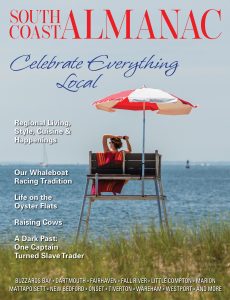 Our early Summer issue is on newsstands now.  It's popping with great content (a Tiverton farmhouse that flirts with industrial style, the sport of Azorean whaleboating and the people behind it, behind-the-scenes with local dairy and oyster farmers, a fashion shoot in Padanaram Harbor, and lots more). If you want a copy delivered to your door with things you won't see online, subscribe right here!
Or just help us spread the word about South Coast Almanac by sharing this post with your friends on facebook, twitter or by email.