Sometimes I'm physically exhausted by how hard it is to stay hip and trendy. Is avocado toast still worthy of an Instagram? Why is everyone talking about "cold brew" and what happened to normal iced coffee? While these questions may plague me with uncertainty, one thing is for sure: yoga is still hot. Luckily, the South Coast offers a plethora of yoga classes and we at South Coast Almanac have compiled a list of 6 favorites to keep our beloved readers at their trendiest this summer.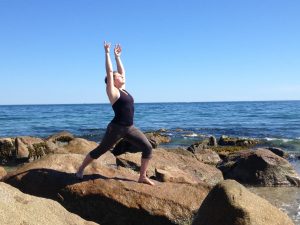 For the early birds and/or night owls
Good Morning/Good Night Yoga Flow…Beach Yoga
Who: Ebb and Flow Wellness Studio
What: Morning yoga – An energizing and awakening morning yoga practice using breath, postures, and visualization. Connecting with the elements of earth and fire. Meet and greet the day.  Evening yoga – Wind down, relax, and connect with your internal systems and external surroundings through gentle yoga postures, breath, and meditation.
Where: Meet at Onset Pier
When: Good Morning Yoga – Fridays 8-9 am / Good Night Yoga – Wednesdays 7-8 pm 
How much: $10
Contact: Beth McLacklin, (508) 273-7736
Bring a mat and/or a towel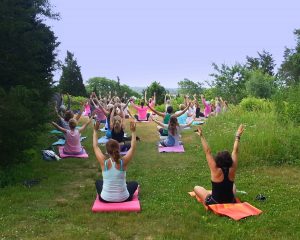 For the nature lovers
Summer Yoga Series
Who: Dartmouth Natural Resource Trust
What: Hour long flow for all levels and ages.
Where: Slocum's River Reserve, Horseneck Road, Dartmouth, MA
When: Wednesdays 8:30-9:30 am through August 31
How much: Free
Contact: (508) 991-2289
Bring your own mat, towel, and bug spray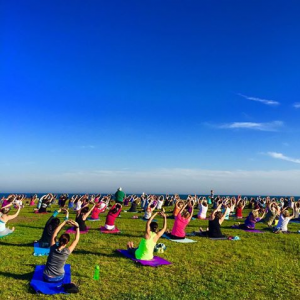 For the community seekers
Fort Taber Summer Yoga
Who: South Coast Yoga
What: Hour long flow on the grassy fields next to Fort Taber as the sun sets with as many as 180 of your neighbors.
Where: Fort Taber, 1000 Rodney French Blvd, New Bedford, MA
When: Mondays and Thursdays 6:30-7:30 pm through the summer
How much: $5
Contact: Pam Teves, [email protected]
Bring a mat and/or towel and water
For the beach lovers
Yoga at Silvershell Beach
Who: Marion Recreation Department
What: An hour long flow, suitable for all ages and levels.
Where: Front Street Marion, MA
When: Tuesdays and Thursdays, 8-9 am through August 30th
How much: $10
Contact: Tim Donahue, (508) 525-9800
Bring a mat and/or towel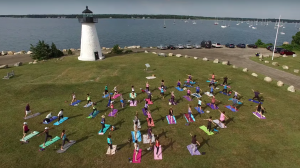 For a cause (and for the vistas)
Lighthouse Yoga at Ned's Point – Anchor Yoga
What: 75 minute flow for all levels
Where: Ned's Point Lighthouse, Ned's Point Rd, Mattapoisett, MA 02739
When: Saturdays 8:15-9:30 am through Labor Day
How much: By donation (suggested donation $5/$10/$20) —  100% of all money collected will go directly into the Anchor Chain Fund which gives back to the community (this summer, they've already collected over $3,000)
Contact: Jessica Webb, (508) 542-9022
Bring a mat, water, bug spray, and sunscreen. Blanket optional.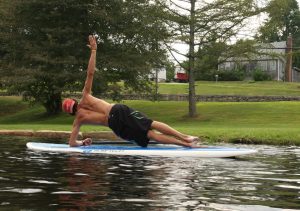 For the adventuresome
SUP Yoga
Who: Osprey Sea Kayak Adventures
What: Perfect for yoga beginners & intermediate students, this class offers moderate poses at a laid back pace to strengthen the body, calm the mind and heal the soul. Intro to SUP or equivalent experience is a prerequisite for this program.
Where: Osprey Sea Kayak Adventures, 489 Old County Road, Westport, MA 02790
When: Tuesdays 5-6 pm
How much: $35 per session, or buy a 6 pack and save 15%. BYOB save $10
Contact: (508) 636-0300
No matter which class you choose, we're sure it will bring you peace of mind. Besides you'll get to enjoy our amazing South Coast while you are at it!
And if you happen to post any pictures to your Instagram for ultimate hipness, make sure to tag us so that we can see you practicing yoga!
– Shea Necheles
Want to keep up with South Coast Almanac? Sign up for our monthly email newsletter here.
Note from South Coast Almanac:
We've gotten an overwhelmingly positive response to this post and have discovered a couple more cool outdoor yoga events that you may want to check out!
Fitness in Cushman Park, Fairhaven offers Tuesday morning yoga (and Thursday morning boot camp) at 8:30 a.m. free of charge thanks to a variety of local business sponsors. Through August 25.
Westport Rivers Winery had their first yoga class/post-yoga wine tasting on July 23d. If you missed it and want to participate in another one (I know I do!), let them know.
The best way to find out more about either of these classes is to look on their Facebook pages.