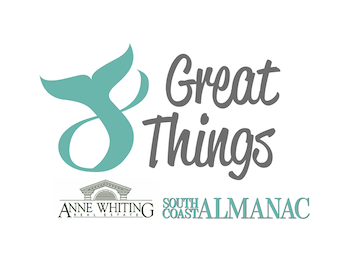 Are you coming off that candy corn high?Before you start cleaning up the Halloween decorations, figure out what's on tap for November. Thanks to Anne Whiting Real Estate for making it easy to keep things fun on the South Coast with this monthly list!

1. Havin' a Party
Take a trip to the Stone Pony and the Jersey Shore with Southside Johnny & The Asbury Jukes. The Narrows Center hosts them for a rollicking night with the band that still has it. November 2. 16 Anawan Street, Fall River. $78. Tickets here. 

2. Sunrise, Sunset
Gooseberry Island is beautiful at all times of the day. The Buzzards Bay Coalition is leading us there for both a morning and a sunset walk this month. You'll experience history in the form of WW II bunkers and perhaps some seals.  Free, but pre-registration is requested. Sunday November 12 at 10 am and Saturday November 28 at 3:30 pm. Sign up here. 
3. Art Mart
Thanks to Destination New Bedford, Custom House Square is transformed into an ArtMart during November's Aha!  There'll be artisans galore, activities among all of Aha's partners, a fire pit and hot chocolate (yay!). Come downtown to enjoy an Aha! moment. November 9 from 4 to 8 pm. Downtown New Bedford, various locations. More here.
4. Oh, What A Night!
The New Bedford Festival Theater is hosting a fundraiser doing what it does best, bringing great musical theater to the South Coast!  Join them for a night filled with show-stopping performances from some of your favorite NBFT performers -- like Jesse Luttrell here -- in contemporary Broadway productions such as "Dear Evan Hansen", "Waitress" and "Rent".  Tickets include cocktail hour, dinner and the show. From $100. November 11 from 6 to 10 pm. Whites at Westport, 66 State Road. More here. 
5. Hike & Hops
Like peanut butter and chocolate, hiking and craft beer just complement each other so well! After walking 4 miles through winding roads and across fields at Old Field Pond Preserve in Buzzards Bay, the group will venture over to Wareham's Lucky Goat Brewing to hang out together and drink some craft beer. November 18 from 1 to 4 pm. $5 members/$10 non-members, more here. 
6. A Rain Dance
The New Bedford Symphony Orchestra performs a piece by Brazilian composer Clarice Assad which draws on the rain-making rituals of Amazonian tribes  and seeks to create that beautiful moment when you feel light raindrops falling on your uplifted face. We can't wait! Saturday, November 18 at 7:30. Bronspiegel Auditorium, 230 Hathaway Boulevard, New Bedford. Tickets from $20 to $65. More here. 
7. Run for Your Supper
Before putting the turkey in the oven, go join hundreds of others at Fairhaven's annual turkey 5K trot that raises money for local food pantries. Run or walk, doesn't matter. Doesn't that seem lovely? $25, November 23, at 8 am. Cushman Park, Fairhaven. Sign up here. 
8. Good, Old-Fashioned Chocolate
The Lafayette- Durfee House shows us how chocolate was made in the 18th century. Come by and watch as Robert Lecce, in period attire, demonstrates chocolate-making in their hearth. We hear there may be some tasting! Saturday, November 25 from 2 to 5 pm. 94 Cherry Street, Fall River. More here.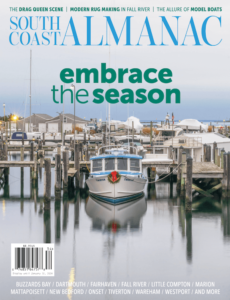 Want more ideas? Think about becoming a subscriber to support our mission to tell the South Coast's stories. The next issue is getting ready to ship at the beginning of next week and will hit newsstands in the middle of November. Don't wait, become a subscriber and get it delivered to your door right away!