Our August issue had profiles of some amazing South Coast athletes. In this season of New Year's resolutions, we thought it'd be great to throw them online for a shot of inspiration, motivation, or just plain appreciation. Today: Meet Ron Taylor!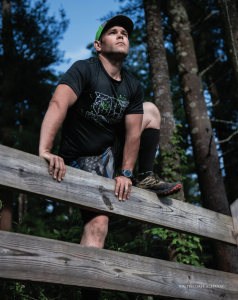 Ron Taylor, Jr. was never much of an athlete, and he had been overweight since middle school.
Obesity runs in his family and his mother had gastric bypass surgery to lose the unwanted weight.
But it wasn't until Taylor's father-in-law had a massive heart attack at a relatively young 56 did he elect to undergo the surgery himself with Dr. Rayford Kruger, Physician-in-Chief of the Surgery Care Center for  Southcoast Health, who is based in Wareham's Tobey Hospital.
Little did he know that the surgery would open a whole new fitness hobby and community to him.
His first Obstacle Course Race (OCR), where you are tasked with running a distance but overcoming man-made obstacles along the way, was a short 5K sprint on a farm in Barre, Massachusetts. Then he did Spartan Race's renowned Killington Beast a year later a half-marathon distance OCR.
His fave is now the annual F.I.T. Challenge out in Cumberland, RI, which takes place in chilly early April. But he dreams to one day do what is called an Ultra, a 30+ mile event. He had attempted one in New Jersey, but was pulled off the course due to his Raynaud's Syndrome, a medical condition that reduces blood flow, causes pain, and turns the fingers a ghostly white.
He doesn't run the races for times necessarily, but to finish. "I have always been goal-oriented, and with this, I am trying to find that physical limit," he says.
A few factors figure into this. One is his Raynaud's. The other is his stomach capacity. "I can't eat like everyone else before and during the race," he says.
Immediately after his surgery, he started joining social media groups of people who were physically active post-surgery. At first, 30 days out when he was cleared for exercise, he took up CrossFit. But it was ultimately the runner's high he sought.
The community is good for understanding how to govern his nutrition during training and when he is off, or how his body reacts in certain situations. Lately, he has been researching cold training, which is championed by a guru named Wim "The Ice Man" Hoff.
One of these days, he might shy away from the OCRs and focus on the long-distance trail runs farther than a marathon, but for now he is happy with the local offerings. On June 1, he competed in the Samurai Sprint Mud Race on the grounds of Westport Vineyards. And at the time we spoke, he was planning to do the F.I.T. Challenge Ultra in Cumberland mid-July.
Knowing full well that obesity runs in both his and his wife's families, Taylor has gotten his nine-year-old son into running. They did the Fairhaven Father's Day Road Race this year and are planning to do the Allens Pond Duck Derby race on August 10.
His wife had the gastric bypass procedure recently as well. While she is not quite embracing the running that Taylor is, "she is hiking," he says, and that is a lot.
The food in their house has changed dramatically since the couple underwent their surgeries. "And our ideologies have changed," he says.
But every once in a while, when life gets hectic and weight is gained, Taylor says he does what he calls a shred, where a focus is on clean eating. And there is a lot of turmeric, cinnamon and cayenne pepper consumed. (These spices and foods are notable for their use in dietary cleanses.)
So what does this information technology professional do to train? "A lot of running, of course, and I try to fit in three workouts a week at Vitality Obstacle fitness in Fall River or at South Coast Fitness, closer to home in Dartmouth.
His surgery has caused him to lose that debilitating addiction to food, and in its stead is an addiction to pushing physical and mental boundaries.          –Scott Lajoie
Note: For more information about Southcoast Health's weight loss program, see here. 
Subscribe to South Coast Almanac so you don't miss out on stories like Ron Taylor's. Our mission: to explore the people and places of the South Coast. Join the tribe and you'll be supporting stories like this one. We'll deliver 4 issues each year to your door for just $19.99. Subscribe right here.
Prefer digital? You can get all the past issues for just 99 cents each right here.