(Or, How To Make Delicious Food with South Coast Tricks)
We're pleased to introduce a special guest blogger this month to help us restore our healthy equilibrium after all those Bloody Marys. Margaret Bane is an avid health and wellness guru, and the founder of the blog www.bareboston.com where she curates plant-based recipes and an overall guide to holistic health. Margaret lives in Boston but spends a good chunk of time in Marion golfing during the summer.
Welcome Margaret as she shows us how to incorporate a little South Coast magic into our healthy New Year's routines. 
Food is one of those rare topics that elicits an emotional response regardless of age, gender, or ethnicity. I should've gotten the salad. How many calories is in this? I'm starting my diet tomorrow. No one is immune to a relationship with food, not even your favorite athlete or celebrity. We all have some type of daily interaction with our plates, and quite frankly a perfect relationship with food doesn't exist (don't let the Tom and Gisele's of the world fool you, they too think heavily about every bite).
Being thrown into emotional turmoil after a meal, even if only once a week, can actually be more detrimental than that bowl of white pasta and meat sauce. If we're programmed to evaluate our decisions post-indulgence, why not tweak the end result?
Luckily preparing for the inevitable is actually quite simple. One first step I always recommend is to become more aware of menu and grocery items that are seasonal and locally grown. More often than not, seasonal produce will lead to a more well-rounded fulfilling meal.
Consuming seasonally often means eating locally grown foods which leads to the bigger picture here: the environment. So, in an attempt to reduce your carbon footprint, skip the nutrition facts and remember to first check food labels for where its traveled from.  As an ode to the South Coast of Massachusetts, I've curated recipes highlighting the natural flavor of locally grown and produced, Paradise Meadow organic cranberries. Enjoy!
---

"…don't let the Tom and Gisele's of the world fool you, they too think heavily about every bite"

---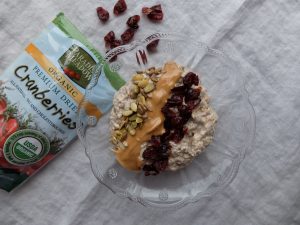 Healthy Overnight Oats
Who has time to slave over a hot stove in the morning before work? Not I! Overnight oats is my go-to breakfast for a kick of nutrients first thing in the morning, without the time consuming cooking. This recipe takes a whopping 7 minutes to throw together at night, and is ready to eat on the go in the morning.
There is a major difference between regular old water-based oats, and gooey-ooey, sticky overnight oats. The secret to achieving a perfectly thick consistency is all about the liquid base. I add dried fruit to my cashew milk to create a touch of sweetness and added nutritional boost, while adding a more thick sticky consistency.
Ingredients:
½ cup Cashews (soaked overnight)
¼ cup Dried organic cranberries
2 Dates (pitted and soaked for a few minutes)
1 tsp. Cinnamon
½ cup Organic rolled oats
1 Heaping Tbsp. chia seeds
Recipe:
Rinse and drain the soaked cashews, and add to a blender (I use a bullet) with cranberries, dates, and cinnamon.

Blend until milk-consistency has formed. Store in the fridge for up to a week.

In a tupperware, combine the oats and chia seeds. Pour cashew milk over the dry mixture until well covered, but still bumpy at the top (see photo below). Mix well, cover, and refrigerate overnight.

The next morning, add your choice of fun healthy toppings. Photographed here is melted almond butter, a mix of pumpkin and sunflower seeds, and dried cranberries.
*You will have extra cashew milk, use in your coffee or with cereal!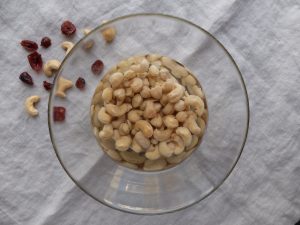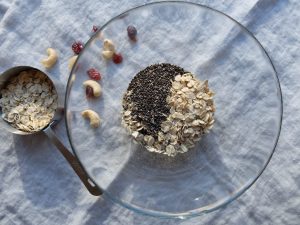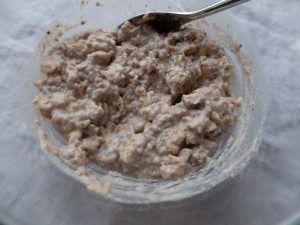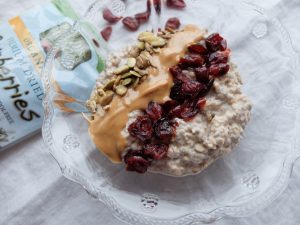 Roasted Brussel Sprouts with Cranberries and Balsamic Glaze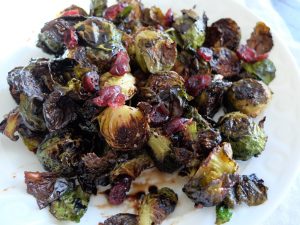 There's nothing quite like crispy caramelized veggies on a cold winter night. You've probably seen this on the Thanksgiving table with traditional fall root vegetables like carrots, parsnips, and turnips. But when winter finally rolls around, I love to incorporate brussel sprouts into my recipes! In many cases you'll notice sugar added as the ingredient that achieves the caramelized glaze, but not this one! These crispy caramelized brussel sprouts are a dish you can feel good about!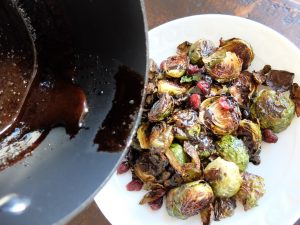 Ingredients:
3 lbs. Brussel sprouts (trimmed and halved)
½ cup Coconut oil (melted)
½ cup Balsamic vinegar
¼ cup Raw honey
1 cup Dried cranberries
Himalayan sea salt & black pepper to taste
Recipe:
Preheat the oven to 375 F.

On a lined baking skeet, toss brussel sprouts with coconut oil and salt/pepper and roast until crispy (~30 minutes).

In a saucepan, boil balsamic vinegar and honey, and reduce to a simmer. Cook until thick reduction consistency.

Drizzle the glaze over the sprouts and toss with cranberries.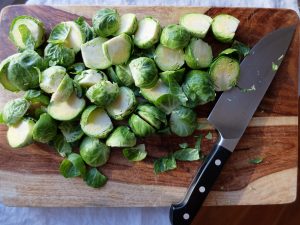 Stay tuned. Margaret will be back later this month with a South Coast skin care discovery.  And, remember, you can keep up with South Coast Almanac updates, news and events, by signing up for our free emails here.  Then, wander over and check out Margaret's home at bareboston.com.