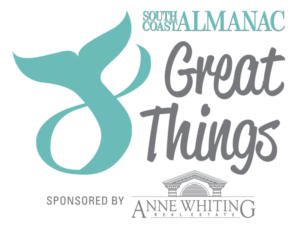 To paraphrase Anne of Green Gables, we're so glad we live in a world where there are Octobers. We're also super glad to live in a world where there is Anne Whiting Real Estate who help us create this monthly list of great things to do every month. Go forth and enjoy this beautiful month!
1. An Afternoon Amble
Join our literary field trips with Ben Shattuck, author of Six Walks: In the Footsteps of Henry David Thoreau. Ben will read from and discuss his ode to the healing powers of nature with the lovely backdrop of Destruction Brook Woods in Dartmouth. We'll follow it up with a chance to sit down afterwards at Davoll's General Store. Free but please register here. October 7, 2 to 4 pm. Starting at Destruction Brook Woods.
2. Close Your Eyes & Listen
We'll be at the New Bedford Symphony's two October shows this month. The first weekend features a Wynton Marsalis violin concerto; the last weekend features conductor and fan favorite Yaniv Dinur playing Brahms on the piano. Here are two secrets about the Symphony: it's better when you close your eyes (and no one will judge you if you doze off) and the New Bedford Symphony has world class acts but they alway set aside $10 tickets to make it affordable for everyone. Check out one of their concerts this month! Both performances begin at 7:30 pm. October 1 tickets are here. October 29 tickets are here.
3. Hike Into a Concert
Mark Erelli is one of our favorite singer-songwriters and he's in the area not once but twice this month, including for what sounds like a magical experience: an acoustic concert at Angelica's Overlook, overlooking the Slocum River. October 29, 2:30 to 5:30 at Slocum's River Reserve. Tickets here. Or you can catch him at his show at the Narrows in Fall River (also another great spot to catch a concert). October 8, 8 pm. 16 Anawan Street, Fall River. Tickets here. 
4. Did Someone Say Pie?
We have a friend from Prince Edward Island who used to make 36 meat pies each holiday season, grinding her own meat (95 pounds of it!). There's an easier way for the rest of us! The Smith Neck Friends Meeting are baking and selling their famous French meat pies (for take-out only). October 15 from $20 each. 594 Smith Neck Road. You must order them first by calling Anne at (508) 994-5816.
5. 3000 Pounds or Bust!
You really haven't lived until you've eagerly waited in a crowd as a forklift carefully lifts a massive pumpkin onto a scale, while awaiting the scale's judgement. It's way more fun than that sentence makes it seem. (Plus, there's food trucks, live music, pumpkin painting, a corn maze and loads more. We know this is located slightly outside our footprint but it's just slightly outside it and it's just so fun.) October 8, 9 to 5. Free but a $5 parking fee. Frerich's Farm, 43 Kinnicutt Ave, Warren, RI. More here.
6. Down in the Bogs
We love a little cocktail party in the cranberry bogs! With seasonally crafted appetizers and drinks, wagon rides along the bog and a roving illusionist, the United Way hosts an autumn soiree to raise funds for all of the good it does and promises to be a memorable fall event. October 13 from 6 to 9 pm. Box Mill Hall, 150 Tihonet Road, Wareham. Tickets here. 
7. Boo'ing All Over
We love that the Buttonwood Park Zoo and Battleship Cove provide their own halloween bashes in the weekends leading up to Halloween. Check out the 21st annual Boo at the Zoo and the newer -- but just as cutely named -- Battleship Boo Bash. Battleship Cove: October 14, 21, 28 from 4:30 to 7:30. More here. Buttonwood Park Zoo: October 15, 16, 22, 23, 29, 30 from 10 to 5. More here. 
8. Rocky Horror Squared (Tripled?)
The Z is playing the cult classic movie on the big screen, the RKO players are performing it up on stage in front of the movie version and the audience is getting in on the act with their own costumes and participatory prop bags (which are available for purchase). How fun! October 30, 7 pm. Zeiterion Theater, 684 Purchase Street, New Bedford. More here. 
***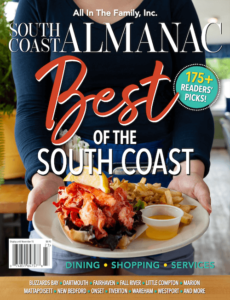 Want more ideas? Think about becoming a subscriber to support our mission to tell the South Coast's stories. The next issue (cover still to be revealed) comes out before our next 8 Great Things list, so get it hot off the presses!