Turn the page and look what October has in store for us! Here is our monthly reminder of why we're so lucky to live here –there's such a lot going on! Here are our 8 Great Things for October.
1. Keep On Truckin'
The Onset Bay Association and the Wareham Village Association are joining forces to give us a Food Truck Festival with live music, local beer and wine and, of course, food trucks. Check out the Facebook page here for more information. Saturday, October 5, 11 to 4 (rain date is October 6) at the Wareham Village Train Depot with additional parking and shuttles from the Town Hall at 54 Marion Street, Wareham.
2. Lakeville Arts & Music Festival
Rain or shine, show up for a day of community, arts, handmade one-of-kind crafts, a variety of music, the opportunity to take a selfie with a scarecrow of your choice, and more at the 15th annual event! Between 10 and 4 on October 5. Look for the tents at the interesection of Routes 105 and 18 and Precinct Street.  More info here. Sponsored by the Lakeville Arts Council.
3. Pedal On!
We're biking the Buzzards Bay Watershed Ride again because we love Buzzards Bay, South Coast early fall views, biking, clean water, and a good party (not necessarily in that order).  The route has 100, 75, and 35 mile options, so there's something for everyone. Cyclists each raise at least $300 to support the great work of the Buzzards Bay Coalition. You'll have access to five water stops, a yummy food truck lunch, and dinner with beer and wine at the party (which features live music and award presentations!). Join us!! October 6, start time depends on which route you choose. Not ready for biking? Come cheer on the riders or donate. See more here.
4. OctoPurr Fest
The biggest fundraiser of the year for Rochester's It's All About the Animals shelter includes the chance to win $500 from the Tom Cat Ball Drop, to dress up in your favorite feline (or Halloween) costumes, as well as great food, raffles, and camaraderie with fellow animal lovers! October 6, 11 to 4, rain or shine.

5. The Bog Down in the Valley-O
So you missed our Best of the South Coast party at the Barn on Benson's Pond? (See what you missed here!) No worries! You can experience the magic of Benson's Pond at two cool events this month. First, on October 11, join the farmers for cocktails on the cranberry bog. 4:30 to 7:30. Then, on October 19, they'll be hosting a Cranberry Artisan Fair with bog rides, fall photographs on the bog, artisan vendors, food & drink. 10:30 to 4:30. See more about both events, including ticket prices, here. 6 Pine Street, Middleboro. (PSA: When you need to give yourself a shot of good cheer, check out this rendition of The Bog Down in the Valley performed at 5 a.m at an Irish wedding.)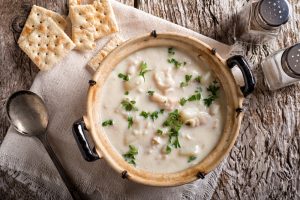 6. Chowder Throwdown
Intense competition for the mantle of Best Chowder takes place at the New Bedford pier. Join in the fun and vote for your favorite, while you enjoy the music and other festivities in the most perfect setting for a chowder festival. Noon to 5 (but tasting ends at 3). City Pier 3, New Bedford. Tickets prior to the event are $15 ($18 day of). More information and tickets here. 
7. Like Peanut Butter and Chocolate. Even Better Together.
The New Bedford Symphony Orchestra and the DNRT have so much wonderful and creative energy and they're combining it this month for a special treat.  Join musicians Peter Zay and EmmaLee Holmes-Hicks for an afternoon of violin and cello music on the trail. Bring your blanket or lawn chair and enjoy an informal performance at the beautiful Angelica's Overlook while listening to a wide variety of music from Beethoven to ragtime to Disney classics and maybe a fiddle tune or two. BYO drinks and snacks! October 14 at 3:00. $10 per carload. Pre-registration required at dnrt.org.
(By the way, while we're gushing about the Symphony! Check out the opening concert for the NBSO season with a Saturday night and — all new– Sunday matinee, featuring Mozart and Mahler. October 5 and 6. More about that here!)

8. Inspired by Nature!
Here's your chance to blend nature and function. New Bedford's The Drawing Room is hosting a 2-day workshop with artist Amy Thurber of Doves Foot Potter.You'll use leaves and other natural materials along with stoneware clay to create one of a kind ceramics. 36 N. Water Street, New Bedford. October 19th from 2 to 4, and October 26th from 2:30 to 4. For more information and to register, go here. (Workshop fee of $95 includes all workshop materials, tools & services.)
There you go! Our top picks for October. Feel free to let us know if we missed anything by commenting below. (Our best ideas come from our readers!)
Wanna keep up with the coolest happenings each month on the South Coast?! Sign up for our free monthly newsletter right here!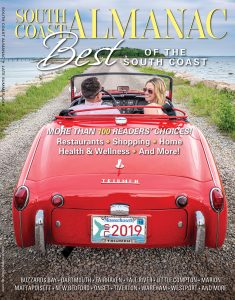 Our August Best of the South Coast is out and you'll find it on newsstands now.  It's popping with great content (100s of our readers' local favorites, some rockin' local athletes, woodworkers and lots more). If you want a copy delivered to your door with things you won't see online, subscribe right here! Or just help us spread the word about South Coast Almanac by sharing this post with your friends on facebook, twitter or by email.